Video marketing is a popular and powerful tool in eCommerce. Product demo videos are a crucial part of that.
However, knowing how to create compelling videos that accurately display and explain your goods while resonating with your target market is a challenge many brands struggle with.
In this guide, we explain what these videos are, how to create irresistible product demos your customers love, and where to publish them for maximum effect.
What Are Product Demo Videos?
A product demo video shows customers your product and walks them through how to use it. There are various formats and types.
For example, you might see them included as a part of product reviews, where the benefits are discussed alongside the various functions. However, there are also standalone versions that focus on features and operation.
Many businesses and video marketers create product videos to enhance the authenticity of their brands and products.
Working with existing customers through influencer marketing or user-generated content (UGC) helps to achieve that goal. By demonstrating the product in a realistic way, these videos engage viewers.
Trusted by the World's Leading Brands & Retailers
Product Demo Video Examples
If you want to understand how to deliver the best demos for eCommerce, then look no further than the master of handheld appliances – Dyson.
We've included a couple of product demo video examples below that show how you can combine high-quality production, concise delivery, and an engaging tone to captivate viewers.
Dyson Airwrap Video Demonstration
The stats speak for themselves, as this is one of the most searched-for product demo videos. Dyson matches innovation with explanation. Watch it here:
Dyson v10 Video Demonstration
Seeing is believing in this Dyson video, which is one of the most popular ones from the tech pioneer. Watch it here:
PGlmcmFtZSBzcmM9Imh0dHBzOi8vd3d3LnlvdXR1YmUtbm9jb29raWUuY29tL2VtYmVkL3JDYVI0NDJEcWpNP3NpPU4xNzVuYkY1R2xGRm80NHUiIHN0eWxlPSJib3JkZXI6MHB4ICNmZmZmZmYgbm9uZTsiIG5hbWU9Im15aUZyYW1lIiBzY3JvbGxpbmc9Im5vIiBmcmFtZWJvcmRlcj0iMSIgbWFyZ2luaGVpZ2h0PSIwcHgiIG1hcmdpbndpZHRoPSIwcHgiIGhlaWdodD0iNDAwcHgiIHdpZHRoPSI2MDBweCIgYWxsb3dmdWxsc2NyZWVuPjwvaWZyYW1lPg==
Video Demo Benefits
A video demo delivers information about a product's functions, features, and benefits in a concise and engaging way. The short length and the mix of audio and visuals make it much more accessible and easy to understand.
Plus, seeing the product working helps viewers to imagine themselves using it and the ways it will improve their lives.
Benefits of Product Demo Videos
The stats show that video marketing and product demo videos are effective ways to engage customers. Video is an increasingly popular format.
Businesses can make the most of that by explaining their product. Demo videos are an ideal route to help viewers make informed decisions about purchases.
Why Video Product Demos Are So Effective
As the stats above show, video is a format that customers love. People seek out unboxing videos for entertainment, but they also view demos to gain more information before making a purchase. In this way, businesses can reach a wider audience, as videos appear on product pages or social media.
A video product demo initially engages viewers with visual appeal. It continues to deliver, as it's in an accessible and convenient format.
These videos typically last a minute or two, so they won't take up much of their time. The voiceover combined with images of the product provides clarity about what it looks like, what it does, and how to use it.
One of the reasons demo videos are such a potent tool is that it puts the power in the customers' hands. They can educate themselves on products they're interested in, but there's no boring instruction manual involved. Instead, they watch another person use it, which is more relatable.
Seeing is Believing
Product Demo Videos for eCommerce
More Conversions
Fewer Returns
Product demonstrations help customers understand products before they buy, reducing return rates.
Better ROI
According to an
industry survey
, 78% of marketing professionals report that videos lead to a direct increase sales.
Seeing a product work and deliver on its promises increases trust. When a customer hears fantastic things about your product, they'll want to know if it's true without making a purchase just yet.
Seeing influencers, UGC, and marketing videos with the product allows viewers to find out what it does and make up their own minds.
Consistency is key in marketing, as it also builds trust. Demonstrating a product via video means you can deliver the same compelling message on every product page, regardless of language or location. You save time as you already have your perfect product description and explanation ready.
Demos work at every stage of the marketing funnel. They interest people browsing, convince prospective buyers, help owners use the product, and allow fans to share and recommend products. The result is improved conversion rates and a boost in sales, brand awareness, and trust.
Product Demo Video Types
Creating a product overview video is a wise move for online sellers. However, it's not just eCommerce merchants that can benefit. According to Google, more than 55% of consumers use online videos when shopping in-store.
You can choose from several formats depending on your aims and product; some might need a tutorial, while others benefit from having multiple uses demonstrated.
Feature Highlight Videos
Many product demo videos focus on showcasing the functions and features of specific items. These types of videos work well for products that have various settings.
Feature explanations are particularly effective for kitchen gadgets, appliances, and anything else from the world of consumer electronics. However, any product with at least two or three features will work.
The videos take time to show how to activate and use each function. It combines both an instruction guide and a demonstration of how effective the product is.
In-depth product feature highlights are an excellent way to educate while allowing users to see and understand how the product will benefit them.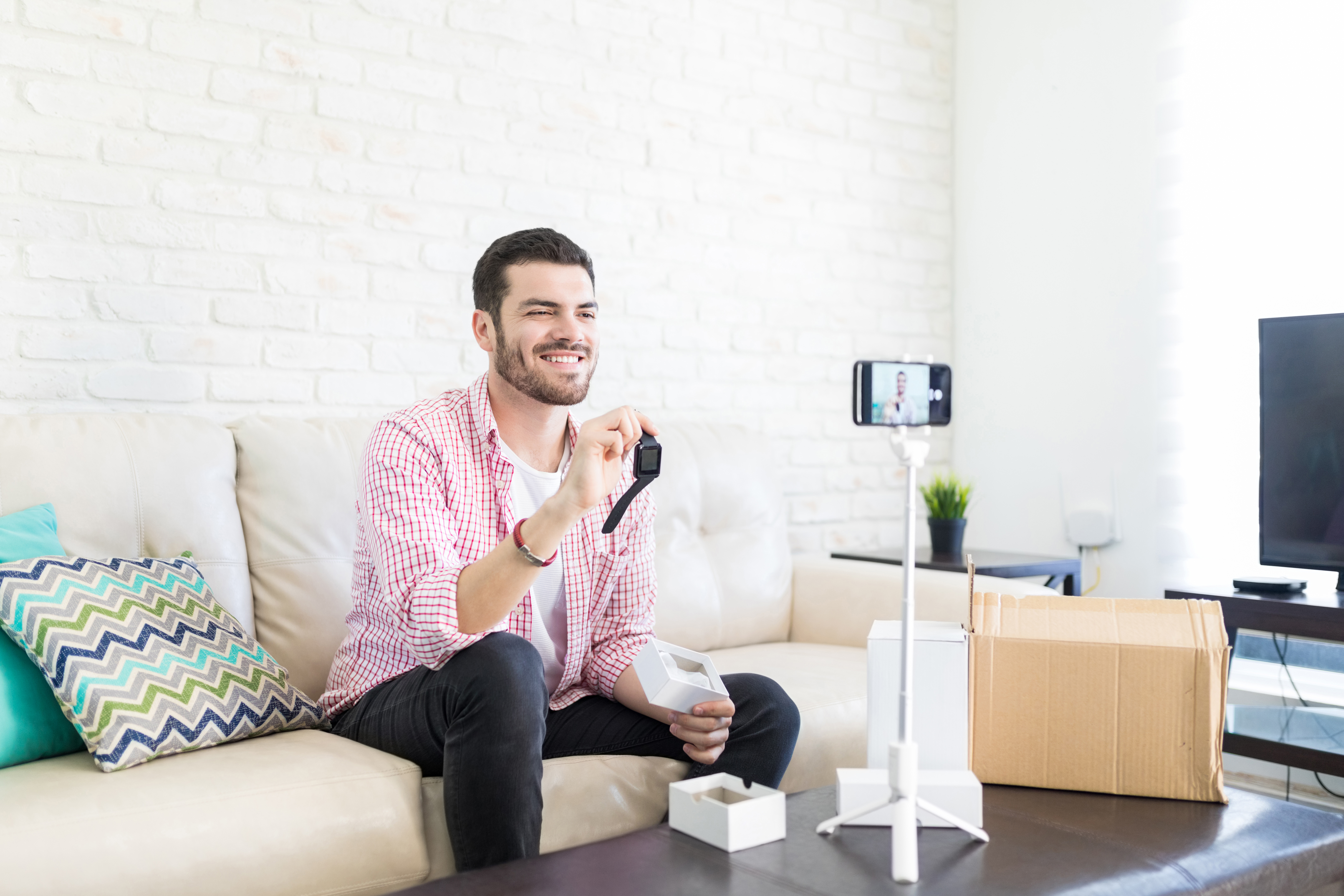 Use-Case Scenarios
A use-case demonstration video brings the product into a real-world scenario. Users get to see it in action, but not in a studio or lab.
Not only is this more convincing when it comes to seeing how effective the product is, but it also helps shoppers imagine themselves using it to improve their lives. Demonstrating the uses of a product works well for items that achieve results in different ways.
For example, a video can show makeup that can be used as a primer, concealer, or for full coverage. If it's space-saving storage, it can be shown in different rooms of the house and environments to inspire the customer.
Tutorial Demos
A tutorial demo is the ideal solution for complex products with multiple features and uses. If you're introducing a new idea to the market, or it isn't self-explanatory, then product walkthrough videos are the best option.
The best tutorial videos break down how to use a product. You can do that by including step-by-step instructions. As well as understanding how it works, the customer gets to see it in action and know if they're using it correctly.
Problem-Solution Demos
A demo is an excellent opportunity to address customer pain points. You can reduce support queries and increase customer satisfaction by anticipating and addressing issues.
Identifying common pain points and presenting the solution in your video is the best approach. Not only are clients happier using the product, but they see your brand in a helpful light.
Presenting problems and their solutions doesn't just work well for existing customers. This format is another chance to show viewers how your product can benefit them. Picking up on their daily struggles shows you understand them and that you care enough to solve their issues.
Convert 34% More With Demo Videos
Syndicated to the point of sale at 350+ global retailers.
Talk to a Consultant
How to Create Demo Videos for Your Products
To give you an idea of the process, we've outlined eight steps that take you from beginning to end, all the way from project scoping to distribution of your finished videos.
Step 1: Determine Your Goals
Your reasons for creating a product demo video will determine how you approach the rest of the process. There are a few questions for you to answer, so you can understand what you want to achieve. The answers will affect the distribution channels, the script, and, most importantly, the audience.
Start with your business goal. Do you want to increase customer understanding of an innovative and complex product? Perhaps you want to increase awareness of the different possible uses and benefits. Looking at the different video types above can help you be more specific about what your video will do.
Step 2: Define Your Audience
Before you start your project, though, you need to think about who you're communicating with and why. You need to know your customers and what they want to produce an effective video. Creating something irrelevant is a waste of time and money.
Beyond looking at the needs of your target audience, get into the details of who they are. It'll help you identify where to distribute the video and what their buying process looks like.
Pay attention to localization. The product demo needs to align with the features they'll get, and the environments they're familiar with, and the viewer should feel like you're speaking directly to them.
Step 3: Create the Storyboard and Script
A storyboard helps you visualize what will happen in each shot of your product walkthrough video. It's a handy graphic representation that brings all the crucial information together. You'll be able to see which points your video will make and the setting.
You can work through several storyboard ideas until you find the right one that meets your goals, fits the product, and works for your audience.
Once you have the outline, you can use it to write a basic script. The script can cover camera directions, the words for the voiceover, and a briefing and lines for anyone acting in the video.
It's just as helpful to identify the points to emphasize as the areas that you don't want to mention. Bringing all of this information together means you have an action plan to distribute to get everyone on the same page.
Anyone involved in the video will know what the video should look like and what the aims are, which will save time and money by keeping reshoots to a minimum.
Step 4: Set Up Your Equipment
Live-action videos are a popular choice, but it's worth noting that they can require extensive setup. Preparation is critical; you'll need to create a list of all the resources and equipment involved in filming.
Alongside a working product, you'll need cameras, a space to film, lighting, audio, and software and hardware for editing.
Your equipment plays a significant role in the quality of your video. It's essential to film with a high-quality camera.
Don't neglect other areas that affect the success of your video. They include lighting, audio, colors, and the background space and props.
Step 5: Find Cast & Crew
You'll want experts behind and in front of the camera when making product demo videos. Your crew should be experienced in the field so that they know how to read and interpret your storyboard and script. That includes the camera operator and the editing team.
Whether you create a video with a voiceover or have someone using the product, it's best to find product testers who are industry experts in your niche.
The person should get familiar with the features and how to use them before you start filming; that way, they can appear authoritative and knowledgeable.
Step 6: Film the Video
With everything else in place, it's time to create your video demo. Set aside enough time to capture the footage that you need. Budget is a consideration, so we recommend being organized.
Having everything lined up and ready means you can film quickly and efficiently, which will keep costs down.
Remember that you don't need one long, flawless take. As long as you capture several run-throughs that deliver the main points, you can piece them together to achieve your goal. Minor issues can be edited out and fixed in post-production.
Step 7: Editing and Post-Production
The next stage is putting the video together as a finished product. When you create product demo videos, don't try to save money when it comes to editing.
If you paid for expensive filming equipment but haven't got the right editing software, the quality of your video will suffer. Keep in mind that editing requires high-quality software.
This stage involves stitching together the clips you want to use, editing out any errors, and applying graphics and audio tracks. For the best results, export it in a resolution of at least 4K.
Step 8: Distribute Your Video
You have your product demo videos, and it's time for the world to see them. Refer back to the information about your goals and audience to determine where to distribute them.
For maximum impact, you need to share videos widely on social networks and product pages. However, most brands struggle to upload videos on time.
Product description pages (PDPs) are one of the essential target areas. Many retailers are overloaded with requests from brands to display demos.
To avoid costly delays, our syndication network allows brands to control PDP content directly on the retailers' websites.
Convert 34% More with Demo Videos
Syndicated to the point of sale at 350+ global retailers.
Talk to a Consultant
Product Demo Video Production with DemoUp Cliplister
To produce a video demo, you need access to expertise, resources, and equipment. Since most businesses and marketing departments don't have the time, knowledge, and software required, many look to outsource the work.
One popular option is to connect with influencers and product reviewers to produce content. While that's a viable solution, it still requires time, knowledge, and effort.
In other cases, you'll want more control over the messaging and the quality of the outcome, which means producing your own content. However, there are other solutions for getting external help.
You can cut down on the time you spend on production by contacting DemoUp Cliplister. After a 30-minute briefing, we can undertake the process of creating a demo video for you. You can expect high-quality product videos delivered to you in four-to-six weeks.
Having fantastic content is just the beginning; it needs to be shared widely to bring you success. As part of the DemoUp Cliplister service, you get the finished product, and we work on distribution.
The videos are automatically uploaded and syndicated to PDPs at the biggest retailers in the world.
Product Video Production with DemoUp Cliplister
What You Get With Us
34% Conversion Uplift
Retailers in our cohort that stream these videos see an average add-to-cart increase of 34%.
Full-Cycle Project Management
Outsource all your tasks from project scoping, to influencer management, to content distribution.
Quarterly Performance Reports
Get data driven reports so you can optimize your product video campaigns.
Save 80% Over Classic Agencies
Optimize costs by uploading finished videos to our network of 350+ global retailers.
Regular Project Updates
Our team of project managers keeps you updated on progress throughout the production process.
4-6 Week Turnarounds
Average turnaround time of less than 6 weeks. (Subject to seasonal demand and other factors.)
Wrapping Up
Product demo videos are a powerful way to increase brand awareness, improve understanding, and show the benefits of your product. Statistics show that audiences frequently use this type of content to help them make purchasing decisions.
So what are you waiting for? Book a call with us, and we'll show you how 3,000+ global brands and 350+ retailers worldwide leverage our end-to-end eCommerce content solutions to accelerate their eCommerce growth.
Product Demo Video FAQs
Still have questions about product demo videos or how to get them into the largest online shops in the world? Here are the answers to the most important questions our clients ask us.
A product demo video typically includes a clear introduction, a demonstration of key features, benefits, and use cases, and concludes with a call to action. It should focus on the product's value proposition and engage viewers effectively through visuals and narration.
A product demo video should ideally be between 2-to-5 minutes. Keeping it concise ensures viewers' attention while effectively showcasing the product's key features and benefits.
To create an effective product demo video, start with a clear plan, focusing on your target audience and key messages. Use high-quality visuals, concise scripting, and engaging narration to highlight the product's features and benefits. Keep it brief, informative, and visually appealing for maximum impact.
A product demo video showcases how a product works and its practical applications, diving into features and benefits. An explainer video, on the other hand, simplifies complex concepts, often without specific product details. While both educate, demos focus on product functionality, while explainers provide viewers with a broader understanding.
There are several elements most product demo videos have in common. These include a close up of the product, a feature showcase, initial setup, and action shots.