Ever wondered how brands like Samsung and Panasonic always manage to capture the attention and trust of their customers and make tons of sales?
With product review videos. This captivating and engaging content is one of the most effective ways to drive eCommerce sales. In this article, we'll highlight everything you need to know about using review videos to boost conversion rates.
What are Product Review Videos?
Product review videos are a powerful form of user-generated content. These videos, often created by product testers, influencers, or industry experts, aim to provide an in-depth analysis of a specific product, showcasing its features, benefits, and drawbacks.
While influencer marketing primarily focuses on top-of-funnel activities that aim to increase brand awareness, review videos increase conversions at the bottom of the funnel and are most successful on retailer product pages.
Video Review Example
Here is an example of a video review we created for Logitech's Yeti Microphone series:
As you can see, the reviewer positions himself as an expert, covers all the important points of the product, and explains how it can be used effectively.
Why You Need Video Reviews on PDPs
Product detail pages (PDPs) are the backbone of eCommerce. Each product has one, and a PDP is the final touch point in the customer journey. In other words, it's the last chance you have to help customers overcome their hesitations and make a purchase decision.
Review videos play a crucial role in PDP success because they rely on the expertise of users and industry experts who possess in-depth knowledge about the products.
If you are familiar with search engine optimization (SEO), you might realize this is the product video version of the superfecta of search – Experience, Expertise, Authoritativeness, and Trustworthiness, also known as E-E-A-T.
In other words, they get more eyes on your products and convince a larger percentage of this traffic to convert.
Here are the top five reasons why you need video reviews on your PDPs:
Authentic review videos are great at showcasing a product's functions and features. Their impact on eCommerce is remarkable, with statistics showing a 34% increase in add-to-cart rates review videos are embedded on a product page.
Beyond this, they wield the power of social proof. Real experiences and testimonials in these videos bolster trust and confidence among potential buyers.
This user-generated content is a compelling testimony of the product's value, transforming PDPs into persuasive selling tools.
Types of Review Videos
When it comes to the wide range of product videos, there are a number of them that can be classified as reviews. This section will explore the different types and why each one uniquely influences consumer decisions and drives eCommerce success.
Unboxing Videos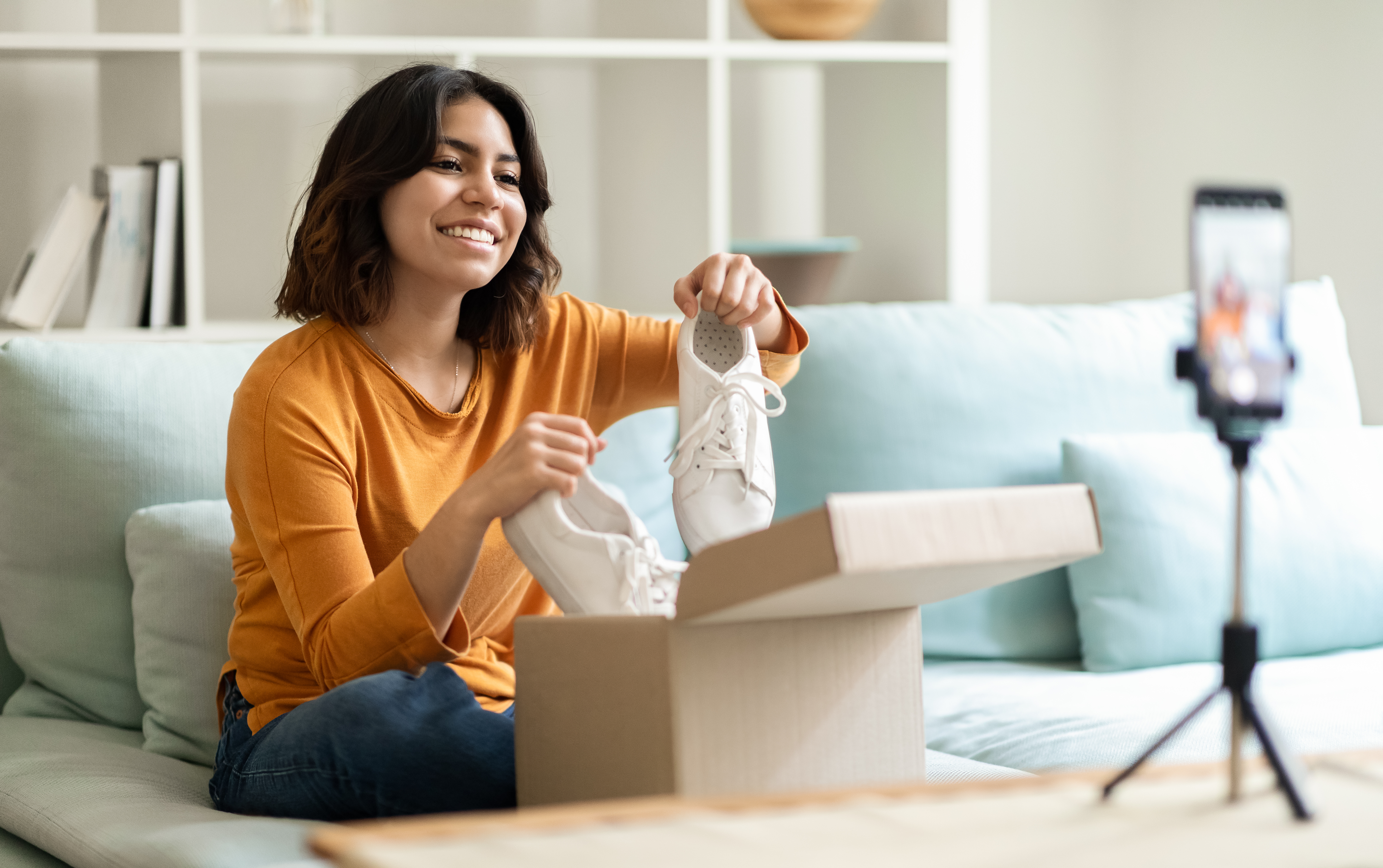 Unboxing videos are not just about revealing a product; they're about sharing the excitement of experiencing it for the first time.
They not only provide initial impressions but also serve as a powerful tool for brand awareness. Unboxing videos are also an excellent form of viral video and influencer marketing.
Testimonial Videos
Testimonials are real customer review videos that provide genuine insights into products or services. They are the most authentic review videos, capturing real-life experiences and opinions of customers.
Often sourced organically through user-generated content, testimonial videos offer invaluable credibility to brands and their offerings.
Product Reviews
Product reviews offer in-depth analyses by experienced users. Expert product testers create review videos to provide comprehensive insights into a specific product. These reviews showcase product features and benefits using their expertise.
This helps potential customers make informed decisions. These reviews help provide insights to shoppers directly on the PDP, ensuring that customers find what they're looking for.
Product Comparisons
Brands use product comparisons in competitive markets to highlight the differences between their products and the competition.
Instead of only showcasing how the product works, a comparison highlights the similarities and differences between the products. If used appropriately, this type of video can dramatically improve conversion rates.
How to Make a Review Video
Creating an engaging review video requires a careful blend of creativity and strategy. This section will guide you through the essential steps to craft informative video reviews that captivate your audience and attract potential customers.
6 Steps for Success
Edit & finalize the videos
1. Set Your Goals
Before you create a review video, it's crucial to set your goals. Clearly define the purpose of your content. Ask yourself whether it's aimed at increasing engagement, building brand awareness, or driving conversions.
You also need to know your key performance indicators (KPIs) to decide if you're measuring success through metrics like views, likes, shares (for engagement), click-through rates, conversion rates, and sales (for ROI).
Though brands won't have access to retailer PDP analytics directly, services like ours provide quarterly performance reports.Aligning your goals with your content strategy paves the way for a video review that delivers results.
2. Source Your Reviewer
Sourcing the right reviewer for your video is arguably the most challenging part of the process. You'll need to look for experts in the field, individuals who deeply understand the product's niche.
These experts bring the credibility and knowledge required to build trust with your audience. However, it's not just about expertise; the reviewer should connect with your audience on a personal level.
Alternatively, you could find existing review videos on different social media platforms that cover your product already. If you can find these videos, and they meet your requirements, you can reach out to the reviewer and ask if you can use their content.
Tired of searching for influencers?
Get the right reviewer for any product
1,000+ Product Experts
Create authoritative content that resonates with your audience.
Any Vertical or Niche
Get content from experts with experience in any industry or niche.
Content in 25+ Languages
Make localized content with experts familiar with your target audience.
You must also consider contractual obligations when engaging with a creator. For instance, say you use a well-known influencer with a YouTube following.
Will this person publish your video to their channel? Is this a requirement for your marketing strategy? Ensuring alignment on these matters is crucial to avoid surprises down the road.
Reliability is another critical factor. Will the reviewer meet deadlines? Do they have a track record of delivering high-quality content?
To source the right reviewer, you also need to consider the local market. People are more likely to buy when they can consume content in their native language.
Overall, sourcing the right reviewer can be a labor-intensive process. It requires a delicate balance of expertise, relatability, contractual alignment, and reliability.
Finding the perfect fit can make all the difference in creating a review video that genuinely resonates with your audience and achieves your goals.
3. Create a Brief
A detailed brief is your insurance policy against a bad video. The brief must include every relevant detail for the reviewer – product specifics, target audience, and key messaging.
It should highlight "no-gos," emphasize essential features, and provide guidance on the desired tone, setting, and filming instructions.
While clear expectations are crucial, granting reviewers creative freedom is equally important. They are experts in creating these videos, and their insights can shine when they have room for expression.
Also, remember to include instructions on using the product. Even experts benefit from precise guidelines.
Ensuring your reviewer has all the necessary information streamlines the process and guarantees a more informed and credible review.
A comprehensive brief strikes the balance between direction and flexibility, setting the stage for an engaging and informative review video.
4. Offer Production Support
Production support is crucial to ensure a seamless review video creation process. Be sure your reviewer has all the necessary resources, from the product to any additional materials required. You'll also need to be responsive and readily available to answer questions or provide clarifications.
Collaboration is critical, but don't micromanage. Instead, work closely with your reviewers, and focus on building a long-term partnership. The more familiar your customers become with your creators, the more likely they are to buy from you again.
5. Finalize Your Reviews
Many reviewers possess editing skills, but you may need to make small changes during the post-production phase. Even if the reviewer handles editing, your involvement ensures consistency with your brand's visual identity.
Also, check that the video is exported in the highest quality possible. Syndication software, like our Brand Channel covered in the next step, automatically optimizes content for various platforms and devices.
These steps ensure you have control over the final output. This guarantees that the video reflects the reviewer's expertise and aligns seamlessly with your brand's image and objectives.
6. Syndicate Video Reviews with the Brand Channel
Syndicating video reviews offers a seamless solution for publishing content. E-Commerce syndication is the process of publishing one piece of product content to multiple retailers.
With DemoUp Cliplister, syndication becomes easy. It lets you choose which online shops or retailers you want your videos displayed at.
This level of customization ensures that your video reviews reach the most relevant and influential platforms.Moreover, the platform automates the process and publishes these videos directly onto the corresponding product pages.
This automation saves time and ensures consistent and efficient dissemination of your review videos across your eCommerce ecosystem.
The most impactful way syndication helps your bottom line, though, is through cost optimization. You can divide the expenses associated with video production among the number of retailers where the videos are published, making the production of high-quality video reviews a financially viable strategy for eCommerce businesses of all sizes.
Want to learn more? Book a call with us and we'll show you how you can reach your target audience effectively, showcase your products through trusted influencers, and optimize your next product video campaigns.
34% more conversions. 80% less cost.
Create, syndicate, and convert with DemoUp Cliplister review videos.
Talk to a Consultant
Tips for High-Performance Video Reviews
Creating high-performance review videos requires a strategic approach. Follow these tips to transform your review videos into compelling and influential assets.
Establish Credibility Up Front
Establishing credibility is crucial. Influencers and reviewers should communicate their credentials at the beginning of the video. They should articulate why they are uniquely qualified to assess the specific product, which instills trust in their expertise, making viewers confident in your message.
Stay On Topic
To maximize engagement, it's important to stick to the point and the product at hand. Reviewers should avoid delving into unrelated topics, keeping their content concise, informative, and directly relevant to the product being reviewed.
Mind the Length
Considering the viewers' attention spans, you should keep the length of the review video in mind. The objective is to ensure people watch at least 95% of the video.
Recent data reveals that engagement drops significantly after five to eight minutes, emphasizing the importance of delivering concise, informative content to maintain viewer interest and maximize the impact of your review.
TIP: Research indicates that over 50% of people will watch a video between three-to-five minutes in its entirety.
Highlight Main Features
Reviews should begin by showcasing all the product's main features, offering viewers a comprehensive overview. Once these are covered, the video can delve into more in-depth functions, providing a well-rounded and informative product evaluation.
Explain the Benefits
Explaining the product's benefits is crucial for generating conversions. After all, features are only relevant if viewers understand what's in it for them. Clarifying these benefits ensures viewers can make informed decisions based on the product's value proposition.
Stay Clear and Concise
Clarity and conciseness work in tandem to maintain viewer engagement. Viewers want content presented in a simple way. Be sure your videos remain short enough to retain viewers' attention while conveying all essential details about the product.
Authentic Reviews are Crucial
It's imperative that reviews come across as authentic and not like advertisements. Viewers value original insights and resist feeling like they're being sold to.
Reviews covering genuine experiences tend to perform better, resonating with modern audiences seeking honest, unbiased assessments of products.
Make High-Quality Edits
Edits should elevate overall video quality and production value. Errors in filming can be rectified, and editors should focus on enhancing audiovisual quality. Focus on clarity, conciseness, and a polished presentation while addressing imperfections.
Localize Reviews for Specific Markets
When it comes to review videos, localization is key. Content should be tailored to specific regions and speak to your target audience in their native language.
Seek product testers who resonate with your target demographics in different regions. Markets have distinct preferences and priorities.
Establishing a network of influencers in various languages is ideal but challenging. Our network contains over 1,000 product testers who speak 35+ languages.
If you can't afford reviewers, look for high-quality translations and use subtitles.
Share Your Content Anywhere It's Relevant
You could create the greatest video of all time, but it's useless if nobody sees it. However, publishing content on time is one of the biggest challenges in eCommerce.
Online shops can carry thousands of brands, each with its own priorities and requests. This results in delays, outdated content, and strained relationships. The best way to overcome this is with a syndication solution that provides you with full control of your content.
Create Review Videos with DemoUp Cliplister
So, what's the most efficient way to create high-performing review videos? Let our expert project managers handle it for you! With over a decade of experience, we'll handle everything from influencer sourcing to retailer syndication.
Review Videos with DemoUp Cliplister
34% increase in add-to-cart conversions
80-90% lower costs than classic agencies
Automatic publication to 350+ global retailers
Review videos done in 3-6 weeks
Full-cycle project management
1,000+ Product testers in 25+ languages
Leading companies like Samsung, Bosch, and Logitech trust us with their review video needs.
Why? Because we understand the intricate process of crafting influential videos that resonate with audiences.
If you want to upgrade your review video strategy and make a lasting impact in the eCommerce space, it's time to partner with us. Talk to a consultant today to begin planning your tailored review video strategy and take your brand to new heights.
Wrapping Up
In the competitive world of eCommerce, review videos aren't just a choice; they're a necessity. But remember, success is a journey, and we're here to guide you every step of the way.
Ready to take your eCommerce game to the next level? Fill out the form below and let's have a chat.
Review Video FAQs
Are review videos still a mystery to you? Read through our FAQs for the answers to the most common questions our clients ask us.
Review content covers the pros and cons of a product, first-person experiences, and comparisons to other products. Review content often includes videos, star ratings, written reviews, and user-generated social media content.
Review videos should be authentic, so scripting should be left to the reviewers. The main thing to remember is to ensure your brief contains the information necessary for influencers to give a comprehensive overview of your product, including all the features and benefits you want to cover.
This is one of the most common and most important questions we receive. Here is a breakdown:
Review videos feature product testers and industry experts. They show off products, highlight features and benefits, and explain common use cases. Video reviews are most effective on pages with buying intent, like PDPs.
Influencer marketing leverages social media influencers who have an existing following. Influencer marketing targets part of an influencer's audience to create brand and product awareness among the targeted segments.
In short, review videos are a specific type of influencer content focused on driving conversions.
There are several ways to acquire review videos, but they differ between brands and retailers.
For brands:
Acquire UGC from the internet and edit it into a video.
Source and manage production internally.
Outsource video production to a specialist, like DemoUp Cliplister.
For retailers:
Ask your suppliers for this type of content.
Join a syndication network with existing content.
Create your independent review videos.
Review videos give customers in-depth advice and analysis of your products. Customers see an authority on a topic presenting a product in a relatable way, which creates trust and credibility.