Remember the feeling you got on your 10th birthday, when you saw all the gifts your friends brought you, and you couldn't wait to open them?
Strong emotions, anticipation in this case, is something many brands struggle to evoke. But now they can, with unboxing videos.
Unboxing videos unveil products in real-time, creating a connection between brands and their target audience. This comprehensive guide explains how to do just that, by explaining the magic behind one of the newest trends in video marketing.
What Is an Unboxing Video?
An unboxing video is a unique type of product video that showcases the firsthand experience of opening a product for the first time.
While often intertwined with review videos, unboxing content emphasizes the moment a product is taken out of the package for the first time.
These videos are often created by influencers and industry experts, which makes them prime examples of user-generated content (UGC). UGC is a powerful eCommerce tool that radiates authenticity and offers viewers a genuine product encounter.
Unboxing Video Examples
To grasp the essence of an unboxing video, let's delve into a couple of real-world examples. Here's a glimpse of some well-known brands that benefit from these types of videos:
Samsung S23 Ultra Unboxing Video
PGlmcmFtZSBzcmM9Imh0dHBzOi8vd3d3LnlvdXR1YmUtbm9jb29raWUuY29tL2VtYmVkLy1oSmRDUDVlWGxJP3NpPV9aM3h1dk1NYlU5VUx0WGwiIHN0eWxlPSJib3JkZXI6MHB4ICNmZmZmZmYgbm9uZTsiIG5hbWU9Im15aUZyYW1lIiBzY3JvbGxpbmc9Im5vIiBmcmFtZWJvcmRlcj0iMSIgbWFyZ2luaGVpZ2h0PSIwcHgiIG1hcmdpbndpZHRoPSIwcHgiIGhlaWdodD0iNDAwcHgiIHdpZHRoPSI2MDBweCIgYWxsb3dmdWxsc2NyZWVuPjwvaWZyYW1lPg==
In this video, Samsung unveils its S23 Ultra smartphone in all its glory.
Adidas Master's Week Unboxing Video
PGlmcmFtZSBzcmM9Imh0dHBzOi8vd3d3LnlvdXR1YmUtbm9jb29raWUuY29tL2VtYmVkL0VvRGJldThhY0JVP3NpPWVhME03YW5hOHFmaU1TU2wiIHN0eWxlPSJib3JkZXI6MHB4ICNmZmZmZmYgbm9uZTsiIG5hbWU9Im15aUZyYW1lIiBzY3JvbGxpbmc9Im5vIiBmcmFtZWJvcmRlcj0iMSIgbWFyZ2luaGVpZ2h0PSIwcHgiIG1hcmdpbndpZHRoPSIwcHgiIGhlaWdodD0iNDAwcHgiIHdpZHRoPSI2MDBweCIgYWxsb3dmdWxsc2NyZWVuPjwvaWZyYW1lPg==
This video showcases the influence and popularity of the brand with the three stripes in sportswear.
Both these videos highlight products and offer viewers an authentic, first-hand experience. That's why brands use this content as vital pieces of their influencer marketing and UGC strategies.
Benefits of Unboxing Videos
Unboxing videos have taken the world by storm. They offer a unique blend of entertainment and information.
Their widespread appeal and effectiveness are evident, and feature feature several benefits to brands and viewers alike. Here's a closer look of the benefits of unboxing videos:
In essence, unboxing videos are more than a trend; they're a potent marketing tool.
Statistics show a surge in viewer engagement, increased trust, and a notable rise in sales. It's no wonder why they play such a pivotal role for the world's most successful brands.
Why Unboxing Videos Are So Effective
Unboxing videos have a unique charm that resonates with viewers. There's a psychological reason behind their effectiveness.
At their core, these videos tap into the innate human love for surprises. Children tear open presents, anticipating the treasures within.
Similarly, adults can find joy in the suspense of unveiling a new product. This sense of anticipation and the tactile unboxing experience create a powerful emotional connection.
Moreover, brands design packaging to present products in the best possible light. In essence, unboxing videos recreate the childlike wonder of discovering something new. Which is why they're so irresistibly engaging.
Customers Love This Content
Unboxing Videos for eCommerce
More Conversions
Improved Visibility
Unboxing videos can be used across multiple channels, ensuring your products get seen no matter where your customers are.
Better ROI
According to an
industry survey
, 78% of marketing professionals report that videos lead to a direct increase sales.
Types of Unboxing Videos
Unboxing videos come in various types and uses depending on the product and marketing goals. Each of them offers a unique perspective on the product unveiling experience, from traditional unboxing content to genuine reactions.
Let's delve into the different types of unboxing videos that captivate audiences worldwide.
Traditional Unboxing
The quintessential form, traditional unboxing, is straightforward and informative. The creator meticulously opens the product, highlighting its features and specifications.
With the unveiling of a product, viewers gain insights into its design, components, and unique selling points.
First Impressions
First impression unboxing is all about capturing initial reactions. As the influencer unboxes the product, they share constructive feedback on its look, feel, and functionality. It's a raw, unfiltered glimpse into a user's first encounter with a product.
Reviews and Product Tests
Incorporating unboxing within product review videos is a powerful approach. Testers not only unveil the product but also use it in practical applications and discuss their favorite features.
Product tests provide viewers with an in-depth analysis of a product's capabilities, strengths, and potential shortcomings.
Reaction Unboxing
Reaction unboxing is all about spontaneity. Creators unbox a product they've never seen before. It captures their genuine reactions on camera.
This unboxing type, popularized on YouTube, offers viewers a completely authentic experience. It's the most genuine type of unboxing video, with the creator's unfiltered emotions and reactions.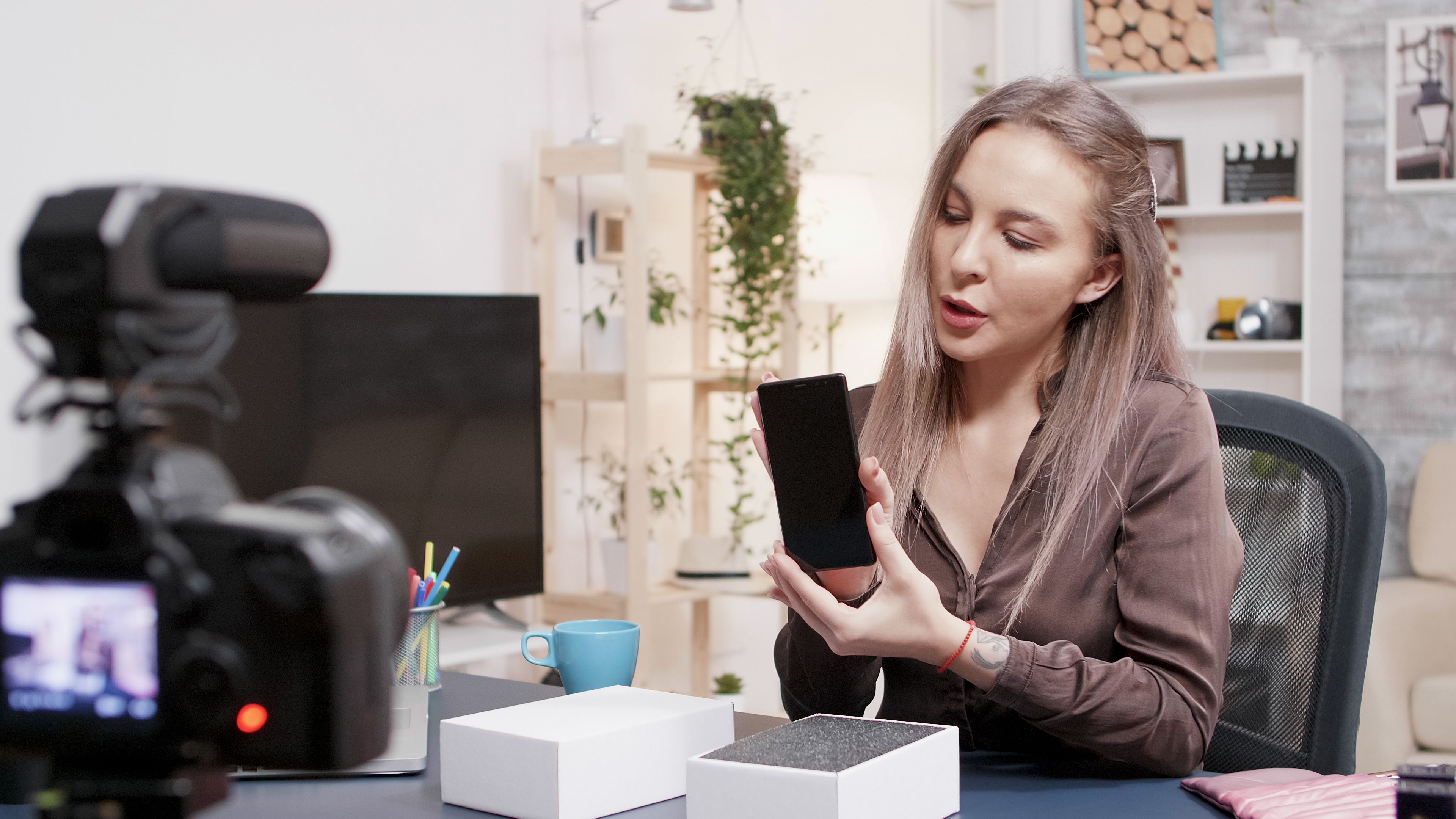 How to Create Unboxing Videos for Your Brand
A compelling unboxing video requires a strategic approach. But that doesn't mean you can't have professional unboxing videos. The upcoming sections provide a step-by-step guide to creating unboxing videos perfect for your brand's audience.
Of course, you could also book a call with us, and we'll be happy to explain how our content creation services streamline the process for you.
Step 1: Goal Definition
Before production, it's crucial to define your objectives. Are you aiming to highlight a specific product use case or drive conversions?
Clear goals help guide your content creation process. This is the best way to make sure the video aligns with your brand's objectives.
Moreover, these goals will influence your chosen content distribution channels. Which plays a big part in maximizing the video's reach and impact.
Step 2: Audience Segmentation
The next step is knowing who your customers are and what they desire. Creating content without understanding your audience is like shooting arrows in the dark. Tailor content to their preferences to ensure relevance and engagement.
Furthermore, localization plays a pivotal role. Recognizing cultural nuances and adapting content can distinguish between a video that resonates and one that falls flat.
Step 3: Brief Creation
While unboxing videos capture spontaneous reactions, providing reviewers with a brief is essential. This document should outline any specific focus areas and potential pitfalls to avoid.
Sharing this brief with the presenter ensures brand alignment, and allows for an authentic yet brand-consistent unboxing experience.
Step 4: Talent Sourcing
The success of an unboxing video often hinges on the presenter. Whether you opt for an influencer, a product tester, or an industry expert, ensure they have the trust of your audience. Their genuine enthusiasm and expertise can elevate the video's appeal.
Step 5: Filming
Once you've identified the right talent, it's time to film. Given their expertise, reviewers typically need minimal guidance.
Unscripted reactions, combined with a product tester's niche expertise, ensure the content is genuine.
Step 6: Post-Production and Editing
After filming, the video enters the post-production phase. While many reviewers excel in production, some fine-tuning might be necessary.
This step ensures the video aligns with the brand's aesthetic and messaging, enhancing its quality.
Step 7: Publication
A stellar unboxing video is only as good as its reach. To maximize impact, brands must distribute their content across appropriate channels to ensure videos reach their intended audience.
There are a few different ways that brands can go about distributing their unboxing videos. The first is to utilize the already popular platform, YouTube.
However, you want your product videos to reach the maximum number of potential clients. As such, you should also consider content syndication to get your videos in front of shoppers when they're ready to buy – on the product pages at major online retail outlets.
Post Unboxing Videos on YouTube
YouTube stands as a powerhouse for brand awareness. Focus on leveraging influencers with a significant following that aligns with your target group.
There are drawbacks to unboxing YouTube videos, though. In eCommerce, it's usually more about users being led astray via ads or other channels if they're on the platform itself. This is known as traffic diversion and is very frustrating for many SEO departments.
If you're experiencing this problem, be sure to check out our article on YouTube alternatives for eCommerce.
Publish to Retailers with DemoUp Cliplister
Integrating unboxing videos on product pages generates interest and drives conversions. Through DemoUp Cliplister's content syndication software, brands can control content directly on the product detail pages (PDPs) of 350+ connected retailers in the network.
This service reduces the time it takes to publish finished content by 90%, eliminating the hassle of long email chains, endless follow-ups, and missed deadlines.
It's worth noting that retailers juggle content from several vendors. This makes streamlined solutions like ours invaluable for eCommerce brands.
Convert 34% More With Unboxing Videos
Syndicated to the point of sale at 350+ global retailers.
Book a call
When to Outsource Unboxing Video Production
Want to start using unboxing videos as part of your marketing strategy? It's important to ensure your videos are high-quality to generate trust in your brand and products.
For most companies, hiring a professional eCommerce content production company is the best way to manage this. Here are some of the reasons why it makes sense to outsource unboxing video production:
Your Videos Lack Production Value
Generating excitement through unboxing videos is highly dependent on audiovisual presentation. You need high-quality cameras, microphones, staging equipment, and editing software.
For most brands, this type of creative production is not a core competency. Therfore, it makes more sense to outsource to a professional video production company.
You Don't Tell a Cohesive Story
The importance of storytelling continues to grow in marketing. Integrating the product into the context of a story helps personalize your advertising message and creates emotion in shoppers. Invest in the expertise a production company brings to avoid your videos falling flat.
Managing Influencers is a Headache
Let's face it – most brands have no idea how to interact with influencers. They micromanage and request large numbers of changes, which results in poor videos and influencers unwilling to work with them again.
A production company works with influencers every day and knows exactly how to get the best out of their network.
Unboxing Video Production by DemoUp Cliplister
Unboxing videos have become a powerful tool to captivate audiences and drive conversions. But, creating these videos is challenging.
One of the primary hurdles is gaining access to the right influencers. These individuals can amplify a brand's message with their vast followings and authentic appeal. But managing influencers is no walk in the park.
Coordinating with influencers involves many tasks – from negotiations and content briefings to review cycles and post-production edits. This process demands significant time and effort, often stretching brands thin.
Moreover, ensuring that the content aligns with brand guidelines while retaining the influencer's genuine touch can be a delicate balancing act.
That's where our project managers can help. We understand the intricacies of creating impactful unboxing videos.
With a 30-minute briefing, our team takes the reins, ensuring you have top-notch product videos ready in three weeks. But our services don't stop there.
Once crafted to perfection, we automatically upload and syndicate the videos to the product detail pages (PDPs) of the world's leading retailers.
This seamless integration ensures that your content reaches its intended audience, during the purchase phase, maximizing its impact.
With DemoUp Cliplister, you can navigate the complex world of product unboxing videos. Book a call today, and start resonating with your customers in a way you never thought was possible.
Unboxing Video Production with DemoUp Cliplister
What You Get With Us
34% Conversion Uplift
Retailers in our cohort that stream these videos see an average add-to-cart increase of 34%.
Full-Cycle Project Management
Outsource all your tasks from project scoping, to influencer management, to content distribution.
Quarterly Performance Reports
Get data driven reports so you can optimize your product video campaigns.
Save 80% Over Classic Agencies
Optimize costs by uploading finished videos to our network of 350+ global retailers.
Regular Project Updates
Our team of project managers keeps you updated on progress throughout the production process.
4-6 Week Turnarounds
Average turnaround time of less than 6 weeks. (Subject to seasonal demand and other factors.)
Frequently Asked Questions
Still have some questions about unboxing videos? Here are the answers to the most common questions we get during our calls with clients. For more on eCommerce tips, tricks, and trends, be sure to visit our blog.
Unboxing is a fun and popular online trend where people unwrap and reveal the contents of a newly purchased product. It's often recorded and shared as a video or photo series. It gives viewers a firsthand look at the item's packaging, accessories, and initial impressions, fostering excitement and reviews.
Unboxing is a growing phenomenon, and more people watch these videos daily. YouTube reported more than 1.1 billion views of amateur unboxing videos in 2021, and this number continues to rise.
Unboxing videos are popular because they harness the power of user-generated content (UGC). People trust fellow consumers' experiences, making these videos influential in purchase decisions. UGC unboxing adds authenticity and relatability, fostering a sense of community among consumers who share similar interests.
A great unboxing video is one that's exciting, informative, and well-organized. It should show off the product clearly, explain its features, and express genuine enthusiasm. Keep it brief, stay on topic, and ensure both the video and audio quality are top-notch for an enjoyable viewing experience.
To get the best unboxing experience, start with a well-lit and clutter-free space. Follow the content creator's instructions carefully, paying attention to product details. Engage with the video by actively listening and watching.