As an online retailer, it can be hard to figure out the best product content syndication software. This is only made more complicated by the many types of video hosting providers, video content distribution services and product video creation services.
We spoke with several of our customers who switched from Wistia to DemoUp Cliplister or used other Wistia alternatives, so we know why Wistia works for some eCommerce businesses but not others.
The following post covers the pros and cons of Wistia, plus five more Wistia alternatives, starting with DemoUp Cliplister's 3D, augmented reality, and video syndication service for eCommerce shpos.
Wistia Core Features
Wistia is an online video platform with a built-in video hosting system designed to help marketing, support and sales better control the user experience. Wistia allows you to create, host, market and analyse video performance to help you prove ROI and achieve your goals.
Like most Software as a Service (SaaS) video hosting platforms, Wistia is great in some areas but lacks specificity for eCommerce shops. Here are some examples of Wistia's capabilities:
Wistia Capabilities
Record videos in your browser
Host and record live events (webinars)
Marketing analytics integrations
As you can see, there are quite a few features for a video hosting provider.
Pros & Cons of Wistia
There are several things people who use Wistia like about the software. The main advantage of Wistia is that it allows you to upload, manage and host videos online.
This helps businesses maintain security, share visual content, and improve communications. An example is the Wistia Chrome extension, Soapbox, which helps your team create and send personalized sales videos straight from your web browser.
There are both free and paid versions of Wistia, though most businesses will need to upgrade their plan to a paid version sooner than later due to the limited functionality. If you host videos with Wistia, the paid version provides real-time analytics so you can improve your video marketing efforts.
The Wistia video player is customisable, so you can maintain and control your brand identity. The Wistia video marketing platform also helps you collect new leads with gated content and quickly embed videos into your website, which gives you full control over your online marketing and video content.
Comparing Wistia Alternatives?
See how DemoUp Cliplister makes eCommerce video hosting a breeze
Book a call
However, the price structure is based on the number of videos you host, which means companies with large video databases, like eCommerce shops, must pay large sums of money to maintain their product pages.
Implementation is also a strain on resources, as companies that purchase the platform must rely on their internal IT teams and infrastructure to get the system up and running. Plus, you must pay for integrations that may or may not work well with your shop's system.
Wistia also lacks a robust way to organize and sort video content, so there are other systems out there that are better in this area. Wistia limits file size, so many companies compress and convert footage before they upload it to Wistia. To top it all off, the SEO setup can be quite confusing.
DemoUp Cliplister: The Top Wistia Alternative for Online Shops
Wistia's top competitor in the eCommerce video hosting space is DemoUp Cliplister's product content syndication solution for online shops.
While Wistia focuses more on hosting and creating videos, DemoUp Cliplister focuses on enabling eCommerce shops to accelerate their growth quickly and easily with syndicated product content.
Here are other key features that distinguish DemoUp Cliplister from Wistia:
DemoUp Cliplister Features
200,000+ videos from 3,000+ brands: DemoUp Cliplister's software gives you access to eCommerce-specific content directly from the brands you carry.
Copy & paste code integration: DemoUp Cliplister takes the burden off your IT team. All you need to do is copy and paste a few lines of code into your shop's template.
3D and AR model syndication: While Wistia is great for video marketing, DemoUp Cliplister also provides 3D and AR product models in addition to videos.
Multi-lingual content database: Wistia requires you to host videos yourself. DemoUp Cliplister's database offers videos in over 35+ languages.
Enhanced SEO: All DemoUp Cliplister's product content is optimised for SEO. The content displays in a native video player 300% faster than YouTube's.
If you struggle to create and host product videos, you can use DemoUp Cliplister to syndicate product content and take the burden off your teams. Contact us to learn how.
How Wistia & DemoUp Cliplister Compare:
In comparison to Wistia, DemoUp Cliplister offers:
Faster content availability: DemoUp Cliplister uses artificial intelligence (AI) and machine learning (ML) techniques to instantly add relevant content to appropriate PDPs.
Improved video content management: All the content in the database is uploaded directly from brands, meaning your teams no longer need to chase down, upload, host and implement the latest assets.
Better eCommerce analytics: While Wistia's premium solution provides data like view rates and attention spans, DemoUp Cliplister's analytics also includes eCommerce-specific metrics like add-to-cart rates and conversion-to-view rates.
Other Wistia Competitors
In addition to DemoUp Cliplister, many people searching for Wistia competitors also investigate Flixmedia, Loadbee, Skeepers, Videoly and YouTube.
Flixmedia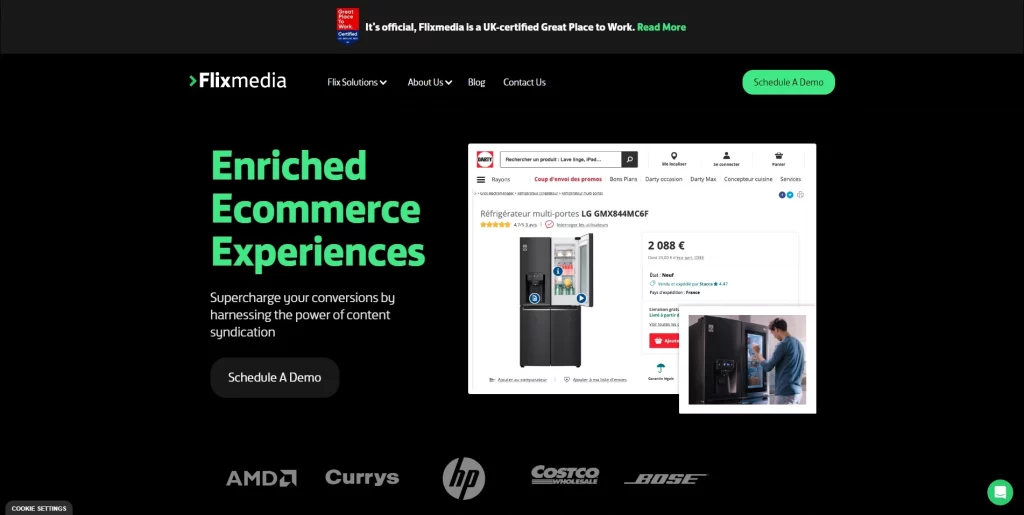 Flixmedia enriches content directly on the page using Hotspots (icons on the hero image), MiniSites (pop-ups) and built-in A/B testing ability.
While retailers can join the network free of charge, product coverage is very limited. Furthermore, retailers cannot upload their own content and the software has a limited range of analytics.
The biggest complaint among Flixmedia users, however, is that the video coverage is poor, which you can read more about in our article on Flixmedia alternatives.
Note: DemoUp Cliplister offers 20x – 30x better product video coverage than Flixmedia. Contact us for a free coverage report showing how many videos are available for your shop.
loadbee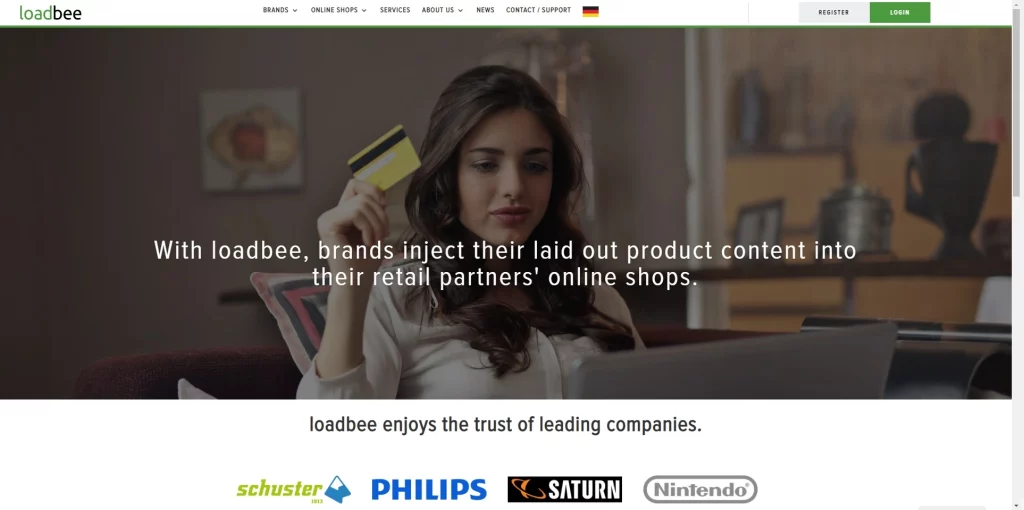 loadbee is very similar to Flixmedia in that it syndicates product videos from brands to retailers free of charge.
However, like Flixmedia, it does not have an active sourcing service, offers few analytics, and has very slow loading times.

The biggest complaint we hear from former Loadbee users, though, is that the integration loads very slowly. This impacts performance and the user experience, which can negatively impact rankings in search engines.
Check out our article on loadbee alternatives for more information.
Note: DemoUp Cliplister displays all videos directly in product galleries using a native video player that loads 300% faster than YouTube's. Contact us to learn more.
Skeepers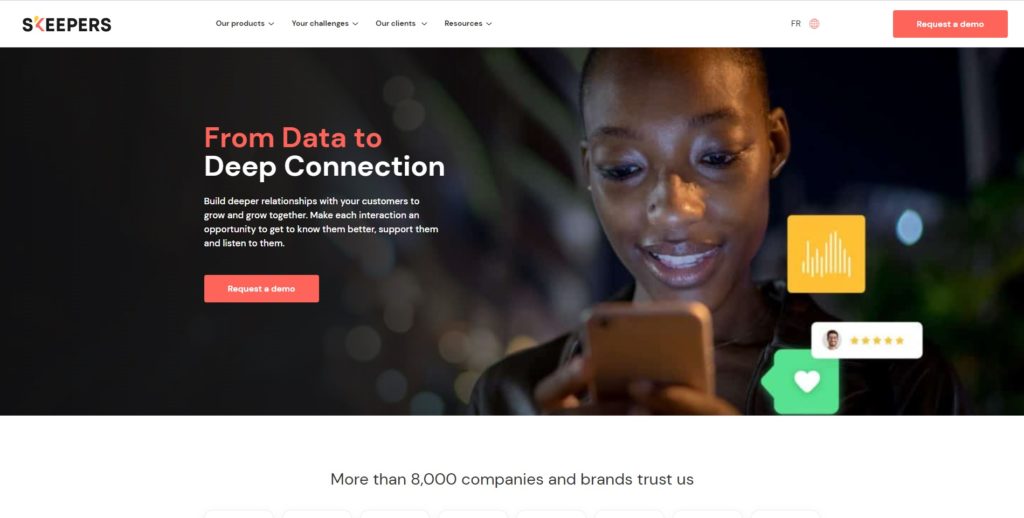 Skeepers is a user-generated content (UGC) platform that helps brands and shops create, collect and distribute product review videos and other UGC through their own player. The company takes over the entire product video production process and syndicates the finished content to retailers.

While Skeepers is great for brands who want to use review videos as their primary content, the firm does not provide any extra content types. The platform also features limited availability outside of the French market.
Note: DemoUp Cliplister offers hundreds of thousands of brand-created product videos alongside 3D/AR product models. Contact us to learn how you can improve your customer experience.
Videoly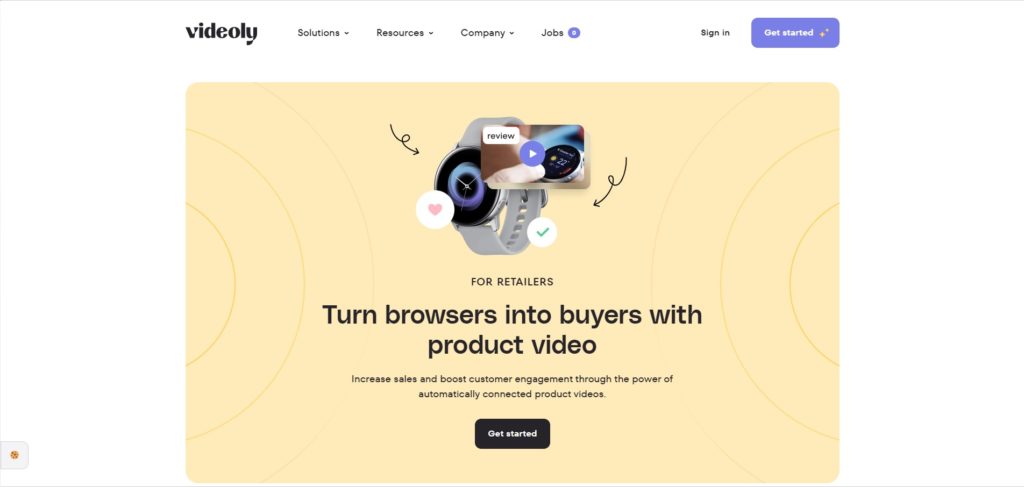 Videoly is a product content syndication service that matches and displays YouTube videos on product pages at leading online retailers.
While Videoly also features copy-and-paste code integration, it lacks much of the functionalities of a true product video syndication network.
One of the biggest drawbacks of Videoly is that it only displays videos from YouTube. This often results in customers clicking on another video or watching an unrelated suggested video that appears after the initial content concludes. This leads to users leaving your shop's ecosystem and becoming distracted.
Furthermore, loading external media from YouTube is not GDPR compliant. This can be a big issue for Euro-centric retailers who need to ensure full GDPR compliance.
For more information on Videoly, read our post on Videoly alternatives.
Note: DemoUp Cliplister uses a native video player and cuts YouTube out of the equation. Contact us to find out how you can deliver optimized product experiences and keep users in your ecosystem.
YouTube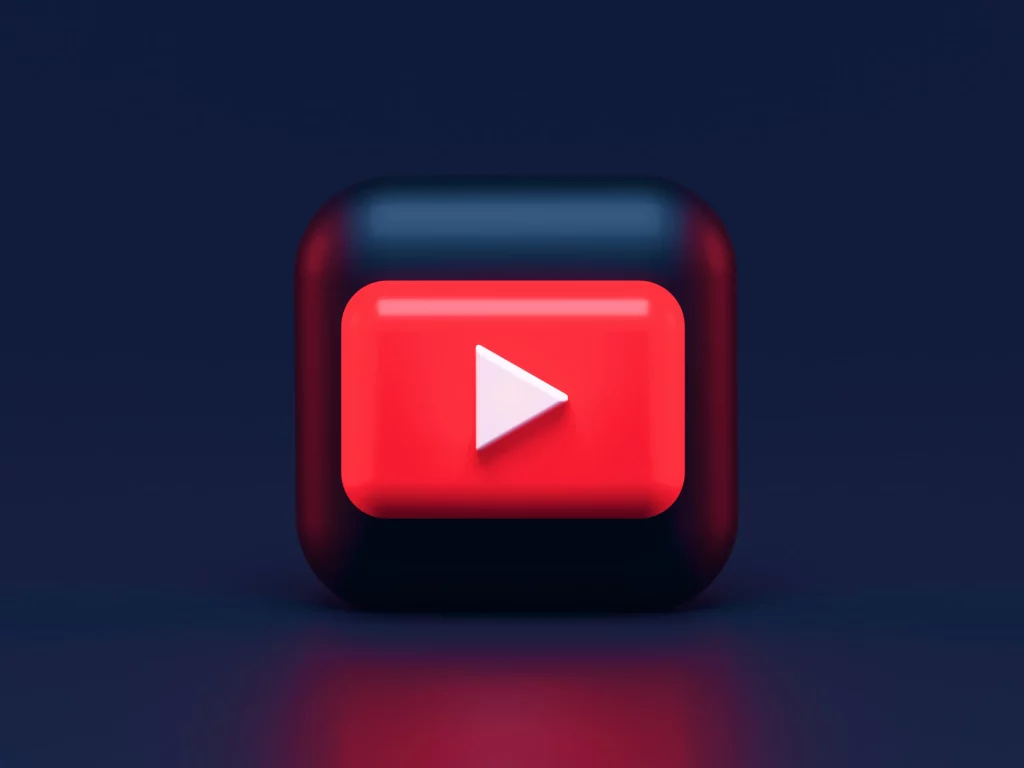 YouTube hosts more videos than any other company in the world with billions of videos viewed each day. As a Wistia replacement, it excels in several areas. However, as a medium for displaying product content on product detail pages, it misses the mark significantly.
While it's free to embed YouTube videos, sourcing videos places a huge burden on your internal resources. After you source the videos, someone needs to manually embed each into every PDP you want the content to display on. Plus, team members also need to continually update product pages with the latest videos, which makes YouTube almost untenable as a product content provider.
Lastly, as we previously outlined in the Videoly section above, YouTube frequently results in distracted customers and is a non-starter for retailers concerned about GDPR compliance.
If you're in need of a better solution, read through our in-depth article on YouTube alternatives.
Note: DemoUp Cliplister provides a GDPR-compliant solution in a fully customizable video player that loads 300% faster than YouTube's. This results in better SEO and a more seamless user experience. Contact us for a demonstration.
Getting Started With the Best Product Content Solution for Online Shops
While Wistia is great as a video hosting provider and video marketing platform, it lacks several features that make it unviable for most eCommerce retailers.
The biggest issue most retailers have with Wistia is that it requires you to create, upload and host your videos yourself.
This places a huge burden on your internal IT teams and makes it hard to use for many online retailers that don't have a large amount of tech and web development resources available.
That's why, in the eCommerce space, you'll find most product content syndication solutions feature the following functionalities:
A large database of video content
Syndication of brand-created content to product pages
A content creation service
A content matching mechanism
Mobile-optimized content
Content analytics
Of these features, Wistia only includes content analytics. As such, we recommend searching for other, more eCommerce-specific options if you want to put video, 3D and AR content in your online shop.
We designed DemoUp Cliplister to fit in the price range of most medium-sized online retailers while remaining scalable enough for global enterprises. We are committed to your success, so we will tell you if we don't think we can help.