Finding the best product content syndication software is a challenge. Many buyers choose options based on how many brands are in the content pool, how easy the software is to use, and the price. Common B2B review sites help, but often there is not enough information there to make informed decisions.
We spoke with many of our clients who switched from Flixmedia to DemoUp Cliplister or used other Flixmedia alternatives, so we know the areas in which Flixmedia both excels and falls behind.
This post outlines the pros and cons of Flixmedia, plus five more eCommerce video syndication alternatives, starting with DemoUp Cliplister's product content syndication platform.
Flixmedia Core Features
Flixmedia is a software platform that delivers enriched in-page content directly to online retailers, icons on hero images, and mini-sites.
Flixmedia also offers built-in A/B testing, point-and-place AI, and 3D/AR model delivery.
Like most product content syndication software, Flixmedia uses content brands upload directly to the platform, which the firm then distributes across its pool of retailers.
The Flixmedia software application includes several features:
Minisites Integrations: Retailers can put brand-created pop-ups with richer brand content directly on their product pages.
Augmented Reality: Shoppers can interact with AR experiences by tapping a button on the PDP.
Hotspots: Pulsing icons on product images contain rich brand content.
Content Analytics: Retailers get full oversight of how brand content performs on their PDPs.
The main selling point of Flixmedia is that it's free for retailers to use, provided you don't need any of the extra bells and whistles.
Pros & Cons of Flixmedia
Flixmedia's popularity stems from the fact that it's free to use and has a full analytics suite. It works well for businesses of all sizes because it puts the payment burden fully on the brands it syndicates content from, which pay for the rights to embed product content directly in online retailer product pages.
On the other hand, Flixmedia only syndicates videos from around 190 brands. Therefore, many online retailers don't have access to videos for the bulk of the products they sell.
That means online shops using Flixmedia must source product videos from the remaining brands they carry. This still places a burden on finding and implementing product content, which defeats the purpose of syndication in the first place.
Another area Flixmedia struggles with is content matching. Flixmedia utilizes a manual content matching process, which means there is a lag time between the time a brand launches new products and new content ends up on retailer product pages.
DemoUp Cliplister: The Top Flixmedia Competitor
Flixmedia's top competitor for eCommerce video syndication is DemoUp Cliplister's product content syndication software for online retailers. We offer many of the same features of Flixmedia, but with more brand coverage and easier integration.
Here are other key features that distinguish DemoUp Cliplister from Flixmedia:
200,000 Videos from 3,000+ Brands: DemoUp Cliplister's product content syndication software offers content from over 3,000 global brands, which is 16x more than Flixmedia offers.
Automated Content Matching: DemoUp Cliplister uses artificial intelligence (AI) and machine learning (ML) to quickly match new content to products and map them to retailer product pages.
Embedded 3D and AR Product Models: DemoUp Cliplister product content syndication software syndicates 3D and AR product models into retailer PDPs, which dramatically improves add-to-cart rates.
Multi-Lingual Content Database: DemoUp Cliplister's content database contains videos in over 25 different languages, so you always have the perfect video for your audience.
(Note: Struggling with traffic? Try using DemoUp Cliplister to syndicate product content and improve your rankings with better page load times. Contact us to learn how.)
How Flixmedia & DemoUp Cliplister Compare
In comparison to Flixmedia, DemoUp Cliplister has:
Faster content availability – With artificial intelligence, machine learning algorithms, and automated content matching, you can have new brand-created content on your PDPs before any of your competitors.
16x more brands on board – We offer content from over 3,000 brands, over 16 times more than Flixmedia, so you always get the best content from your biggest partners.
Better page speeds – Faster loading times mean DemoUp Cliplister provides unmatched customer experiences.
3D and AR product models above the fold – Putting 3D and AR product models above the fold means customers don't need to click an extra button to reach the content.
Other Top Flixmedia Alternatives
In addition to DemoUp Cliplister, many people looking for Flixmedia alternatives also evaluate Binkies 3D, Loadbee, Videoly, and YouTube itself.
Binkies 3D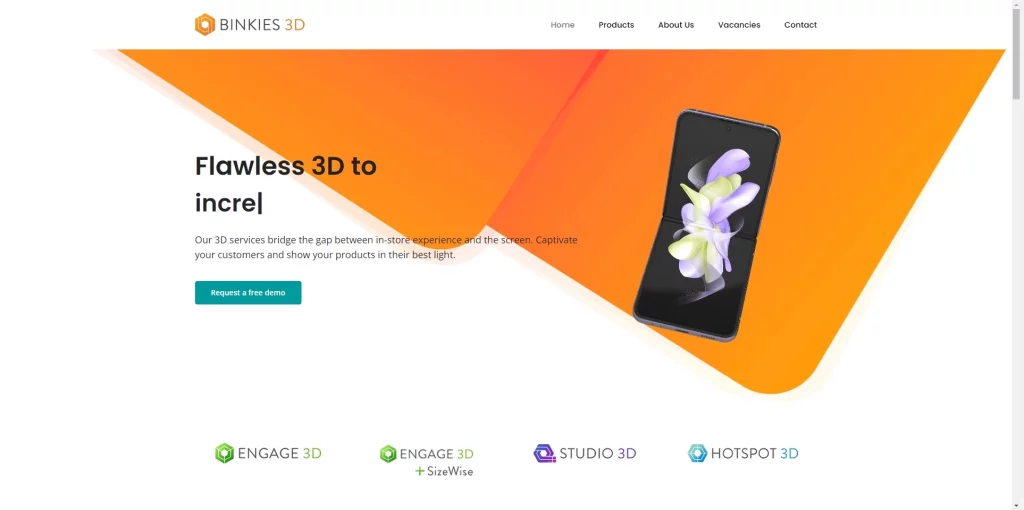 Binkies 3D aims to bridge the gap between the online and in-store experience through photorealistic 3D models. The company brings high-quality, interactive 3D rendering straight to your product galleries with just one line of code.
However, the only 3D models currently available are smartphones and tablets. So, if you don't carry mobile phones, you'll need to look elsewhere for your 3D and augmented reality coverage.
Plus, Binkies 3D only offers content for 3,000 products in total, so coverage is quite low in comparison to many of the other industry leaders. (Note: DemoUp Cliplister offers 3D and AR product models for any vertical. Contact us for a free consultation about implementing 3D and AR models in your shop.)
Loadbee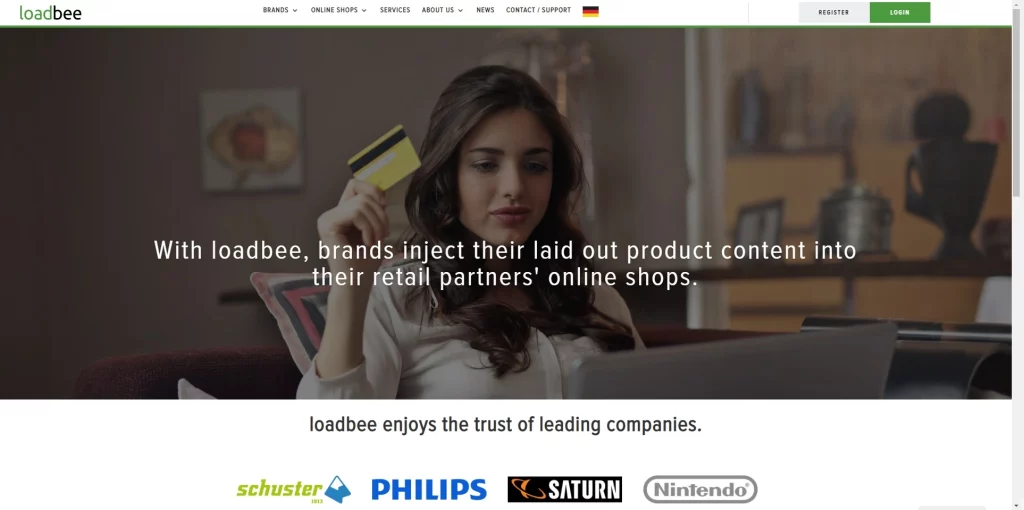 Loadbee is very similar to Flixmedia in that it syndicates product videos from brands to retailers free of charge.
However, like Flixmedia, it does not have an active sourcing service and brand coverage is also very limited, with content from around 400 brands.
The biggest complaint we hear from former Loadbee users, though, is that the integration loads very slowly. This impacts performance and the user experience, which can negatively impact rankings in search engines.
(Note: DemoUp Cliplister displays videos using a script embedded into your shop's template. This results in faster loading times and better SEO rankings. Talk to a consultant today to see how many videos are available for your shop.)
Videoly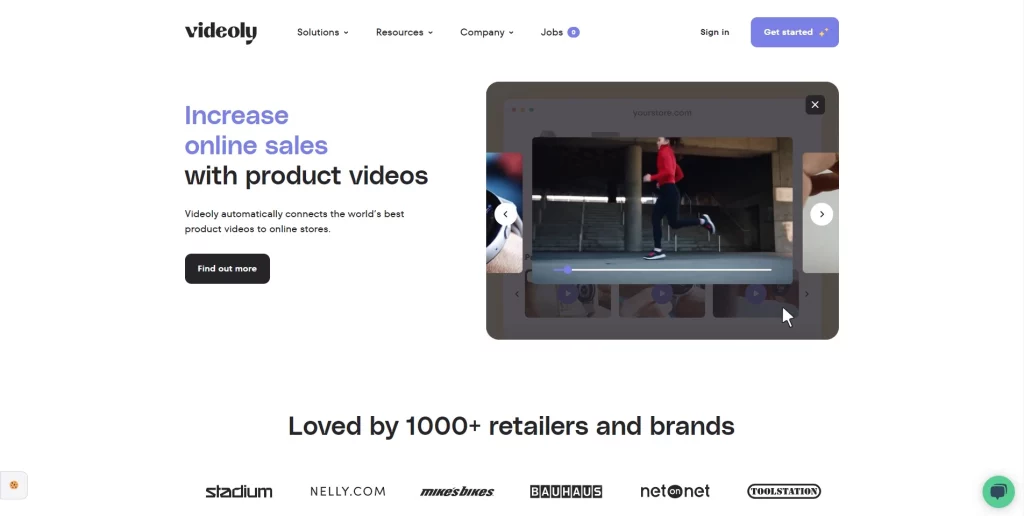 Videoly is a product content syndication software platform that matches and displays brand YouTube videos on retailer product pages.
While Videoly integrates easily into online shops, it only displays content available on YouTube. This often results in users clicking on another video, leaving the retailer's ecosystem, and becoming distracted.
(Note: Considering Videoly? See our article on Videoly alternatives to see a full list of comparable software applications.)
YouTube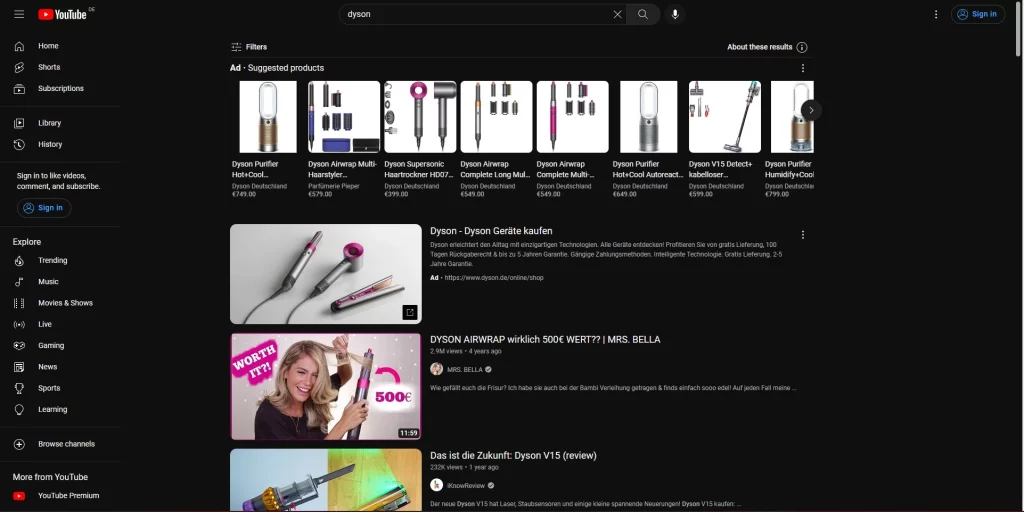 YouTube is a go-to video syndication service for many eCommerce shops because it's free, easy to embed and content is readily available.
However, companies using YouTube for this purpose expend a lot of resources that could otherwise be saved. Manually embedding videos from YouTube requires an entire team to oversee, manage and map content to the correct product pages. Teams must embed each video manually.
Even if your team can pull off this mammoth effort, other issues usually arise down the line. The embed code is not very efficient and slows down your shop.

Load times significantly impact eCommerce performance. For in-depth stats, you can read our post on mitigating speed reduction by using a DAM with a built-in CDN – but 47% of customers wait a maximum of two seconds before leaving a page.

Even if speed isn't a factor, YouTube shows related videos automatically after a user is done watching the embedded media. In fact, the average YouTube viewing session is over 40 minutes. This results in distracted customers stumbling around YouTube instead of converting on your page.
(Note: Losing traffic to YouTube? DemoUp Cliplister's product content syndication software uses a native video player that loads 300% faster than Google's, and keeps customers on your pages.)
Getting Started with the Best Product Content Syndication Software
While features are important, online retailers must consider their specific needs and the overall customer experience they want to portray to their visitors when shopping for a product content syndication platform. Most platforms have some of the following functionalities:
Syndication of brand-created content to retailer product pages
A content-matching mechanism
Mobile-optimized content
Content analytics
3D and AR product model integration
DemoUp Cliplister offers all these features and more to our online retail partners. Schedule a consultation to see how you can accelerate your growth with the biggest product content syndication network in eCommerce.
We designed DemoUp Cliplister to fit in the price range of most medium-sized online shops while remaining scalable enough for global retailers. We are committed to your success, so we will tell you if we don't think we can help.
Other Resources
For other great reads, head over to the blog.
Otherwise, check out the full range of DemoUp Cliplister software and services.