How Combining DAM and CDNs Powers Faster Content Delivery
Digital asset management (DAM) is a growing topic in the digital age. Currently, businesses juggle more files than ever as they try to find better ways to reach their customers. 
To distribute these files, a company requires a content delivery network (CDN). By combining DAM and CDN technologies, digital asset delivery is faster than ever before. 
So, how does this boost conversions?
To answer this question, let's take a more in-depth look at what digital asset management (DAM) systems and CDNs are, how combining the two improves the customer experience, and how this impacts your bottom line.
What is a Digital Asset Management System?
Digital asset management is the process of storing, organizing, managing, updating, and delivering files when and where they're required.
A digital asset management system is a central place through which users manage this process.
"DAM stores, manages and renders rich media, including text, graphics, photos, video and audio. DAM can be sold as a software license or hosted service. Typically, DAM systems are intended to support a wide range of actors – from specialized creative to generalist production to more operational and administrative roles – both inside and outside an organization, often including agencies and channel partners."

Source: Gartner Glossary, 2022
In eCommerce, a DAM system's functionality plays a key role in organizing content, so the correct media is assigned to display in the correct place and on the correct end-devices.
In other words, somebody viewing a website in Spain using an iPhone should have a different customer experience than someone in France on a desktop computer.
But how can you manage this?
At DemoUp Cliplister, for instance, our digital asset management software for eCommerce lets companies control what each user sees based on location, their device, date and time, and several other factors.
If you're a brand selling heavily through eCommerce channels and don't use some sort of DAM solution, read our post on why your company should rely on a digital asset management system.
What is a Content Delivery Network?
Before we jump into our simplified explanation, let's look at how Wikipedia defines a content delivery network.
"A content delivery network or content distribution network is a geographically distributed network of proxy servers and their data centers. The goal is to provide high availability and performance by distributing the service spatially relative to end users."

Source: Wikipedia
Put more simply, A CDN works by storing copies of website content on servers distributed across multiple locations. When a user requests that content, the CDN delivers it from the server nearest to the user, reducing latency and improving website performance.
How a Combined DAM and CDN Powers Faster Content Delivery
When you consider the organizational capabilities of a DAM and the powerful delivery abilities of a CDN, it becomes easy to see why using them together accelerates growth in eCommerce channels.
The use of a digital asset management system allows you to manage and control what your customers see, while a content delivery network ensures shoppers see what you want them to see, and that the media loads quickly enough to keep potential customers engaged. 
CDNs also use caching mechanisms, which reduce loading times for web applications. This reduces the bandwidth required and ensures constant accessibility, which is very important for large retailers with enormous traffic flows.
The Impact of Load Times on ECommerce Performance
In eCommerce, loading time is one of the most important customer experience metrics. When customers visit your web shop, you don't want to make them wait.
According to Neil Patel, 47% of users will wait a maximum of 2 seconds before leaving a page and jumping to a competitor's.
A study by Aberdeen Strategy & Research also underlines that every additional second in the loading process can lead to enormous losses in online performance.
"A one-second delay in page load time results in 7% decrease in conversions, 11% decrease in page views and 16% decrease in customer satisfaction." 

Source: Aberdeen Strategy & Research Study
Therefore, combining a DAM with CDN capabilities can improve your bottom line in three main areas:
Faster Loading Times:
Using a DAM with CDN capabilities results in faster loading times and content delivery to online shops worldwide. This also applies to the provision of high-resolution images or 360° product views.
Improved Security:
Digital asset management platforms provide enhanced storage security, while CDNs use encrypted pages and HTTPS to guarantee the secure delivery of digital content via the cloud. 
Better User-Experience:
Faster loading speeds reduce bounce rates, increase the time customers spend on your pages, and ultimately improve the customer's experience, all of which are crucial factors for SEO and improving your site's search engine rankings.
See the Only DAM System with a Built-in ECommerce CDN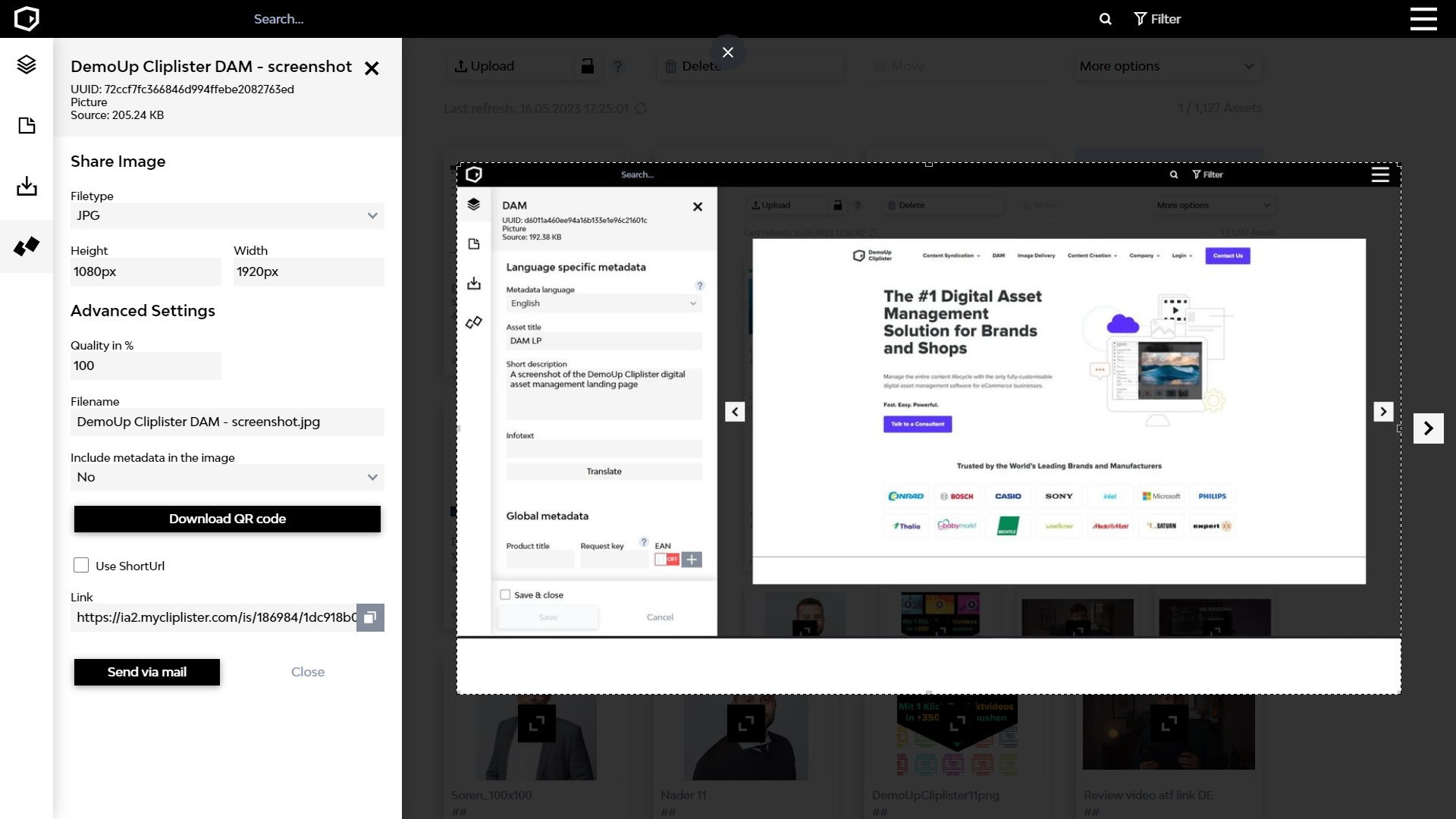 DemoUp Cliplister takes the power of both technologies and combines them to create an end-to-end workflow. This puts the entire content lifecycle in your hands without having to rely on third-parties to implement content on time.
Book a demo to see how you easy it is to improve conversion rates. We'll be happy to show you how DemoUp Cliplister's DAM software combines multi-CDN technology with best-in-class digital asset management capabilities.
Conclusion
By connecting the DAM system to a content delivery network, you are optimizing the customer experience based on location, access point, end-user device and several other factors.
When your page loads fast, users aren't forced to wait for the information they want, which improves the customer experience and ultimately your revenue. 
Furthermore, you ensure content delivery is reliable, secure, and fast. Therefore, a combined DAM and CDN is extremely useful for eCommerce brands and retailers that record high volumes of traffic while also storing and distributing large quantities of content.
At the end of the day, customer experience is a competitive advantage in eCommerce. If your company can differentiate itself as a top performer in this area from its competitors, you will be well on your way to winning more customers.
Other Resources
For more useful information related to digital asset management, product content syndication, and eCommerce, check out the rest of the blog.
Otherwise, visit the homepage to see the rest of DemoUp Cliplister's software and services.