Media Asset Management – The Ultimate Guide to MAM
The age of digitalization is the cornerstone for the development of media content such as graphics, videos, and documents. These digital applications are referred to as assets and have a function in almost every area of a company.

For optimal and maximum use of these assets, uncomplicated, centralized access to the content is necessary.
Manual management of digital files is very time-consuming and, depending on the size of the company, extremely difficult to implement. Limits lie in platform design, maintenance, and access. In today's working environment, companies more than ever need access to content regardless of location.

A helpful solution lies in media asset management, or MAM for short. A MAM solution acts as a central tool for managing and storing all your digital media and enables access regardless of time and location. In addition, the software application supports the conversion and upload of digital files and the management of the entire lifecycle of the assets. This allows the content to be made available and used globally.
Comparing MAM Providers?

Download Now: The Ultimate Digital Asset Management Playbook
What is Media Asset Management?
If you're new to MAM, one question almost always arises: "What is Media Asset Management anyway, and who should be responsible for it?". Media asset management is understood to be a cloud-based or locally hosted system that stores and manages digital content and allows it to be used regardless of location.

Systems like this were developed to handle a growing number of digital files, which are a consequence of digitalization over the last two decades. Almost every institution needs media in virtual form for marketing and organizational purposes. Companies are therefore dependent on a transparent and well-maintained content database.

The latter is why MAM's importance is steadily increasing. The rapid development of MAM systems is due to the growth of social media, e-commerce, and multimedia. Maintaining a presence on online channels is more important than ever before due to the increased consumption of digital content, like videos, 3D, and augmented reality.
The Difference Between DAM and MAM
Closely related to MAM is digital asset management, or DAM for short. Media asset management is more limited than DAM, because a DAM can manage all digital files, whereas a MAM is only for audiovisual content like videos, podcasts, or music.
A DAM, on the other hand, is much more comprehensive in comparison. It includes a broader spectrum of assets, not only including multimedia, but also text documents, spreadsheets, and any other type of file. The approach in terms of cloud-based storage, management, and access is like that of a MAM system.
Using a media asset management system brings many essential benefits. Here are some of the more notable areas it can improve:
Collaboration
Managing assets for social media
Simplified creation and publication of cross-media content
Automated format optimizations
Multimedia metadata management and retrieval
Easy searchability and sharing of multimedia

Multimedia content can then be optimized for each channel using to conduct personalized marketing campaigns and address the target group in the best possible way.
How to Choose a Media Asset Management System
Once you have decided to implement a media asset management system, the next step is to select a suitable solution. It is important to select a MAM platform based on individual needs and requirements. Several factors are considered highly relevant. Be sure to consider the following before you decide on a vendor:
Scalability and flexibility: Find out whether the MAM platform can be expanded or if it's adaptable in the event of internal changes.
User-friendliness: Ensure your teams can use the system easily and effectively.
Ease of implementation: Some media asset management systems are a huge burden on IT resources. Be sure you have the manpower to handle the implementation and integration.
Reliability: A reliable MAM system is a must for most industries. Downtime results in lost sales and poor performance.
Looking for a MAM or DAM platform?

Check out our article:

How to Choose a Digital Asset Management System
The best media asset management software
If you're looking for a digital asset management system with MAM capabilities, look no further than DemoUp Cliplister's digital asset management software. No other software offers such extensive video asset management or 3D asset management capabilities.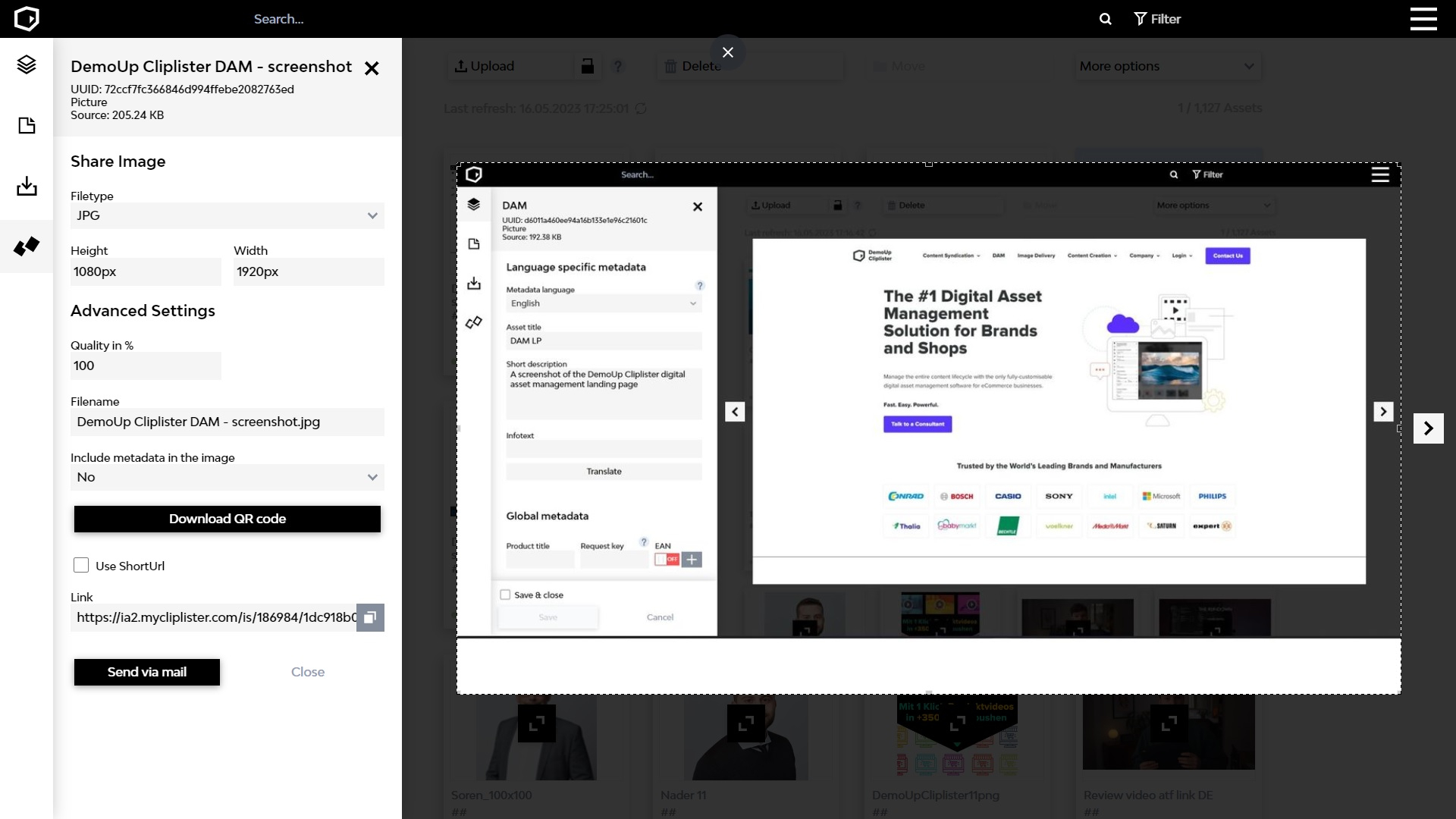 In addition, DemoUp Cliplister's DAM offers brands exclusive video syndication directly in the product galleries of over 350+ global eCommerce retailers.
Other media asset management software vendors
Here is a list of some other MAM platforms, along with their alternatives:
Implementing a Media Asset Management System
To design an effective media asset management system, there are several steps to follow. First and foremost is the creation of metadata. To ensure fast and easy access, the creation of metadata is important. This greatly enhances the search and selection of different content.
Equally important is user rights management. Only authorized team members should have global access to the company's internal assets. These super admins should then delegate who can add new content. Because of the centralized nature of MAM platforms, a defined user hierarchy is essential for effective workflow within an organization.
If you use automation tools, be sure to test the integration before you go live. This ensures the automation is functioning correctly and that errors are minimized after launch. Be sure to check for duplicates, missing licenses, and that you have the latest versions of all your assets.
Lastly, be sure to pay attention to maintenance. Ensure the software is kept up to date on a regular basis. Always carry out software updates conscientiously and on time. This ensures the system's optimal usage and a better return on your investment.
The Future of Media Asset Management
The use of media asset management systems is growing steadily. These types of software solutions are suitable for almost any company that handles multimedia assets. According to a recent report by Handelsblatt, an effective media asset management system significantly increases organizational efficiency and productivity.  

Another trend expected in the future is the use of artificial intelligence in media asset management systems. Machine learning can be used to automatically generate metadata and enrich media content with the appropriate keywords and information. This can significantly simplify the search for specific files.

Cloud-based solutions also represent an upcoming trend, which brings significant advantages. In addition to saving resources, cloud solutions offer options for scaling and adapting software performance and staying up to date. As a company, you are therefore extremely flexible and benefit from a broad scope of services.

The effects of the expected trends continue to enable the optimization of media asset management systems and support companies in the maintenance and incorporation of media into the MAM. The structuring of digital content as well as central access brings benefits to your customers as well, which is a huge competitive advantage, especially in eCommerce applications.
Wrapping Up
Media asset management systems are becoming increasingly important. The possibility of central, uncomplicated access to files greatly improves organizational workflows. These solutions help shorten communication channels and save working time by passing on media assets.

The implementation of a MAM system ensures that organizational processes are improved by creating a uniform, organized file storage location. Random data and files become sorted in a structured manner. Companies can benefit from the use of MAM software especially in the area of data organization and management.
Want to learn more about Digital Asset Management and eCommerce content?
Check out our blog.

For more about DemoUp Cliplister products and services:
Visit our homepage.