7 Powerful CELUM Alternatives for Digital Asset Management
Are you looking into digital asset management systems? Finding a new DAM can be a time-consuming and complex process. As companies generate and scale content, robust digital asset management (DAM solutions help you organize, store, and distribute assets effectively.

CELUM is a popular DAM platform with a broad range of features and functionalities. But how does it stack up against the competition? As your content collection expands and your needs change, it's essential to explore alternative DAM solutions that better align with your business goals. That's why it helps to do research on several platforms.
This article covers everything you need to know about CELUM, plus the seven top CELUM alternatives for digital asset management, so you can make the right choice for your business.
Comparing DAM Providers?
Get the free comparison guide
Or
Learn how to choose a DAM system
What is CELUM?
CELUM is a software company specializing in digital asset management and content operations. Founded in 1999 in Linz, Austria, CELUM is one of the fastest-growing DAM software providers out there.
CELUM Products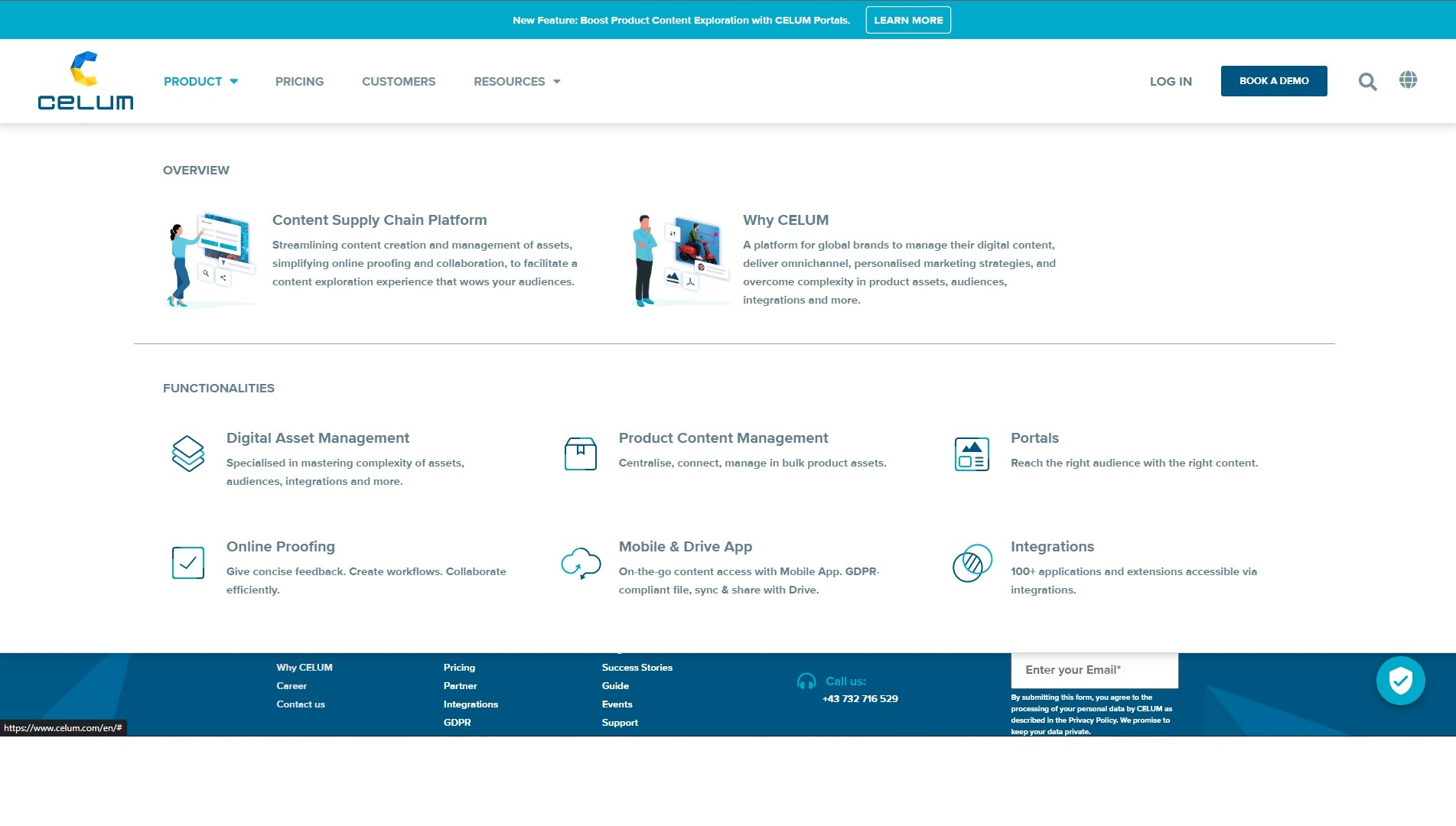 CELUM has a few different products that help you manage digital content. In all, it's known for its utility as a content approval system, which comes as its base package. Its digital asset management offering is an add-on to the base functionality, so you can skip ahead if you want to read more about this.
CELUM Digital Asset Management
The focus of the CELUM platform is digital asset management. It's designed to help you store, organize, and share all your marketing and product content in one place.
CELUM Features
There are several features built into CELUM's DAM solution:
Metadata tagging
AI-powered smart search
Sortable categories
Bulk uploads
Content relationships
Control access and rights management
Azure-powered content delivery network
While these features are great on the surface, the system does use a predefined workflow, which may not be appropriate for many enterprise applications.
(Note: DemoUp Cliplister's DAM can be integrated into any existing system and workflow. Get in touch to learn how we build our DAM around your existing frameworks.)
CELUM Product Content Management
CELUM also offers product content management within its DAM. This includes rich text, product information, images, and videos. This feature includes bulk asset management, product and metadata overviews, and automatic metadata tagging through asset placeholders.
(Note: While CELUM offers rich product content, DemoUp Cliplister offers brands exclusive access to publish product videos, 3D, and AR at 350 of the biggest online shops in the world. Talk to a consultant for more information.)
CELUM Portals
CELUM Portals are the platform's way of showcasing product assets to specific target groups – more commonly known as product experience management. There are three types of portals included in CELUM:
Product portals contain all your product information for easier sharing.
Retail portals help you provide your content to retailers.
Media portals help publishers find information embedded into your website.
Portals also let you handle access usage and rights. You can create both public and private portals. After you set up your portals, you can publish them with one click. Furthermore, you can also get insights into your content's performance with download and usage statistics.
Online Proofing
CELUM's online proofing feature is designed to make file approvals easier. With visual file markers and time stamps for tracking changes, you can quickly see the status of any project. CELUM also features a Kanban board with AI automation for automatically setting and changing project due dates.
CELUM Mobile App
If you're on the go, CELUM's mobile app lets you manage your digital assets from anywhere. You can upload and add metadata, share collections, and search for anything you need.
However, you are out of luck if you have an Android device, as this feature is only supported on the iPhone.
Integrations Marketplace
CELUM comes with several native integrations for plug-and-play use. However, CELUM's app library is also not included in its pricing, so it may cost extra for the functions you need.
Another downside is that you are limited to the functionality built into the app, which doesn't leave a lot of flexibility. Therefore, it may not be appropriate for all use cases.
(Note: If you need a more flexible solution, our DAM can quickly integrate into any application through the powerful API. Contact us to learn how.)
CELUM Pricing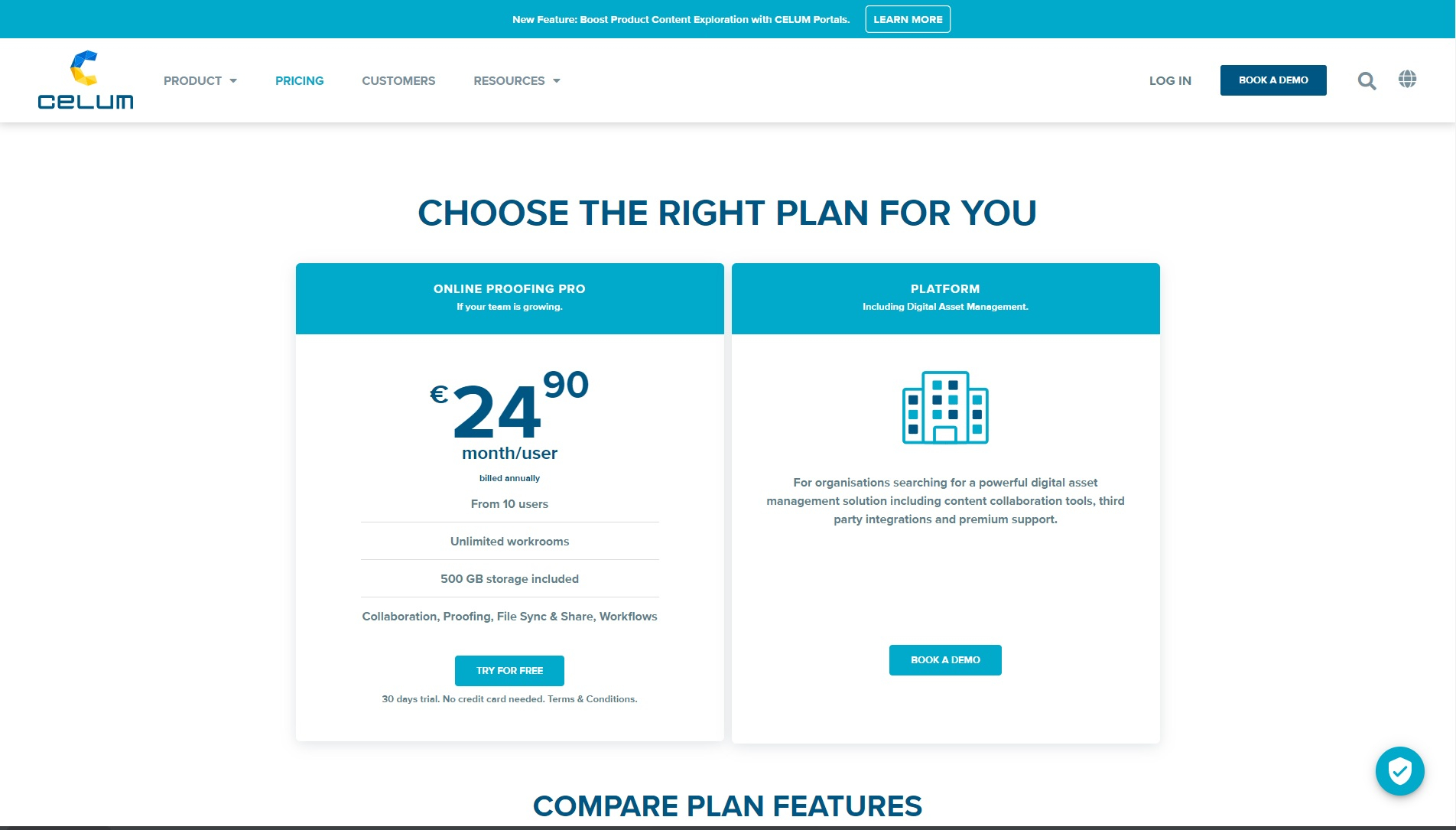 The CELUM pricing packages start at $24.99 per month per user (10 users minimum) for 500GBs of storage space. However, the base package only includes online proofing, collaboration, syncing, and sharing. Therefore, you won't have access to any of the DAM features or functions that make the system so powerful.
CELUM DAM pricing is far more expensive than the base plan advertised. While we were unable to find any pricing listed on any of the comparison sites, it's probably in the range of other CELUM alternatives like Canto or Bynder.
The Pros & Cons of Digital Asset Management with CELUM
Like most software companies, the CELUM website is full of jargon which makes it hard to understand exactly what its strengths are. Here are some of CELUM's biggest advantages and disadvantages.
CELUM Advantages
To give you a sense of the platform's advantages, we collected various CELUM reviews on the web. Here are the aspects of the software that stood out in most user's minds:
Intuitive User Experience: CELUM offers a clean and intuitive user interface, making it easy for users to navigate through the platform and quickly locate the assets they need. This user-friendly design enhances productivity and reduces the learning curve for new users.
Efficient Digital Asset Organization: CELUM provides powerful tools for organizing and categorizing digital assets. With features such as tagging, metadata management, and customizable taxonomies, users can easily locate and retrieve assets, saving valuable time and effort.
Streamlined Collaboration: CELUM facilitates seamless collaboration among team members and stakeholders. Its advanced sharing and approval workflows enable efficient content review and feedback, ensuring smooth collaboration throughout the content creation process.
Search Capabilities: CELUM's robust search functionality allows users to find assets quickly using various criteria, including keywords, metadata, or custom filters. This helps save time and ensures that assets are readily accessible when needed.
CELUM Disadvantages
As with everything in life, there are also several downsides to using CELUM. Here is what most users complain about while using the system:
Initial Learning Curve: While CELUM's user interface is intuitive, some users may require initial training to fully leverage the platform's capabilities. However, once users become familiar with the system, the learning curve diminishes significantly.
Customization Complexity: While CELUM offers extensive customization options, configuring complex workflows or implementing specific business rules may require advanced technical expertise. In such cases, organizations might need assistance from CELUM's support team or professional services. (Note: We designed our system to fit into any existing workflow. Contact us if you have any concerns about DAM customizations).
Cost Considerations: CELUM is a robust and feature-rich DAM solution, which may come at a higher price point compared to some alternatives.
System Integration Challenges: Integrating CELUM with existing IT infrastructure or legacy systems can pose challenges. While CELUM provides integration capabilities, organizations may need to invest additional resources to ensure a seamless integration process.
The Best CELUM Alternatives for Digital Asset Management
If you are using CELUM or other digital asset management platforms and these challenges resonate with you, have a look at the following sections and how we rank the top seven CELUM competitors.
1. DemoUp Cliplister – The Top CELUM Alternative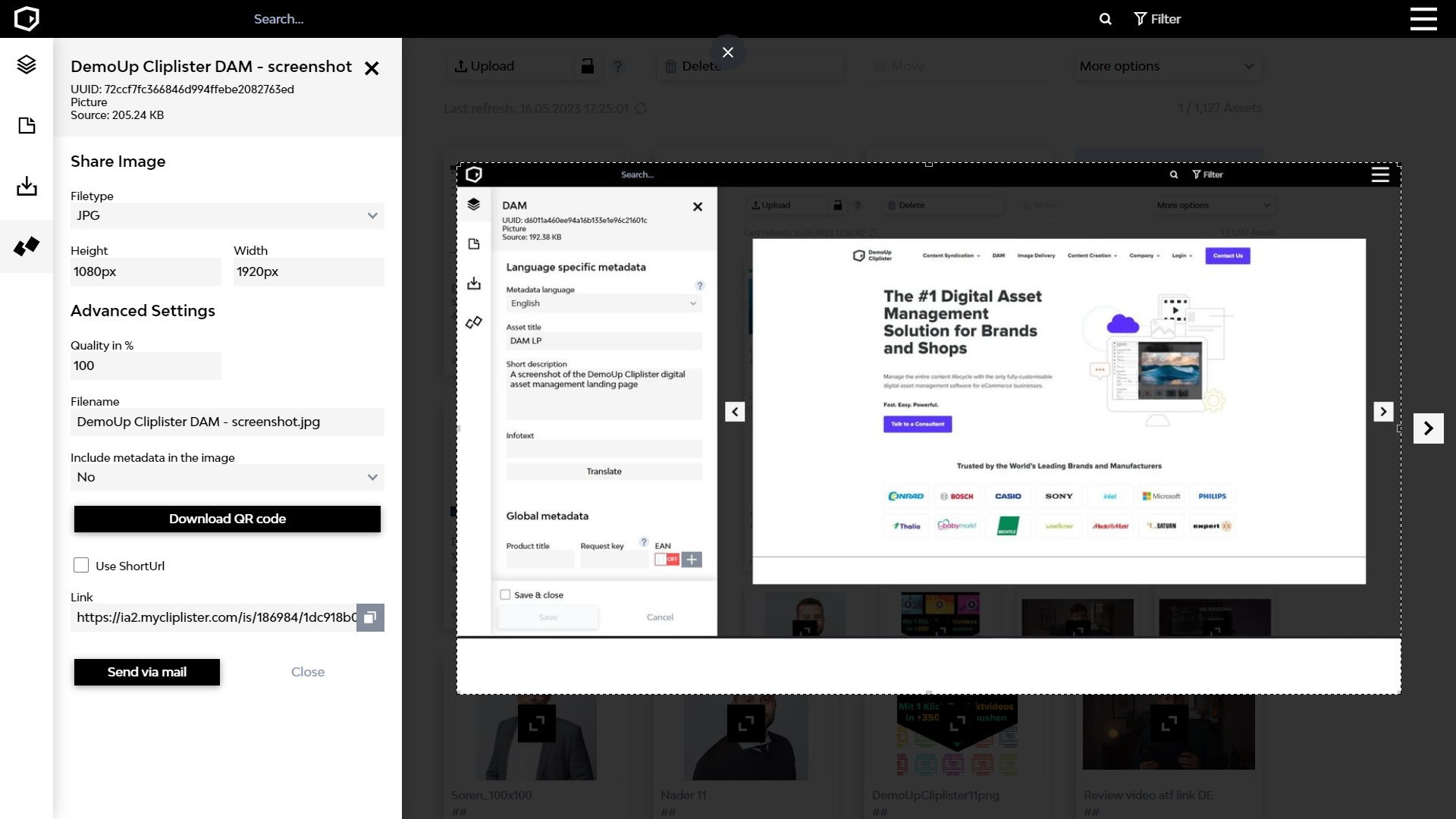 While we could simply declare ourselves the best digital asset management software provider and be done with it, that doesn't help anyone. Here are a few reasons why we're the best alternative to CELUM – especially with their presence in the eCommerce space.
With DemoUp Cliplister, you get access to a broad range of DAM features, including a central repository for managing, organizing, and sharing digital assets, access control, complete with syndication network of 3,000+ brands and 350+ online retailers.
This results in an average of 90%-time savings in asset management for both brands and retailers. No longer do you need to send emails back and forth to your partners. Brands and retailers can now exchange content in real-time.
Other Features of the DemoUp Cliplister DAM
In addition to our exclusive syndication network, the DemoUp Cliplister DAM comes with the following features and functions:
Flexible brand templates: Scale personalization and increase engagement and conversion rates.
Dynamic image and video scaling: Instantly update your content worldwide and optimize delivery to end-users.
Cloud-based digital asset management: Access the system from anywhere in the world.
Headless DAM API: Design your DAM system around your existing processes and workflows.
Much more
If you want to learn more about our digital asset management software, visit our pricing request page.
2. Brandfolder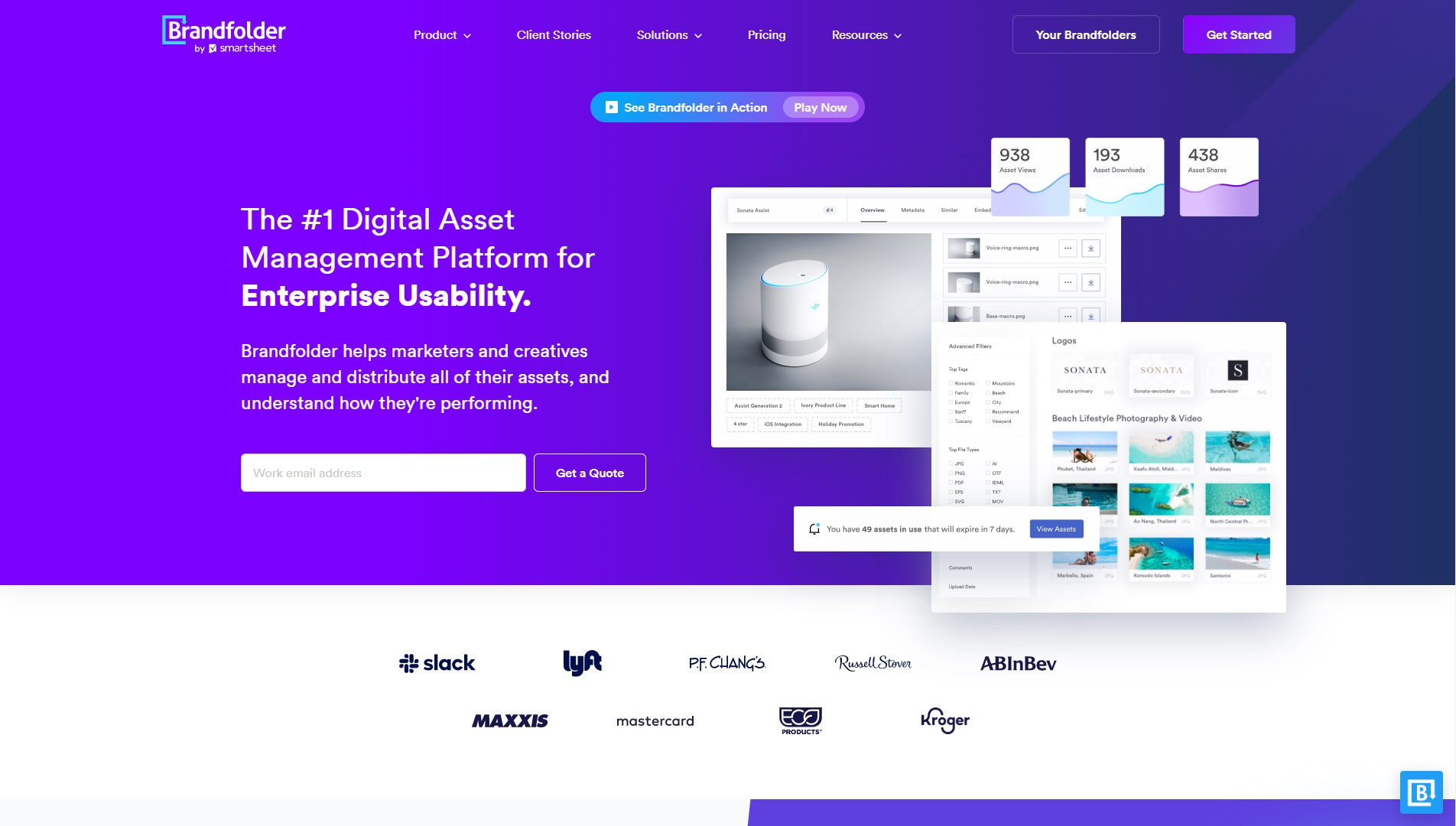 Brandfolder is a powerful DAM solution designed to simplify asset organization and enhance brand management. With its intuitive interface and robust search capabilities, Brandfolder allows users to easily locate and retrieve assets, saving valuable time. Its customizable metadata fields enable precise tagging and efficient asset categorization. Furthermore, Brandfolder offers analytics to track asset performance and user engagement. By centralizing brand assets and streamlining collaboration, Brandfolder empowers businesses to maintain brand consistency and drive productivity.
(Note: Want to know more about the differences between Brandfolder and DemoUp Cliplister? Book a demo and we'll show you live on a call.)
3. Bynder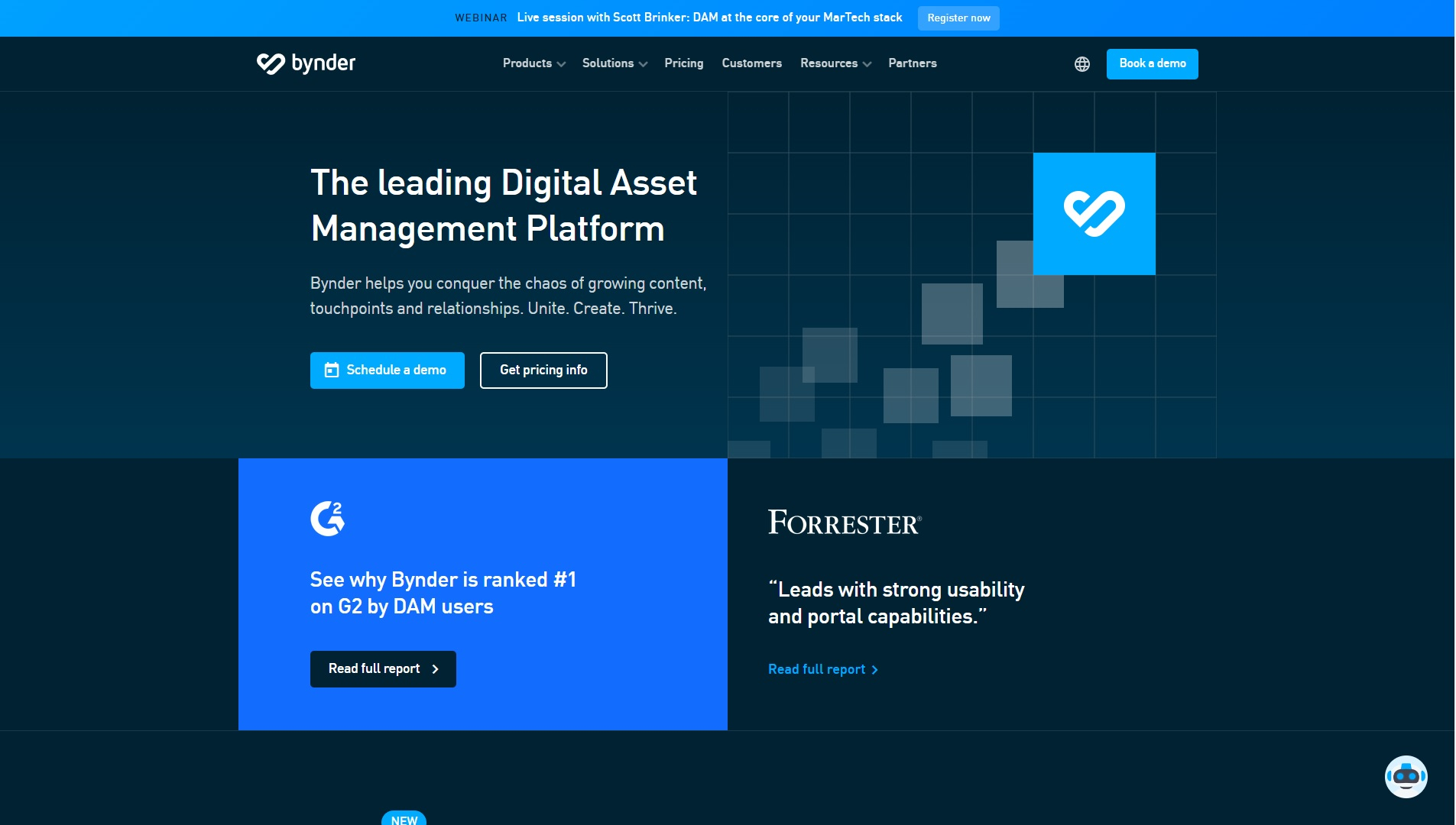 Bynder is a leading DAM platform trusted by renowned global brands. This comprehensive solution provides a centralized hub for storing, managing, and distributing digital assets. Bynder's advanced search capabilities and AI-driven auto-tagging ensure efficient asset discovery and metadata enrichment. The platform also offers seamless integrations with popular creative tools, streamlining the creative workflow. With powerful collaboration features, Bynder facilitates seamless teamwork and accelerates content creation and delivery.
(Note: Are you considering Bynder? Be sure to check out our article on Bynder alternatives for a full overview of the platform and how DemoUp Cliplister compares.)
4. Acquia DAM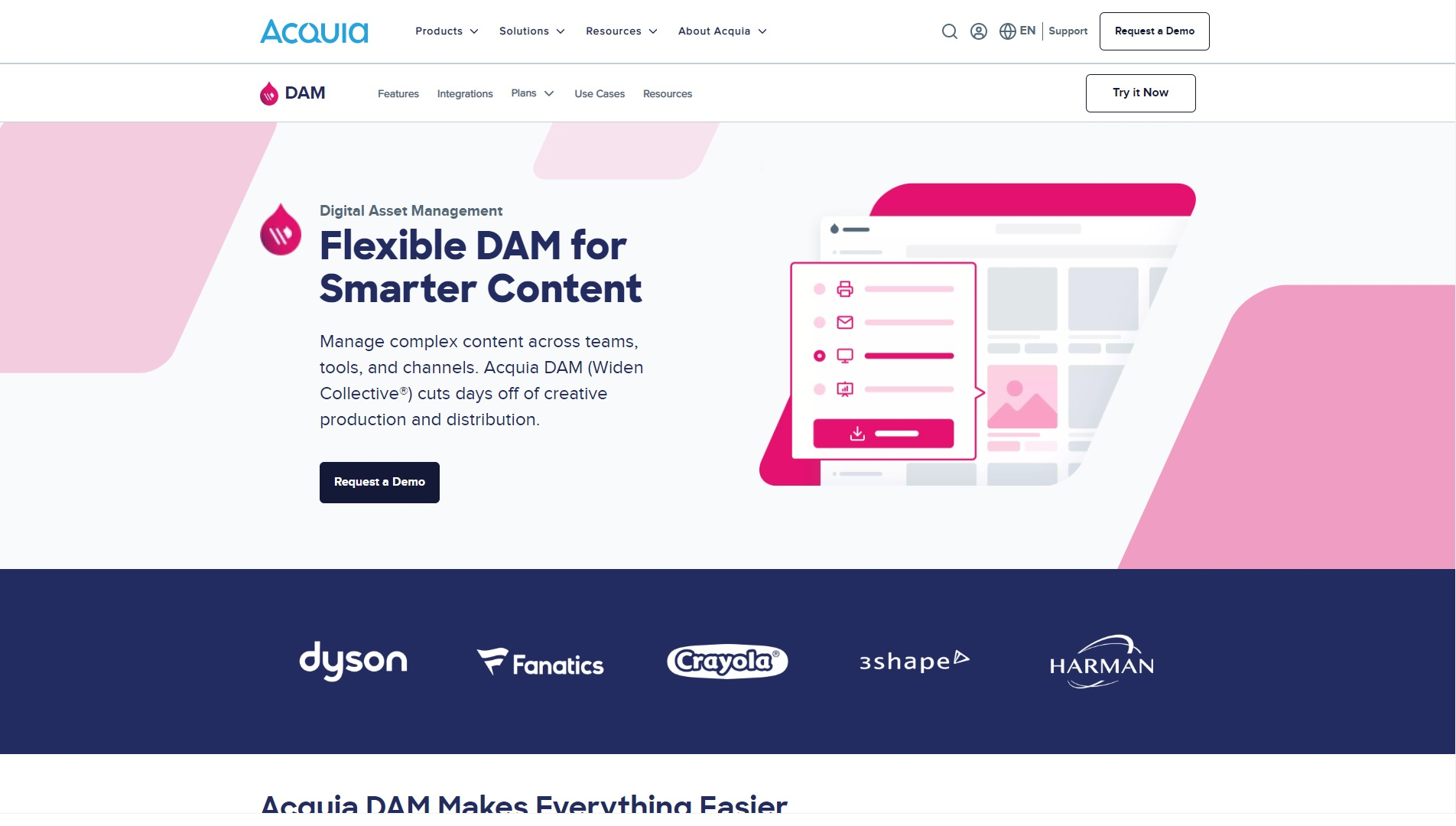 Acquia offers a robust DAM solution that enables organizations to streamline their content creation and distribution processes. With a user-friendly interface and powerful search functionality, Acquia DAM ensures quick and easy access to assets. The platform's version control and approval workflows enhance collaboration and maintain content integrity. Acquia DAM also provides advanced analytics and reporting tools to gain valuable insights into asset performance, enabling data-driven decision-making.
While Acquia DAM is great for small teams and reporting, it doesn't have a lot of the features that make some other digital asset management platforms shine. Book a demo and we will highlight the differences of our platform vs. Acquia DAM's live on a call.
5. Adobe Experience Manager Assets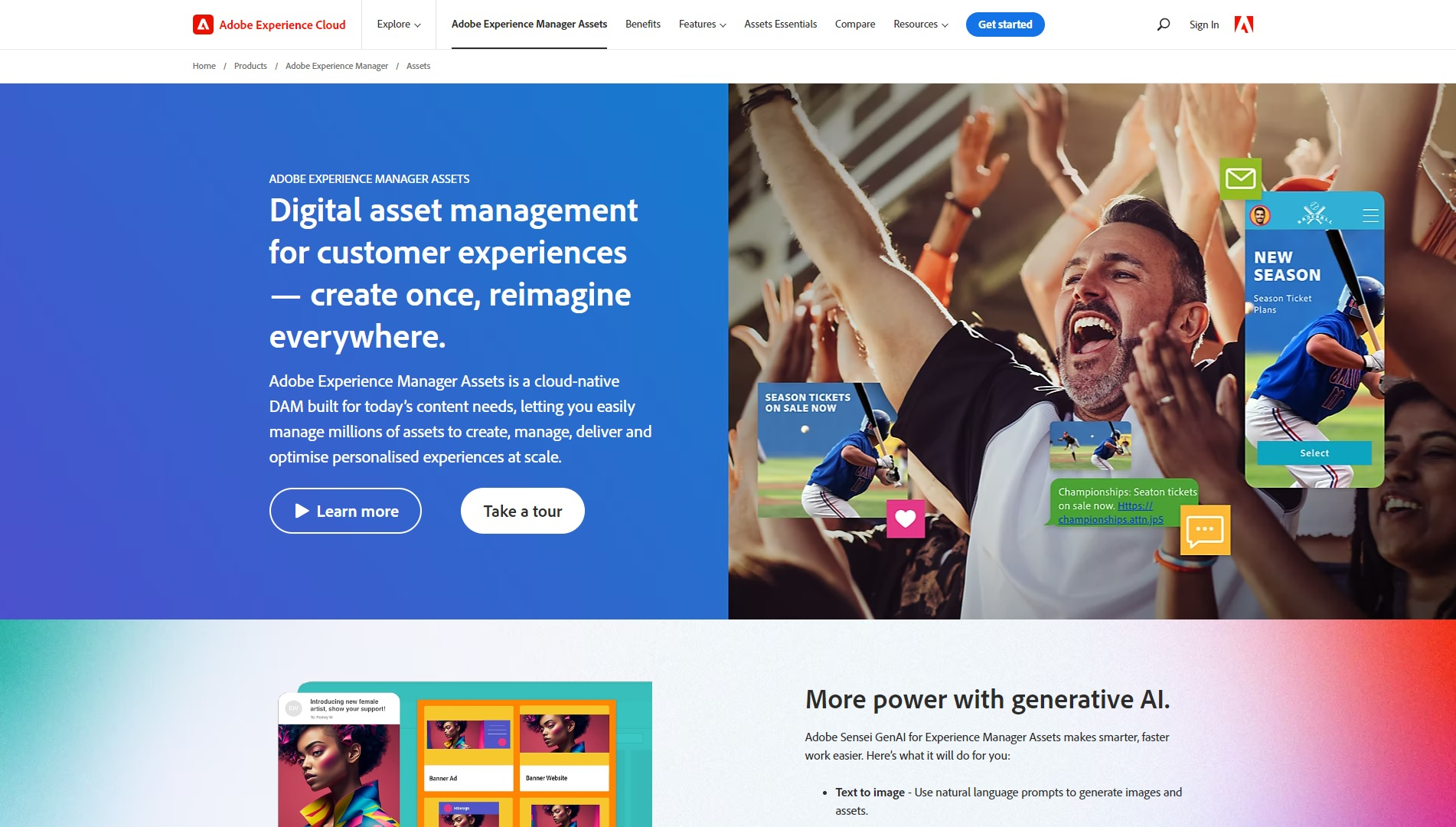 Adobe Experience Manager Assets, part of the Adobe Experience Cloud suite, is a comprehensive DAM solution tailored for enterprise-level businesses. It empowers organizations to efficiently manage their digital assets and deliver personalized, engaging experiences across multiple channels. With its powerful metadata management, automated tagging, and AI-driven smart cropping, Adobe Experience Manager Assets simplifies asset organization and enhances searchability. The solution seamlessly integrates with other Adobe products, providing a unified ecosystem for end-to-end content management.
However, Adobe Experience Manager Assets is focused primarily on internal works-in-progress and lacks a lot on the deliverability side. If you want to scale assets, be sure to check out our dynamic image delivery technology.
6. Canto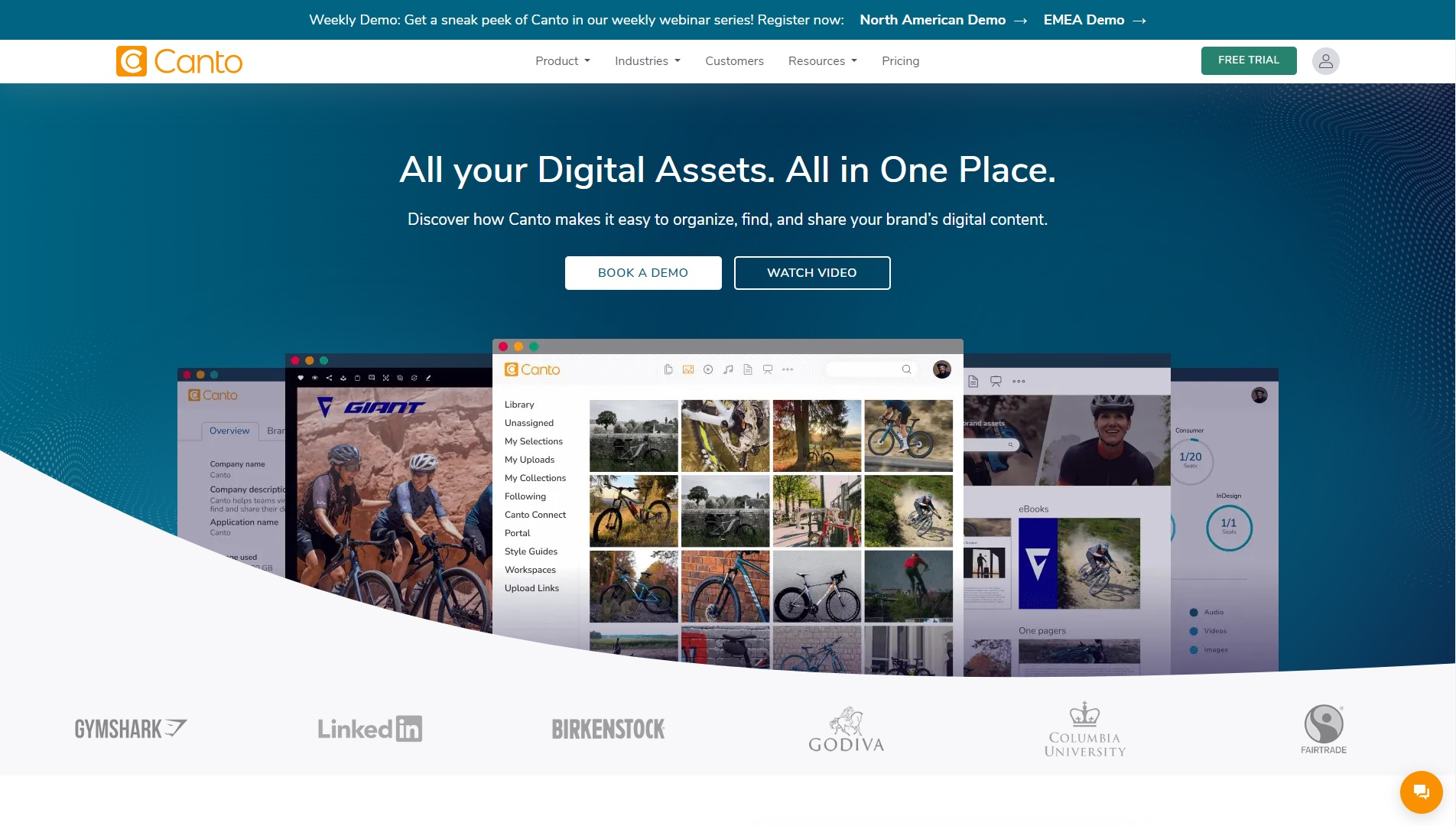 Canto is a versatile DAM platform that offers a range of features to cater to diverse business needs. It provides a centralized hub for organizing, collaborating, and distributing digital assets. Canto's user-friendly interface and customizable metadata fields facilitate efficient asset search and retrieval. The platform also offers easy sharing and collaboration options, making it ideal for cross-functional teams. With its robust security measures and comprehensive access controls, Canto ensures the protection of valuable digital assets.
(Note: Canto has a notoriously large learning curve. Be sure to read our article on Canto alternatives before you make any decisions.)
7. Asset Bank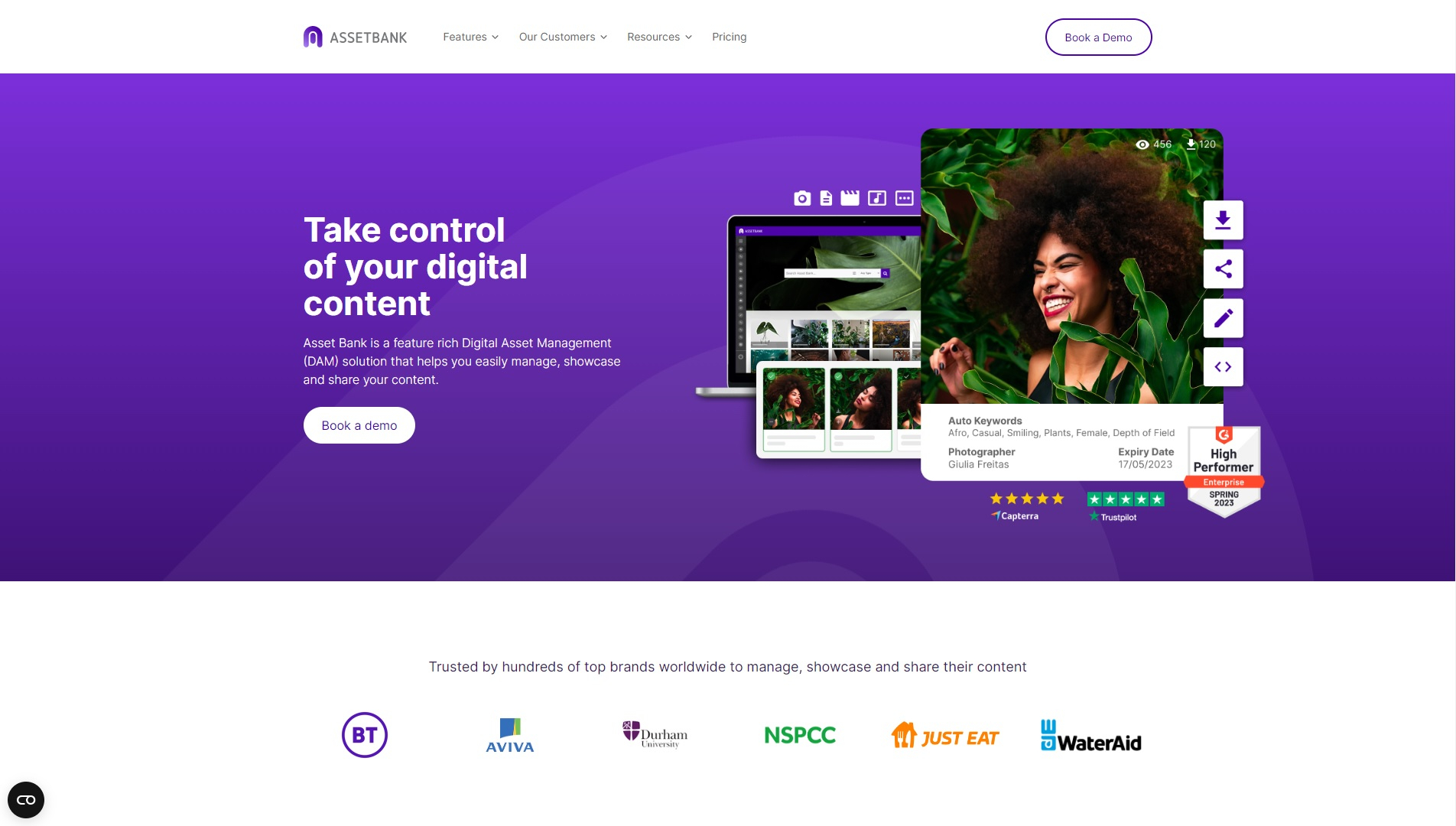 Asset Bank is a flexible and scalable DAM solution that caters to organizations of all sizes. It offers a comprehensive range of features to manage and distribute digital assets efficiently. Asset Bank's customizable metadata fields and advanced search capabilities enable users to find assets quickly and easily. The platform also provides version control and rights management functionalities to ensure compliance and content integrity. With its intuitive user interface and robust sharing options, Asset Bank promotes seamless collaboration and accelerates content workflows.
(Note: Asset Bank is great for NGOs, Education, and Travel & Leisure applications, but lacks most of the necessary functions to make it an option for eCommerce businesses.)
Conclusion
By exploring these top seven Celum alternatives for digital asset management, businesses can identify the solution that best suits their unique requirements. Whether seeking enhanced brand management, streamlined collaboration, or industry-specific functionalities, these alternatives offer robust features to optimize digital asset workflows.
Get Started with the Best DAM for E-Commerce
Are you an eCommerce brand or shop? Book a call with us and we'll explain how you can get started with video syndication, digital asset management, or our content creation services today!
Be sure to visit our homepage for an overview of all our eCommerce product content solutions, including the best product content syndication software on the market.