Top 7 Bynder Alternatives: The Ultimate Guide
Are you looking into Bynder as your next digital asset management software provider? As such an important function of any organization, you should carefully hand-pick your DAM platform.
You could look at Bynder reviews on sites like G2 and Capterra, but they often lack the depth necessary to make an informed decision. This article explores everything you need to know about Bynder, plus the top seven Bynder alternatives, so you can make the best choice for your business.
If you're just starting your search, read everything you need to know about how to choose a DAM system.
What is Bynder?
Bynder is one of the most popular digital asset management systems in the industry. Launched in 2013 in Amsterdam, Bynder has grown rapidly and is currently used by global enterprises like Five Guys and Icelandair.

But if you work for an eCommerce company, Bynder may not have some of the core functions you may want from your DAM.
If this describes you, you're in the right place. We spoke to several of our clients who previously used Bynder or Bynder alternatives, so we understand why its DAM is a great fit in some situations but not others.

Read the rest of this post if you're evaluating Bynder for your eCommerce brand or shop but would like to understand your other options before you decide.
Bynder's Core Features
Bynder has a wide range of features that make it an appealing option for many companies. However, it lacks some of the specialization required for certain industries – like eCommerce.
Here are some main features of Bynder:
Organization and Search
Bynder lets you organize and find what you need quickly and easily with a built-in customizable filter structure.
Access & Usage Rights
User permissions are a very important feature for any enterprise DAM system. Bynder allows your DAM system admins to set access privileges for a wide range of users.
Internal & External File Sharing
Bynder's sharing feature lets your team share digital assets with other people both inside and outside your organization. You can also control usage with expiration dates and sharing history.
Dynamic Asset Transformation (DAT)
Dynamic asset transformation is a fancy way of saying "image CDN". This is an add-on to the base DAM platform.
Formattable Downloads
Bynder lets you download your digital assets in any format directly from the system itself. You can also crop and edit your content before you download it.
Automatic Content Distribution
Bynder automates the content distribution process. This means you can send your digital assets to important endpoints like your website.
Bynder Advantages
There are several advantages Bynder offers that many other DAM systems don't. If brand management is your only concern, it might be a great choice. Here are several areas in which it excels according to customer reviews of Bynder.
Great DAM Functionality
As an asset storage and distribution platform, Bynder is one of the best digital asset management solutions around. You have full oversight of your digital assets from ingestion to distribution.
Useful for Enterprises
For enterprise companies, Bynder is one of the industry leaders. It's designed to enable teams to upload, store, track, and distribute large volumes of content at scale. It's also great for helping teams maintain brand consistency from asset creation to end use.
Bynder Disadvantages
Like every software platform, Bynder also has several disadvantages. Here's what DemoUp Cliplister clients and prospects tell us after they look into Bynder.
No Product Content
This is a huge negative for eCommerce companies. Bynder does not have a built-in product content syndication network. This means that content teams for both brands and retailers must manually source their content and integrate it into product pages manually.
Complexity
Bynder is not a simple solution to integrate into your business. With nine different primary functions built into its DAM, there is a lot for your IT and DAM teams to manage if you want to bring it into your business.
Cost
The Bynder pricing model is also expensive. Bynder pricing starts at around $450 US dollars per month. That's on the very high end of the DAM software spectrum. If you aren't a global enterprise, it might be hard to justify the cost.
Lack of Specialization
Bynder is designed to appeal to a broad range of industries. Therefore, there are some features and functions certain industries require it may not offer.
DemoUp Cliplister: The Top Bynder Alternative
DemoUp Cliplister is a cloud-based digital asset management software platform that provides a central repository for managing, organizing, and sharing images, videos, or any other file type.
You have access to a broad range of DAM features, including automatic image optimization, flexible user permissions, and a powerful AI search function.
The DemoUp Cliplister DAM is also offered as a headless option through a powerful API, meaning you can fit it inside of any existing workflow and customize it to any business.
DemoUp Cliplister vs. Bynder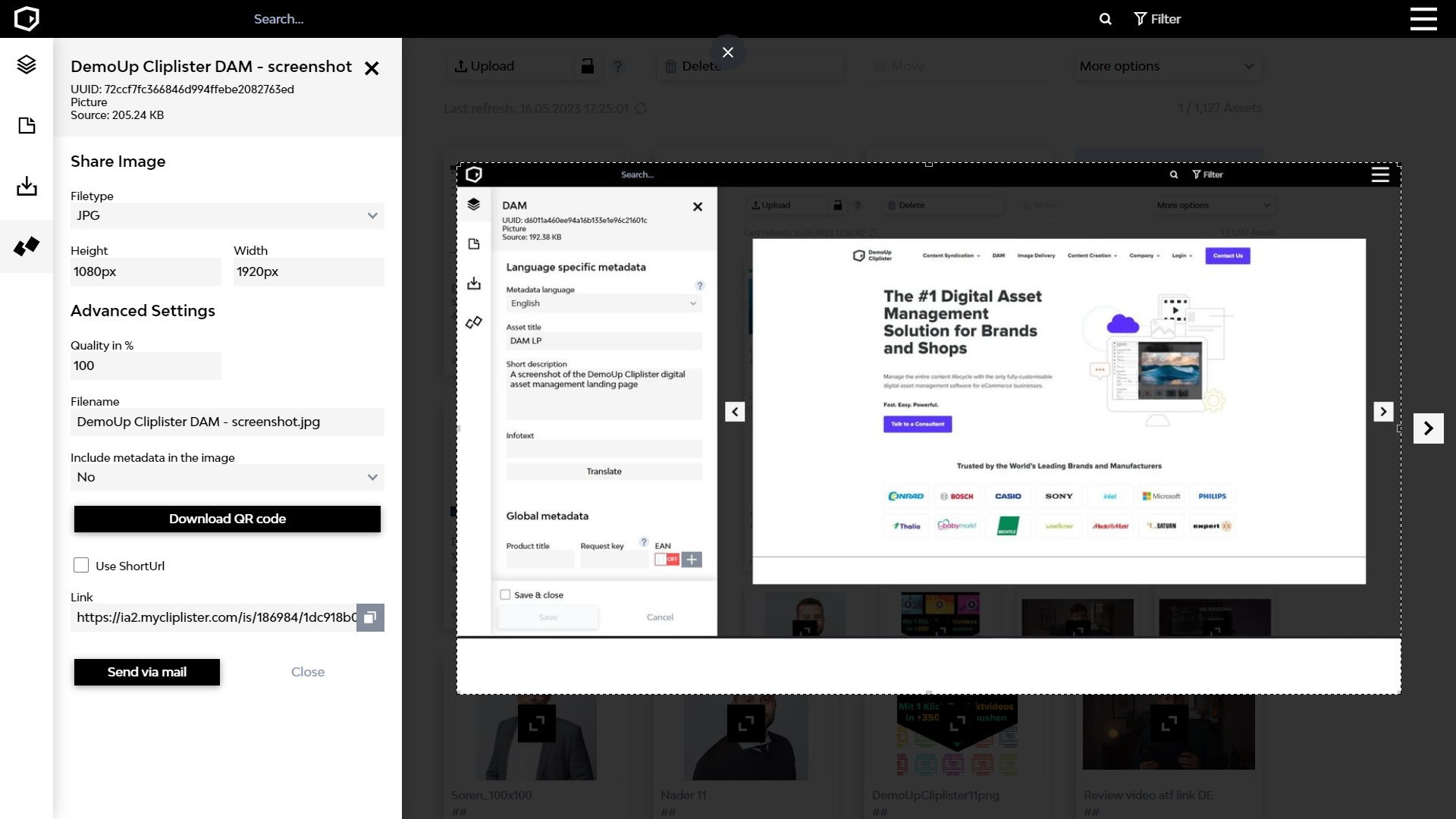 While we could simply declare ourselves the best DAM on the planet and be done with it, that's not helpful for anyone. DemoUp Cliplister is specifically designed for enterprise eCommerce brands and retailers. So, to ensure you get the best solution for your business here are some of the features you get with DemoUp Cliplister:
Automatic Content Distribution to 350+ Online Shops
For eCommerce brands, DemoUp Cliplister automatically distributes product videos, 3D models, and augmented reality experiences directly to the point of sale. This means you simply upload your content to the network, and it's mapped to every relevant product page in the network.
Product Content from 3,000+ Global Brands
For online retailers, DemoUp Cliplister's DAM provides you access to a syndication network with exclusive content from over 3,000 brands. This means you get access to product videos, 3D models, and AR experiences from global powerhouses like Bosch, Samsung, and Sony that you won't find anywhere else.
Simplified Version Control
DemoUp Cliplister allows you to generate unlimited versions of any asset. This means you upload a file once, and all subsequent versions of the file use the primary instance. This reduces how much time your teams spend simply uploading and updating digital assets.
Full Customization
With a "headless" DAM option, you can customize the DemoUp Cliplister DAM system any way you see fit. You can get the exact DAM for your needs instead of changing internal processes to fit your new software.
These features are what make DemoUp Cliplister unique and why it's one of the best Bynder alternatives for eCommerce businesses. No other DAM on the market can provide you with the functions listed here.
Note: If you'd like to talk about your specific needs, get in touch and we'll be happy to offer you a free consulation.
Bynder Pricing & Plans
The Bynder pricing model is, objectively, quite expensive. While the Bynder website doesn't publish pricing, many estimates put it at $450 per month. At this price, there are many cheaper DAMs out there.
It's also an enterprise solution, so the base pricing model is also not very accurate as it's sold in modules. Many of the features that make Bynder so powerful cost extra.
Here's how Bynder breaks down its packages on its website.
Digital Asset Management (DAM)
This is the base package Bynder offers.
Centralized content storage
Search and filtering functions
User permissions and access management
Custom brand colors and logo
DAM + Scaling Operations
This package includes everything in DAM, plus:
Digital brand guidelines
Studio (Template and Banner Editor)
Content Workflow
Creative Workflow
Connected DAM functions
DAM + Integrated digital ecosystem
This is the system required by most enterprises. It's designed for companies reliant on delivering personalized customer experiences.
Integration into tech ecosystems
Dynamic Asset Transformation (Image CDN)
Access to 50+ connections
Content insights
Tech support
The way the Bynder pricing model is structured means you won't get technical support unless you pay top dollar for the full enterprise solution.
DemoUp Cliplister Pricing
DemoUp Cliplister's pricing is much simpler. The pricing is based on three factors:
The number of users you have
The amount of storage you require in GB/TB
How many assets you need to store
To get a quote, see our pricing structure, or learn more about digital asset management with DemoUp Cliplister, click the button below.
Other Top Bynder Alternatives
The DAM space is a crowded market, and we encourage you to do your due diligence. If you want to explore other options, here are six more top alternatives to Bynder.
Aprimo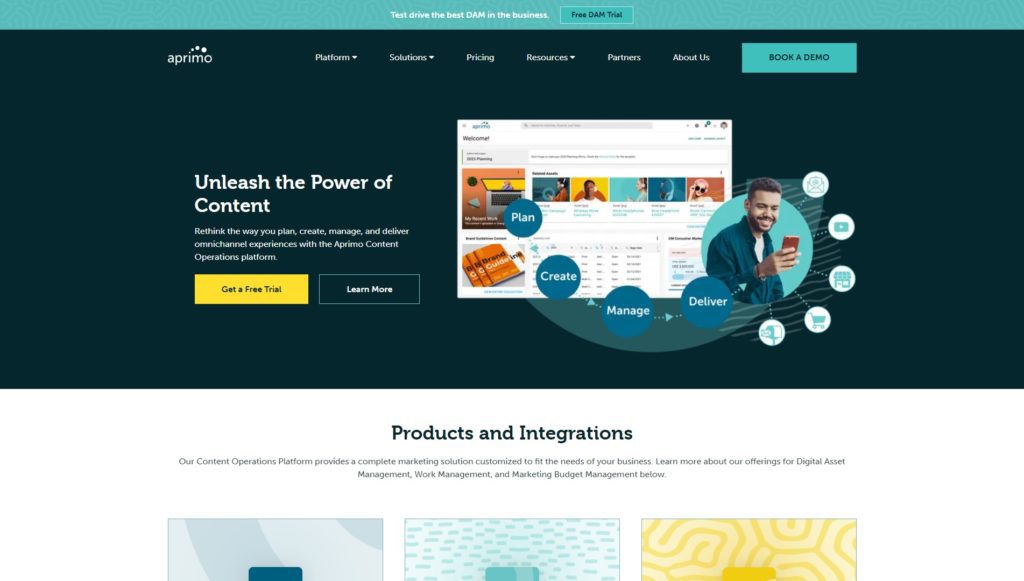 Aprimo is a marketing operations software company that also creates and maintains a DAM platform as a product. It also develops productivity management software, solutions to help you plan and spend your marketing budget, and an integrated app marketplace.
In terms of Bynder alternatives, it focuses more on operations than collaboration or content distribution. This is something to keep in mind if these are your primary reasons for researching digital asset management software.
Note: The complexity of Aprimo's user interface may pose challenges for users with limited technical expertise, requiring additional training and support. Get in touch and we'll explain how our solution compares to Aprimo.
Brandfolder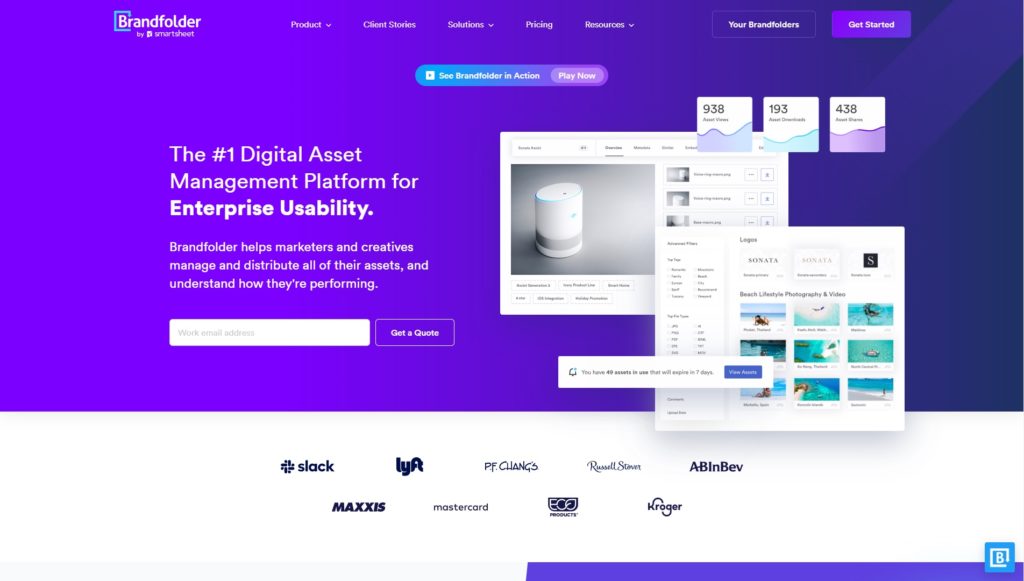 Brandfolder is a saas-based DAM provider that also provides a central repository for storing, organizing, and sharing digital assets. It positions itself as an affordable online digital asset management solution, and features customizable workflows, image optimization, and advanced search capabilities.
If you're evaluating Brandfolder vs Bynder, you should know that its enterprise solution is also very expensive. It also has a pre-defined front end, which means customizations are more difficult than truly headless options.
Book a demo with a member of our sales team and we'll be happy to show you the differences between Brandfolder, Bynder, and our solution.
Canto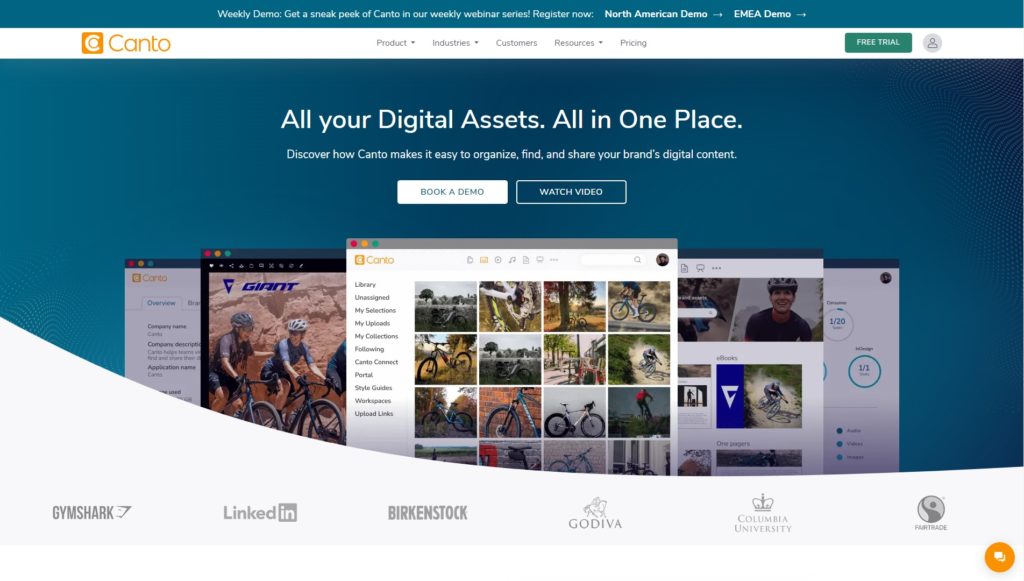 Canto is a cloud-based DAM platform that enables you to manage, organize, and share image and video content. Canto offers automatic image resizing, customizable workflows, and like most other DAM systems, advanced search.
Canto is also more expensive than most of the other Bynder alternatives listed here. Many of our clients and prospects also complain about the software's UI/UX, templates, and loading times. Since the learning curve is so steep, this DAM provider is recommended for companies with good asset management capabilities.
If you lack the resources to execute in this area, book a free consultation and we'll be happy to discuss if our solution is a fit.
Celum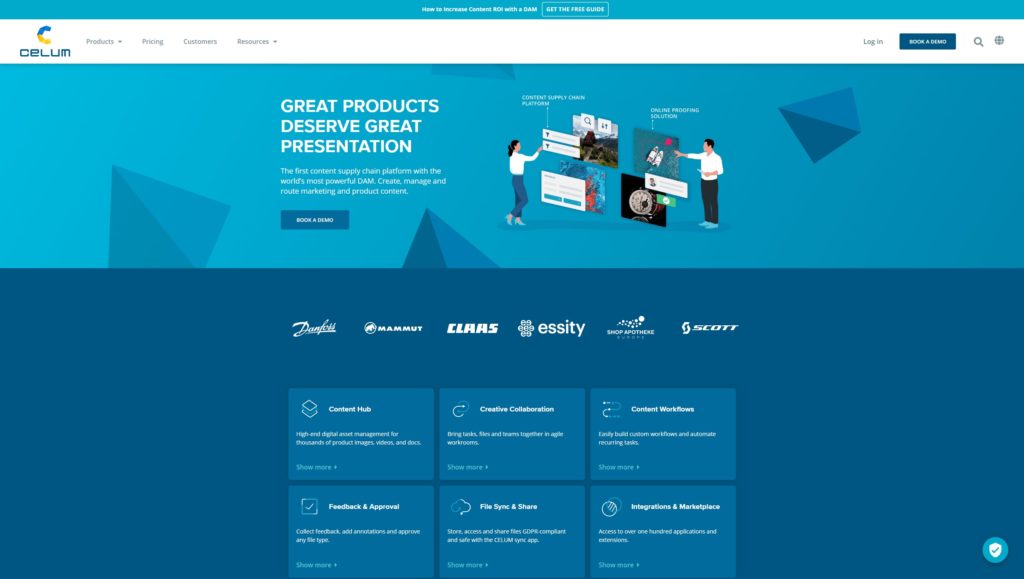 Celum bills itself as a "content supply chain" platform. In reality, Celum is a DAM system designed to help creative teams collaborate on and distribute content.
Celum features built-in kanban boards, content workflows, and a marketplace with over 100 app integrations. This also means that Celum is hard to customize and requires your organization to adapt to it, rather than the other way around.
Book a demo to see how DemoUp Cliplister's fully customizable workflows can help you achieve your goals.
Cloudinary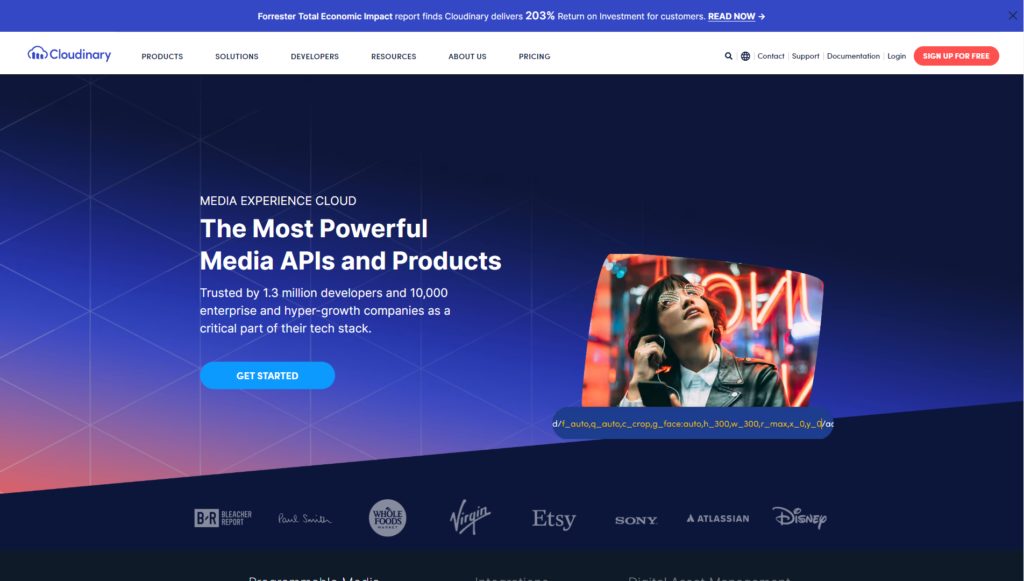 Cloudinary is a cloud-based media asset management (MAM) system that offers features specifically designed for developers. As an image and video management system, it has a one-size-fits-all approach that makes it a great option for small and medium businesses.
If you're looking into Cloudinary, be sure to check out our article on Cloudinary alternatives. This way you'll have all the information before you decide.
Scaleflex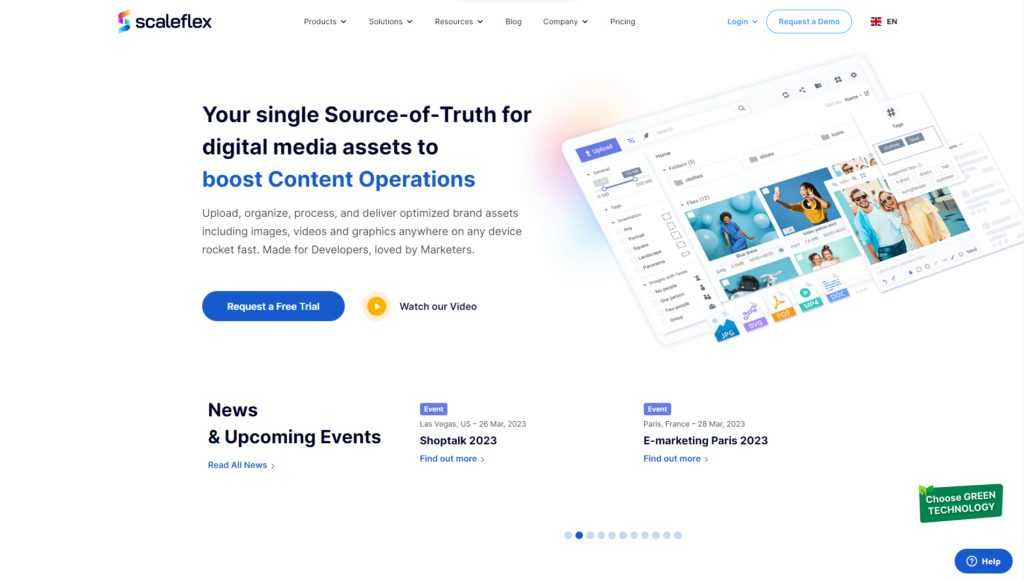 Scaleflex was originally designed for developers but has been adopted by marketers in many organizations like Hyundai, Liqui Moly, Burger King, and many other global firms. Scaleflex can be integrated into any existing workflow via an API, which means it's offered both as a headless option and with a pre-defined front end.
Scaleflex calls its DAM software Filerobot. It's designed to be compatible with any operating system and application that helps your teams store, process, share, and deliver content.
Note: If this is a pain point for you, be sure to get a free demo of DemoUp Cliplister's digital asset management software. We specialize in customizable workflows fit for any business type.
Each of these Bynder competitors has its pros and cons, though the best digital asset management system for your needs comes down to your unique requirements. You should carefully evaluate and compare any potential solutions for cost, scalability, storage, and security.
How the Best Bynder Competitors Stack Up
Here is a comparison of the best Bynder competitors:
| Feature | Bynder | DemoUp Cliplister | Aprimo | Brandfolder | Canto | Celum | Cloudinary | Scaleflex |
| --- | --- | --- | --- | --- | --- | --- | --- | --- |
| Cost | $450/mo | Custom | Not Listed | Not Listed | $1,000/user | $24.90/mo | Usage-based | $249/mo |
| Scalability | Average | Great | Poor | Good | Great | Poor | Great | Poor |
| Storage | Usage-based | Custom | Not Listed | 1TB | 5TB | 500GB | Usage-based | 200GB |
| Security | Good | ISO-Certified | Great | Good | Good | Good | Good | Good |
Bynder competitor matrix
As you can see, DemoUp Cliplister outperforms the competition in several categories. While it's not the cheapest option, we designed the software to be affordable enough for medium-to-large-sized companies while retaining the scalability global enterprises require.
If you're interested in learning about pricing or simply want more information, click the link below.
Conclusion
Bynder is a cloud-based digital asset management solution designed for a range of enterprise DAM functions. It offers several features like AI-powered search, centralized content storage, and customizable user permissions.
On the other hand, it lacks an integrated network of brands and retailers that makes DemoUp Cliplister such an ideal solution for eCommerce businesses. It also requires a dedicated team devoted to updating and maintaining the system, which some organizations may not have.
Therefore, we suggest you evaluate all the alternatives to Bynder. Of course, we would be more than happy to invite you to see the power of the DemoUp Cliplister DAM software for yourself with a free demo.
Other Resources
If you're interested in learning more about digital asset management, product content syndication, or content creation, check out the rest of the blog.
Otherwise, visit the homepage for a full overview of our products and services.