The Top 10 Aprimo Alternatives for Digital Asset Management
Digital asset management is a hugely important topic in today's business world. In eCommerce, it's even more important as companies leverage content to provide their customers with the best digital experiences possible.
The demand for more efficient DAM solutions grows every day. Companies have realized that a place to simply store digital files is no longer enough – they need a tool that can manage the entire content lifecycle. That's why we provide information on all our competitors.
In this post, we explore the pros and cons of Aprimo, rank the best Aprimo alternatives, and explain the areas in which each excels.
Comparing DAM providers?

Download the Ultimate Guide to DAM

Or

Learn how to choose a digital asset management system
What is Aprimo?
Before we start diving into Aprimo competitors, it helps to answer one important question: What is Aprimo?
Aprimo is a software company specializing in marketing automation and digital asset management solutions. Founded in 1998, the company is headquartered in Chicago, Illinois in the United States.
While Aprimo has a broad range of solutions, this post will focus on its DAM software. We'll explore its marketing automation solutions in a future post.
Aprimo Digital Asset Management
The Aprimo digital asset management platform is advertised as an integral part of the marketing technology ecosystem. Like most DAM solutions, it provides a single source of truth for your digital assets and helps you ensure brand consistency.
Aprimo Features
Aprimo offers several features within its digital asset management (DAM) solution, designed to help companies manage digital assets efficiently. Like most DAMs, marketers, graphic designers, and brand specialists can organize, store, and share their assets in a centralized repository.
The platform provides metadata management capabilities, allowing users to add descriptive tags, keywords, and custom fields. Aprimo also offers version control, which most DAMs offer to track changes and maintain asset history.
In addition, users can collaborate effectively through commenting, annotation, and approval workflows. Overall, the Aprimo DAM software does what it's designed to do – optimize asset management processes, improve productivity, and enhance brand consistency.
At the end of the day, the most important thing is that you find a DAM solution that aligns with your organization's needs.
Aprimo Limitations
While the list of features may seem long on the surface, there are also many limitations many users of Aprimo DAM run into. This is where evaluating Aprimo alternatives is most useful – you can see each product side by side and evaluate the pros and cons of each.
To evaluate the limitations, we looked through the Aprimo reviews on software evaluation networks like G2, Capterra, and Gartner. By visiting these sites, we were able to get a clear picture of all the Aprimo limitations and the ones users complained about most frequently.
According to several users, the Aprimo DAM experiences some outages at inopportune times. This can have a huge impact on your bottom line if your site is not displaying the correct assets.
Another complaint we saw mentioned more than once was limitations relating to workflow and user interface customizations. While some businesses may be willing to overlook the UI customization problems, the lack of adaptable workflows is almost certainly an issue for any company working with over 10,000 assets.
Note: One of the biggest things missing from Aprimo for eCommerce businesses is an efficient content delivery network. While it generates static links for sharing, it does not automatically syndicate brand content to retailer product pages.

Get in touch for more information about how DemoUp Cliplister can enhance brand-retailer collaborations.
Aprimo DAM Pricing
Aprimo's pricing for its digital asset management (DAM) solution is tailored to each organization's specific needs and requirements. Like most DAM providers, it's based on the number of users, storage capacity, and additional features required.
Aprimo typically offers subscription-based pricing, allowing businesses to choose a plan that aligns with their budget and usage. To get accurate pricing information, it is recommended to contact Aprimo directly or request a quote from their sales team.
Note: If you want to know how DemoUp Cliplister's pricing model compares to Aprimo's, get in touch and we'll send you a quote.
Evaluating the Top Aprimo Alternatives
There are some essential criteria to consider before evaluating Aprimo alternatives. The DAM space is a crowded one, and simply using a list of all Aprimo competitors will have you spending a lot of time evaluating solutions that aren't relevant to your business.
Here are some of the things you should consider:
Pricing: Pricing should align with your budget and provide value for money
Scalability: Ensures the solution can grow with your needs
User-friendliness: Your team must be able to use the DAM system efficiently
Integrations: The DAM should work together with your existing tools to improve workflows
Customization: Your system should be able to adapt to your specific requirements
By evaluating these factors, you can confidently choose an Aprimo alternative that meets your organization's needs and maximizes operational efficiency.
The Best Aprimo Alternatives for eCommerce Digital Asset Management
In the realm of digital asset management (DAM), several top alternatives to Aprimo have emerged, each with its own strengths and suitability for different use cases. If you're looking into Aprimo, here are the best Aprimo alternatives for eCommerce Digital Asset Management applications.
1. DemoUp Cliplister – The Top Aprimo Competitor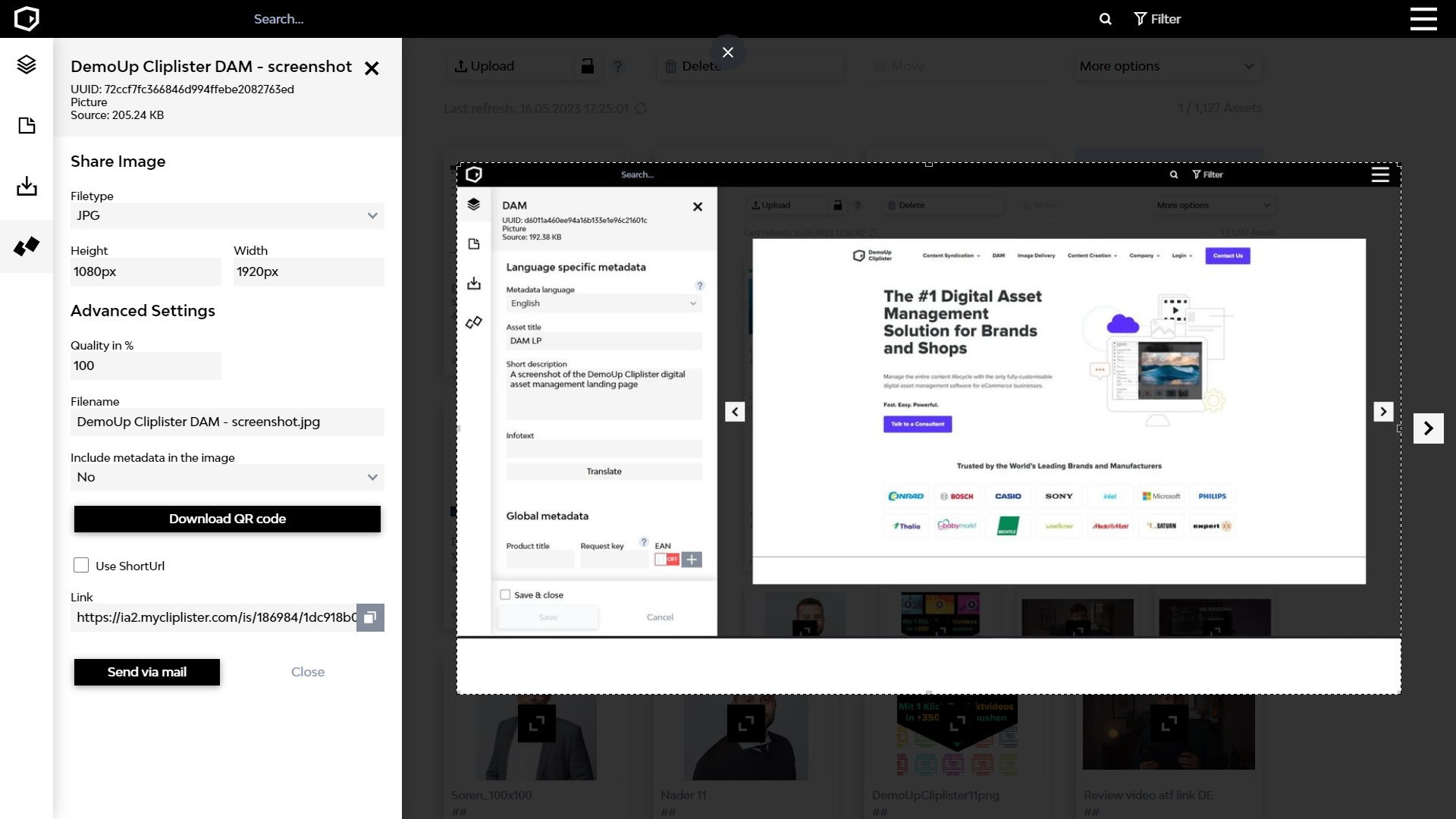 DemoUp Cliplister's digital asset management software for eCommerce brands and shops is Aprimo's top competitor. We offer many of the same features as Aprimo, but optimized for enterprise eCommerce applications.
While we could simply declare ourselves the best Aprimo alternative and call it a day, that doesn't help anyone. We want everyone to get the most out of their DAM, so we'll tell you if we don't think we can help.

Here are some key features that distinguish DemoUp Cliplister from Aprimo include:
One-click content distribution: DemoUp Cliplister facilitates collaboration between brands and the retailers that sell their products. With one click, brands can syndicate content directly to 350+ worldwide retailers in the network.
Template and banner editor: No longer do you need to create multiple versions of the same image. A built-in template and banner editor lets you set responsive breakpoints so you can use one image and adapt it for any screen size.
Dynamic image delivery: Retailers using our DAM can upload a single primary image, and our dynamic image delivery software optimizes it based on the end-user device requesting it.
Easy video asset management: The DemoUp Cliplister software lets you manage videos with a single click. You can update, remove, or distribute videos everywhere in a matter of minutes.
Advanced AI-powered search: Securely share assets and collections via a static link.
Cloud–based storage: Access your assets from anywhere in the world. All that's required is an internet connection.
Natively integrated video player: Load videos 300% faster than YouTube and embed them on any product page or website.
Store any asset type: Store 3D, A/R, or 360-degree spin views along with images, videos, documents or any other file type.
Automatic metadata translations: Translate metadata into any language to save your teams loads of time and effort.
These are just some of the features that make the DemoUp Cliplister the most powerful for online retailers and eCommerce brands. Book a free consultation and we'll discuss how DemoUp Cliplister fits into your specific needs and requirements.
2. Acquia DAM (Widen Collective)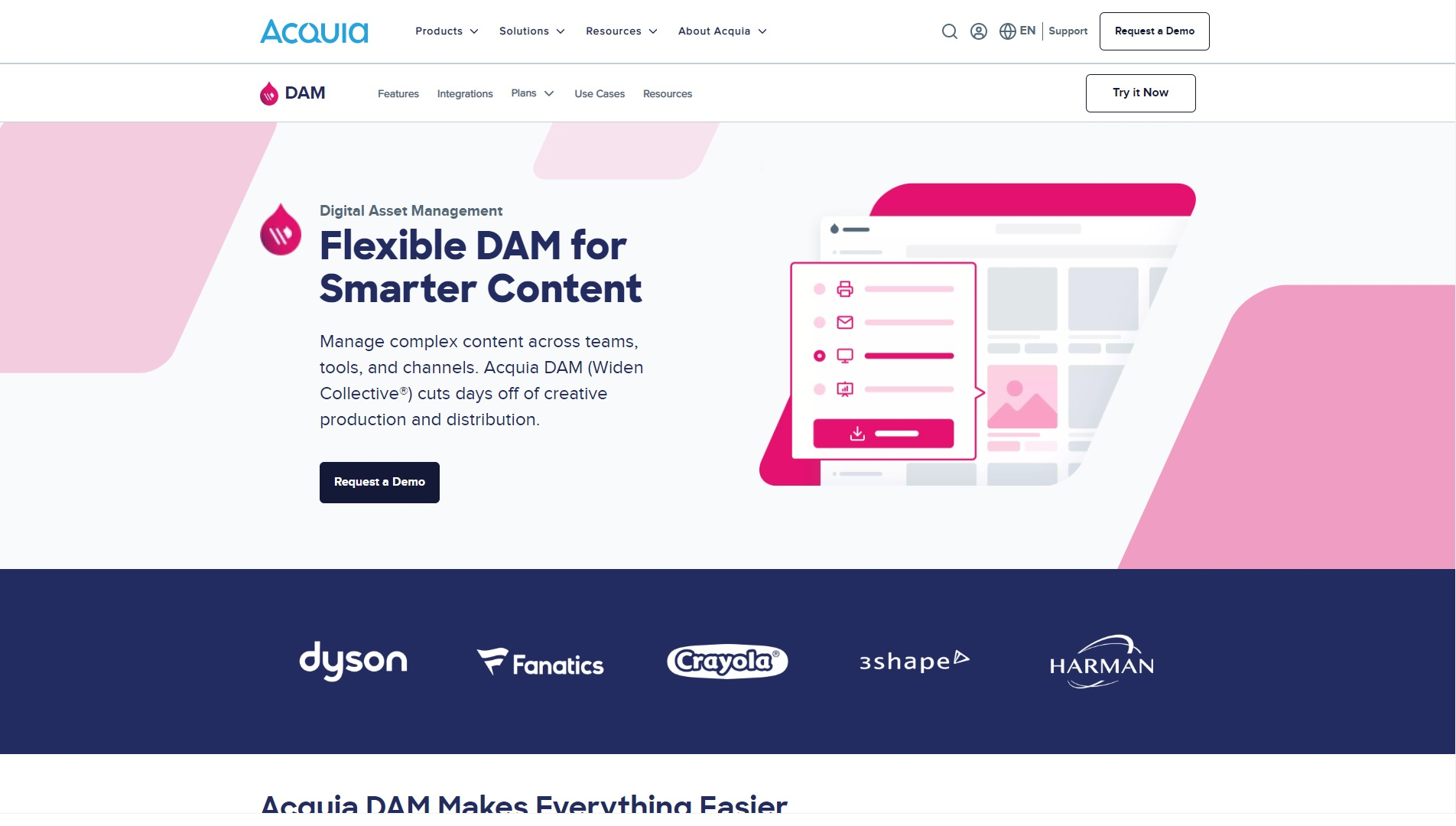 Another alternative with capabilities for both digital asset management (DAM) and eCommerce is Acquia DAM (formerly Widen Collective). Acquia DAM integrates DAM functionalities with eCommerce features, making it a solid option for businesses focused on online retail.
With Acquia DAM, users can efficiently manage their digital assets while seamlessly integrating with eCommerce platforms to deliver a superior customer experience. Its key features include robust product information management, customizable product catalogs, and integrated digital rights management.
Note: Acquia DAM is mainly focused on enabling rich content deliverability. However, this does nothing to connect a brand's high-converting, above-the-fold product images and videos to the point of sale at their retailers.

To see some differences between DemoUp Cliplister and Acquia DAM, book a demo and we'll show you live on a call.
3. Bynder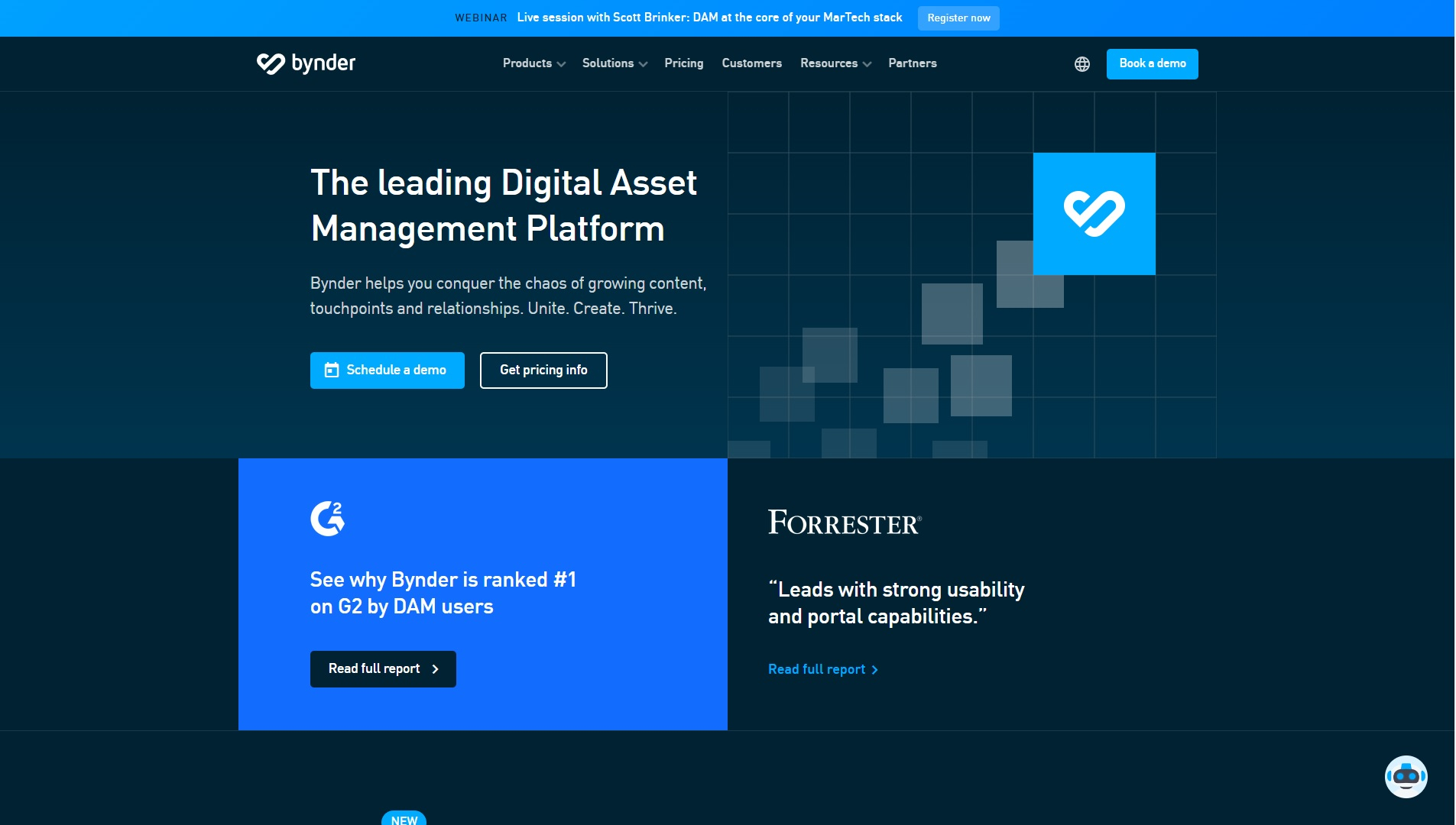 Bynder is a DAM solution that provides eCommerce businesses with a centralized hub for managing and sharing digital assets. It offers robust file organization, collaboration features, and integration with common eCommerce platforms. Bynder also includes creative project management and customizable brand guidelines. Check out our post on Bynder alternatives for more information about its features and functions.
Note: Bynder is a DAM focused on brand management and asset storage, so it lacks the syndication ability of DemoUp Cliplister.

Book a demo to see all the differences between our DAM and Bynder's
4. Adobe Experience Manager Assets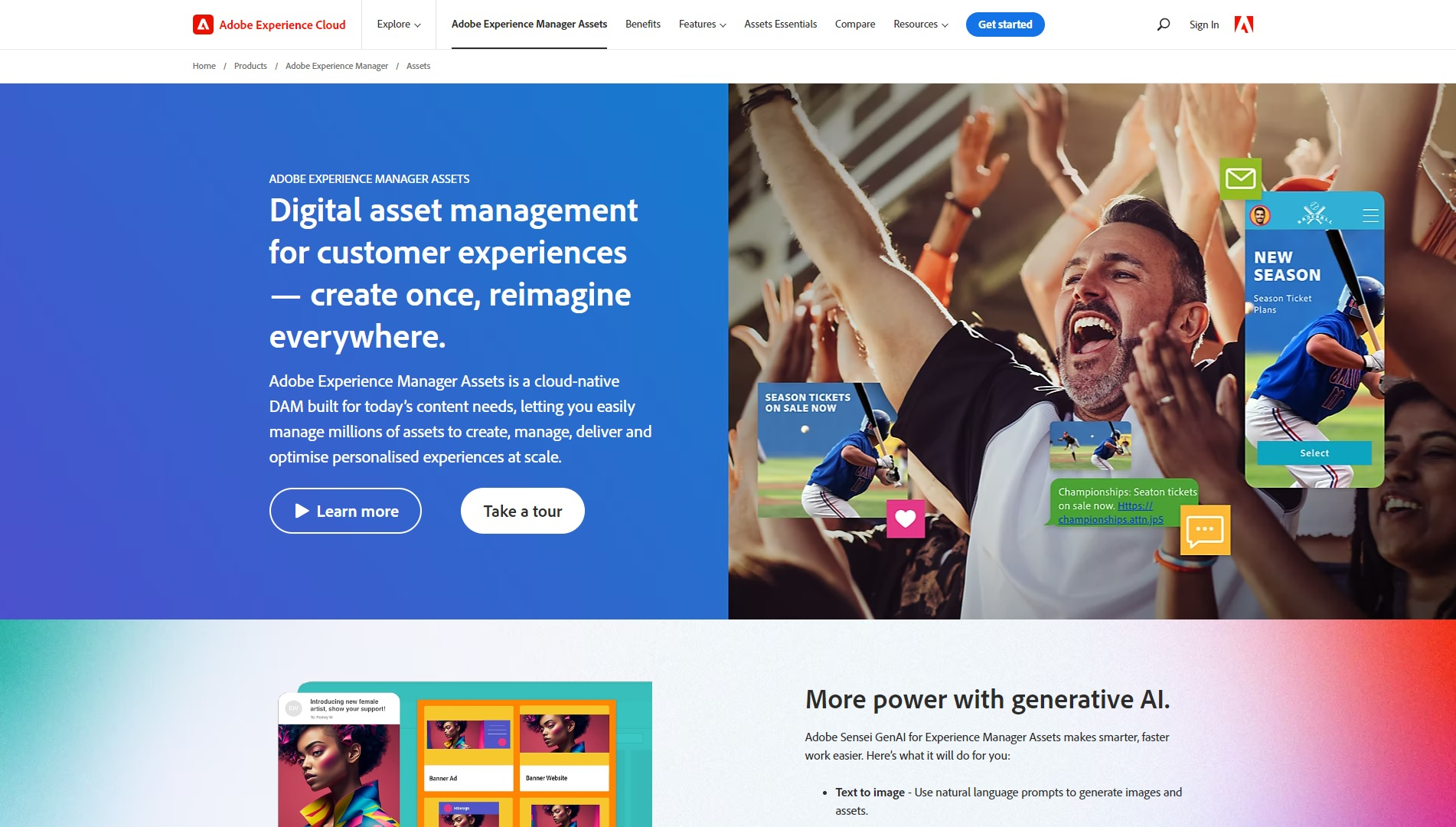 Adobe Experience Manager Assets is a DAM focused on collaboration and works in progress. It offers seamless integration with Adobe Creative Cloud, metadata management, and automated workflows. Adobe Experience Manager Assets also provides AI-powered smart tagging and advanced analytics.
Note: Adobe Experience Manager Assets might not be the best choice for content delivery.

Get in touch to see how much smaller and faster your images can be with our dynamic image delivery.
5. Canto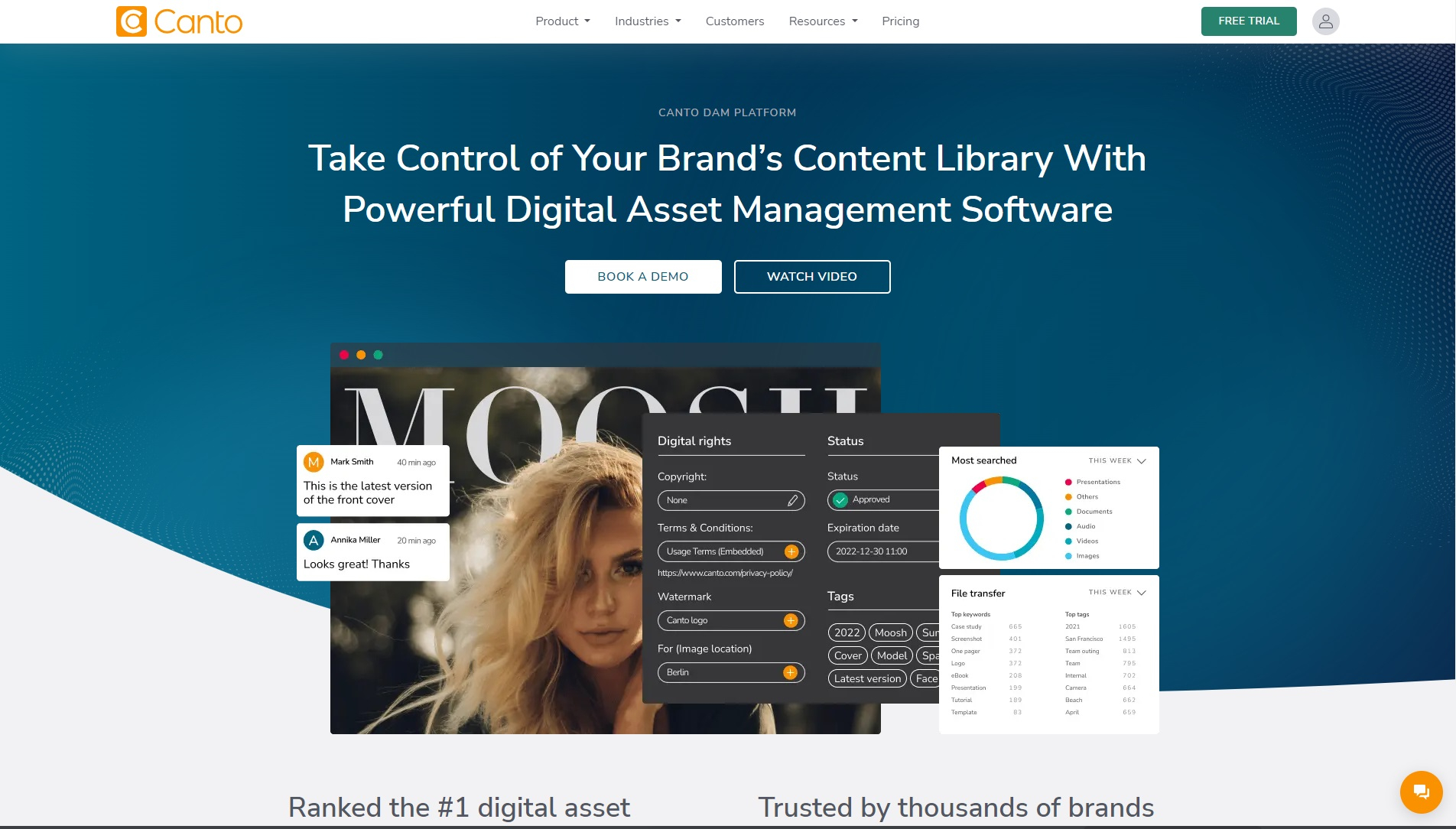 Canto is a DAM platform suitable for eCommerce businesses of all sizes. It offers asset organization, search and retrieval, and portals for asset distribution. Canto, like many of its alternatives also provides features like version control, collaborative annotations, and integration with popular eCommerce platforms.
Note: Many Canto reviews mention how clunky the UI is.

Get in touch to see how DemoUp Cliplister's interface offers a streamlined design for easy digital asset management.
6. Cloudinary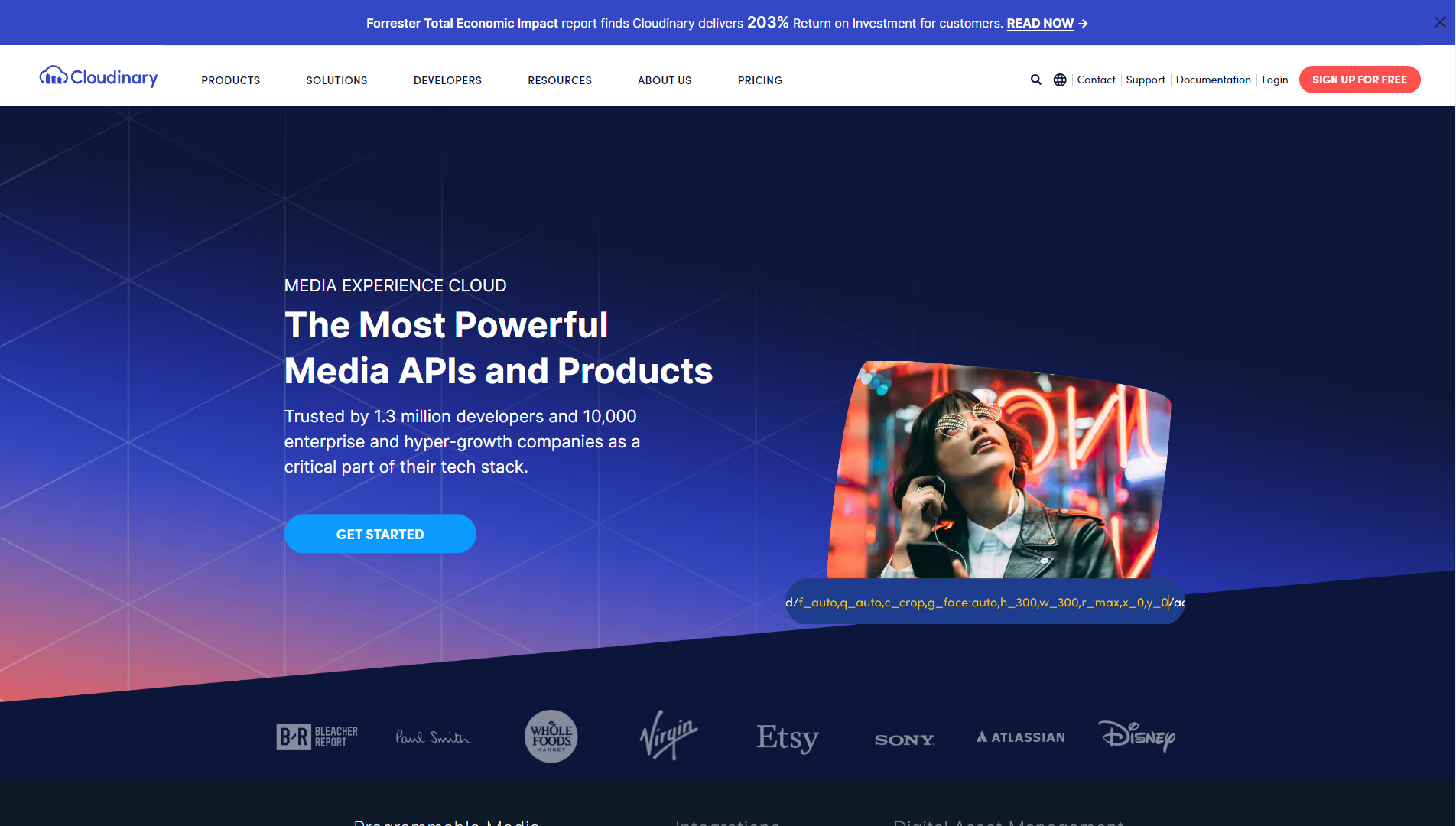 Cloudinary is a cloud-based DAM solution with a focus on media management. It offers image and video optimization features, helping you optimize assets for web performance and user experience. Cloudinary's automatic transformation capabilities enable eCommerce businesses to deliver high-quality visuals across multiple channels.
Note: Cloudinary will not provide you with any eCommerce syndication functionalities, so while it is good at delivering images and videos to the front end, you will have to manage them yourself.

Read our Cloudinary alternatives article for more information.
7. Brandfolder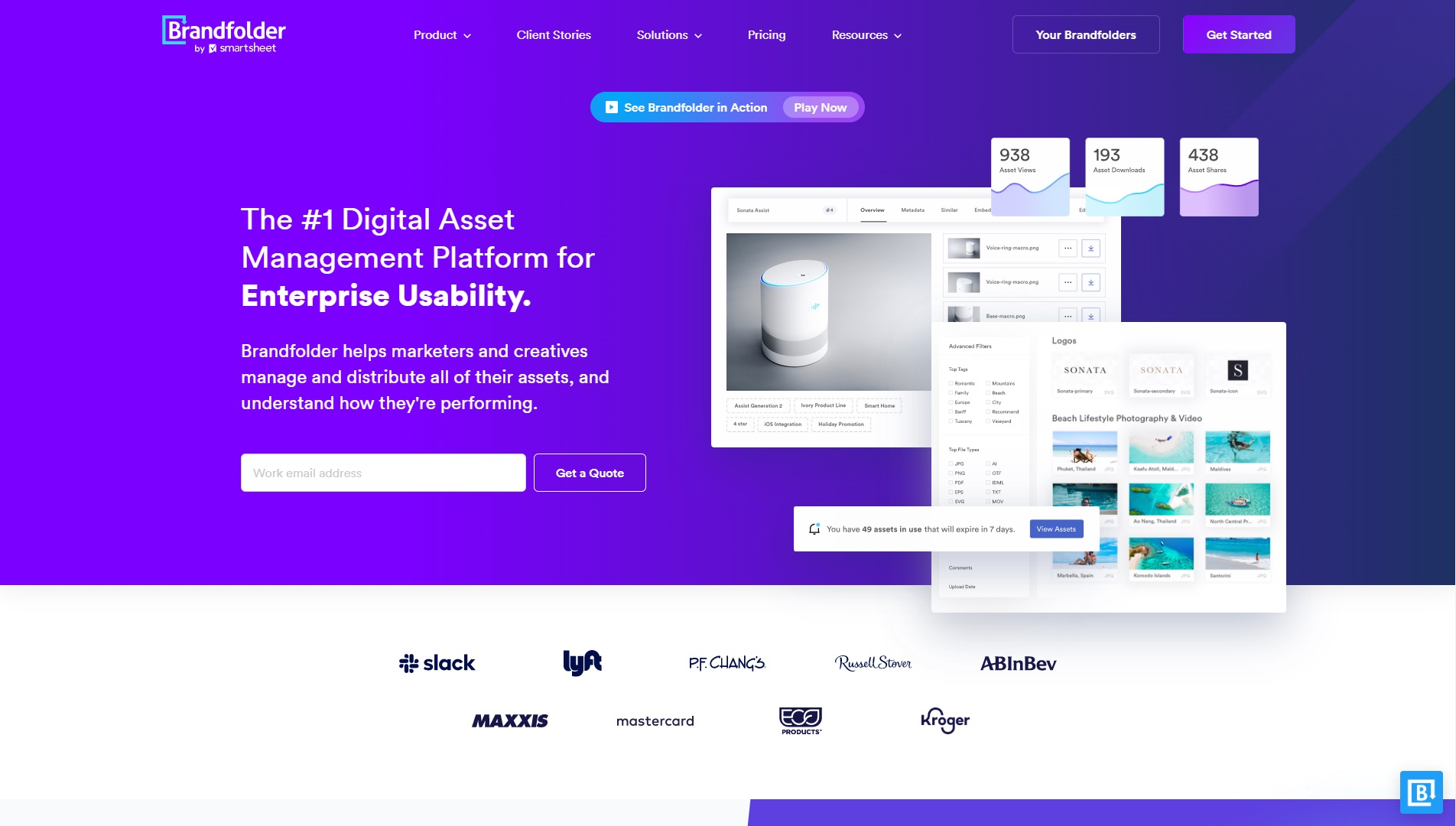 Brandfolder is a user-friendly DAM platform designed to empower ecommerce businesses in managing their digital assets. Brandfolder offers features like customizable branding, AI-powered asset organization, and real-time collaboration.
Note: Some users may find that Brandfolder's functionalities are limited when applied in an enterprise setting.

Book a demo to see how DemoUp Cliplister enables eCommerce enterprises to improve workflows and scale their content.
8. Pimcore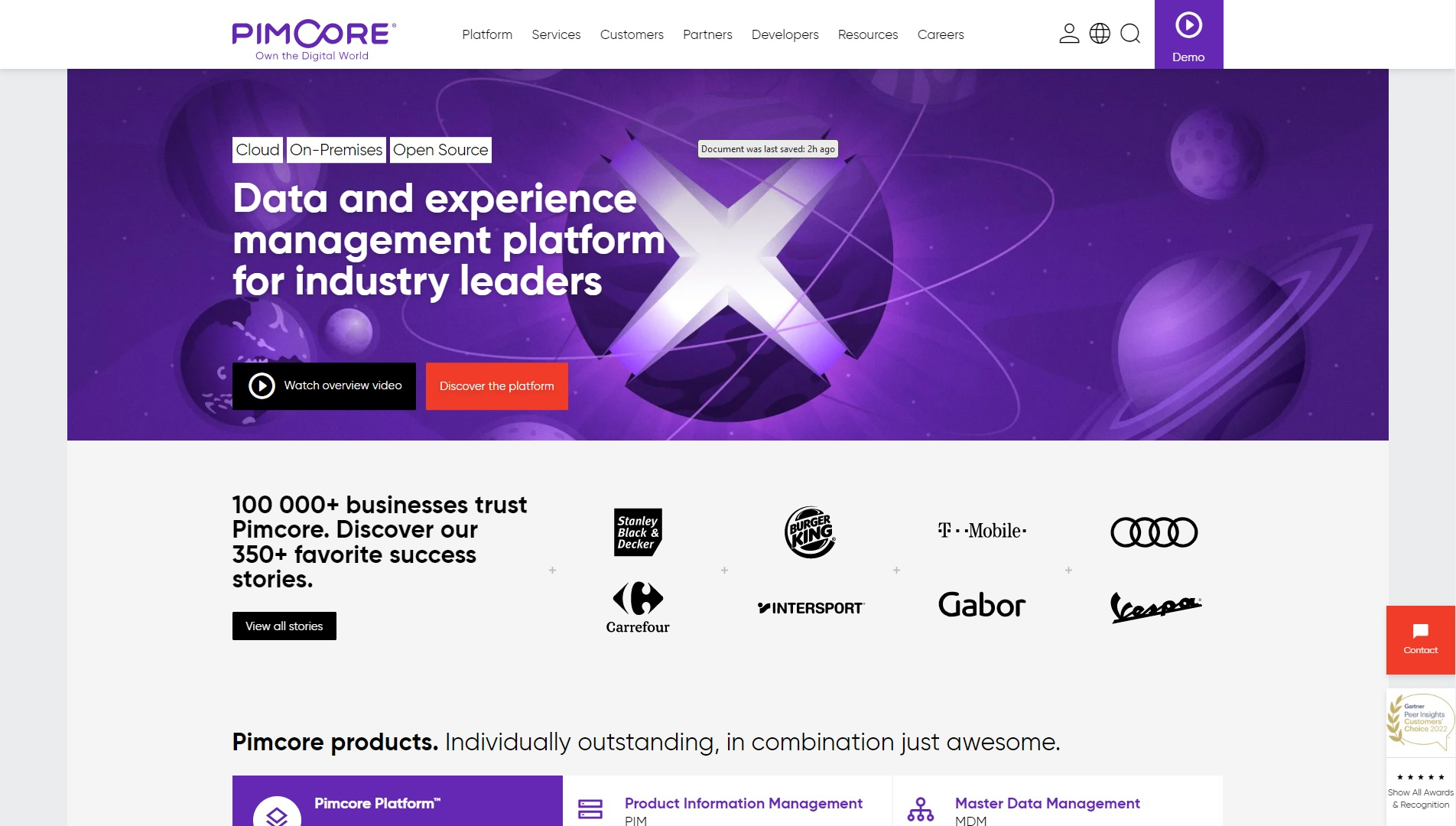 Pimcore is an open-source DAM platform that combines digital asset management with product information management (PIM) capabilities. It provides a centralized hub for managing both assets and product data, making it an ideal choice for eCommerce businesses that require integrated solutions.
Note: Though Pimcore combines DAM and PIM functionalities in one platform, enabling seamless data management, its open-source nature may require additional resources for implementation and maintenance.
9. MediaValet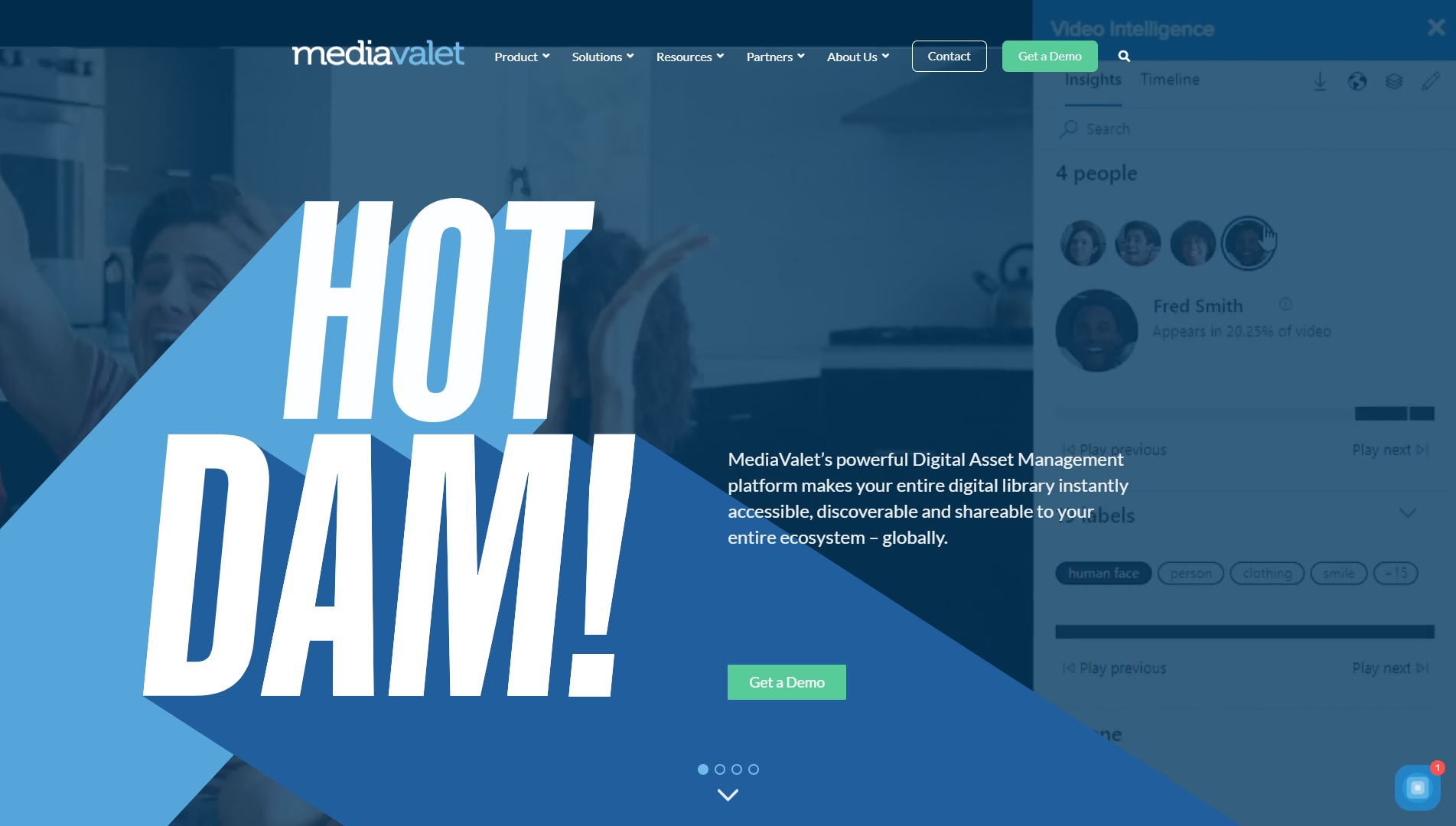 MediaValet is a cloud-based DAM platform designed to streamline asset management for eCommerce businesses. Like DemoUp Cliplister It offers advanced features such as AI-powered auto-tagging, quick and advanced search capabilities, and integrations with popular eCommerce platforms.
Note: Users may find the MediaValet user interface less intuitive compared to some other alternatives.
10. Wedia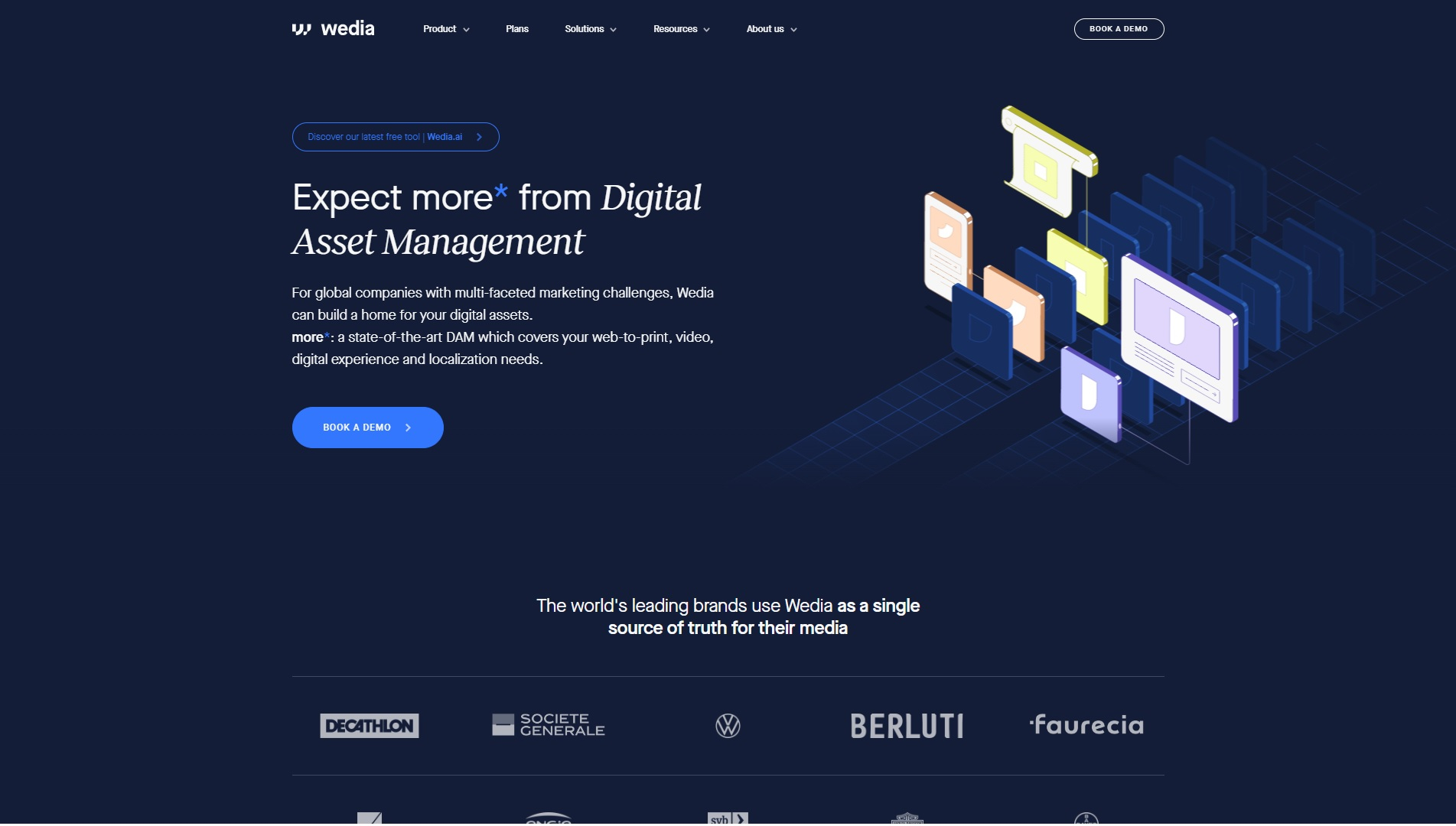 Wedia is a DAM solution that focuses on enhanced asset management capabilities. It offers features like asset versioning, workflow automation, and multi-channel publishing. Wedia enables efficient collaboration and ensures brand consistency across various digital touchpoints.
Note: Wedia is known for having a steep learning curve, so it may require additional training for users to fully utilize its extensive feature set.
Factors to Consider When Choosing an Alternative to Aprimo
When evaluating Aprimo alternatives for eCommerce DAM, several factors should be considered. Customizability, scalability, and integration capabilities are vital aspects to consider. Ensure that the chosen DAM solution aligns with your specific requirements, budget, and long-term growth plans. Evaluate the user interface, ease of use, and training resources available to ensure a smooth transition and adoption process.
Conclusion
Choosing the right DAM solution is crucial for ecommerce businesses aiming to streamline their digital asset management processes. While Aprimo offers a comprehensive set of features, exploring alternatives tailored specifically for ecommerce can enhance your productivity and efficiency. By considering options like DemoUp Cliplister and others, you can find a DAM solution that best suits your business needs and unlocks the true potential of your digital assets.
FAQs
Here are some of the most frequently asked questions we receive from clients throughout the sales process.
How much does DemoUp Cliplister cost?
Our pricing varies depending on factors such as the number of users, storage capacity, and additional features. Send us your RFP and we can provide more accurate pricing information.
Can DemoUp Cliplister handle large volumes of media files?
Yes! DemoUp Cliplister is designed to handle large volumes of media files like videos, 3D assets, and augmented reality experiences efficiently. We provide scalable solutions to meet the growing needs of eCommerce businesses.
Are there any specific integrations available for eCommerce platforms?
Yes, DemoUp Cliplister integrates with any eCommerce platform, either custom-built or plug-and-play. These integrations enable seamless content delivery and asset management within your existing eCommerce ecosystem.
How user-friendly is DemoUp Cliplister?
DemoUp Cliplister prioritizes user experience and provides intuitive interfaces to simplify asset management. We offer user-friendly features, such as drag-and-drop functionality, robust search capabilities, and customizable workflows.
Can I migrate my existing assets from Aprimo to DemoUp Cliplister?
Yes! Our team offers migration services to help businesses transition from their existing platforms. Book a free consultation to understand the migration process and ensure a smooth transfer of your assets.
Other Resources
For more useful information related to digital asset management, product content syndication, and eCommerce, check out the rest of the blog.
Otherwise, visit the homepage to see the rest of DemoUp Cliplister's software and services.