The 6 Best Cloudinary Alternatives for Digital Asset Management
Are you looking into Cloudinary as your next DAM? With a lot of conflicting information out there, choosing a digital asset management system can be hard. This article covers everything you need to know about Cloudinary, plus the top six cloudinary alternatives, so you know what each system has to offer.
What is Cloudinary?
Cloudinary is a software-as-a-service (SaaS) provider for managing all web or mobile application media assets in the cloud. It offers an end-to-end solution for all image and video needs, including upload, storage, administration, transformation, and optimized delivery.

Cloudinary's media asset management service includes high-performance servers for fast upload and download rates, highly available cloud storage for safe and always-available assets, and high-performance media portals and processing servers for generating requested images and videos.
Cloudinary's Core Features
Cloudinary has a wide range of features that make it an appealing option for many businesses. However, there are some areas where it could be improved – especially within the eCommerce industry.

Here are some of the highlights:
Automated Image and Video Lifecycles
Cloudinary uses programmable media APIs to automate many of the processes associated with managing image and video content lifecycles. It can automatically crop images, manage content, and analyze assets.
The downside of this feature is that it requires a large team of developers to implement correctly.
Digital Asset Management
To streamline the automation of content lifecycles, Cloudinary also provides a comprehensive digital asset management system. You can create, publish, and monitor content all in one single platform before sharing it with internal and external stakeholders.
However, the problem with the Cloudinary DAM is that it requires a ton of maintenance. Though you'll be saving time on content development, you'll also need a large team to run it.
Creative Automation
One of the newer features of the Cloudinary platform, its creative automation function is a template and banner editor that marketers can use to scale "transformative visual experiences".
The downside of this is of course that it needs to be quality controlled, so your team will still spend time on asset creation.
Cloudinary as a Platform
With its wide range of features, Cloudinary has become a popular choice among developers and businesses. However, with the growing demand for better image and video management platforms, many people look for an alternative.

Luckily, several of our clients used to use the Cloudinary DAM in the past, so we know why it works for some organizations but not for others.
The following sections cover the software's pros and cons, plus six other popular alternatives to Cloudinary, starting with DemoUp Cliplister's digital asset management software.
Pros & Cons of Cloudinary
The reason Cloudinary is so popular is that it allows you to perform several digital asset management functions at a scale large enough for enterprises. It works well for businesses of all sizes and, in terms of a learning curve, is more user-friendly than its competitors.
On the other hand, Cloudinary comes with pre-defined workflows. This means it misses the mark in terms of flexibility. Digital asset management is a complicated process and workflows are unique to each business.
Cloudinary's one-size-fits-all approach means that many businesses may find it quite constrained in comparison to other providers. Furthermore, it requires technical expertise on your side, which means you may need to factor in the cost of hiring additional personnel to manage the software.
DemoUp Cliplister: The Top Cloudinary Alternative
DemoUp Cliplister is a cloud-based digital asset management platform that provides a central platform for managing, organizing, and sharing images, videos, or any other file type.
You have access to robust asset management features, including automated version control, automatic image optimization, and flexible user permissions. The AI-search function means finding and accessing files is a breeze.
Furthermore, you can take advantage of a fully headless DAM option, which means you can customize the system and integrate it into any workflow via its powerful advanced programming interface (API) capabilities.
How Cloudinary & DemoUp Cliplister Compare
In comparison to Cloudinary, DemoUp Cliplister has many features that make it a better fit for many businesses, especially within the eCommerce space.
While we could simply declare ourselves the best Cloudinary alternative and market ourselves to every type of business, that's not helpful for anyone. Here are some of the features you get with DemoUp Cliplister:
AI-Powered Search
Find any asset quickly and easily with a built-in smart-search function. Find assets by file type, image composition, metadata properties, language, and more.
Automatic Metadata Tagging
Using artificial intelligence and machine learning, the DemoUp Cliplister DAM platform simplifies digital asset management by automatically applying metadata fields.
Automatic Video Transcoding
DemoUp Cliplister's DAM solution allows you to convert video files to any format to ensure compatibility with any device. This ensures you always play videos of the highest possible quality.
Dynamic Image Delivery
DemoUp Cliplister's digital asset management software comes as a DAM and CDN, also known as a dynamic image delivery network, so end-users always get the most optimized version for their device.
Headless DAM Capability
When you use the DAM system in its headless format, you can integrate the solution into any workflow. This helps you break free from predefined workflows found with many other solutions.
Live Connect API
The Live Connect API creates precisely formatted single-use assets and delivers them securely to connected online stores in a matter of milliseconds.
Simplified Version Control
Generate unlimited versions from one primary digital asset. Combined with its dynamic image CDN, you can generate custom sizes and formats automatically.
Video Delivery & Syndication
With DemoUp Cliplister, eCommerce businesses can connect to a syndication network with over 3,000 brands and 350 retailers worldwide.
These are only some of the features available in the DemoUp Cliplister digital asset management platform. Sign up for a free trial today to see the entire system for yourself.
Cloudinary Plans & Pricing
The Cloudinary pricing structure is a freemium model that provides you limited access to some features on sign-up. However, this is inappropriate for most business settings. Cloudinary uses a credit-based (also known as token-based in some regions) pricing system for its paid options.

Here is a breakdown of the Cloudinary plans along with their costs:
Cloudinary Free Plan

20 GB Storage
20,000 Monthly image transformations
10 GB Thumbnail storage
300,000 total images and videos

Cloudinary Plus – $89 p.m.

Expanded web capabilities
3 Users / 2 Accounts
225 Credits

Cloudinary Advanced – $229 p.m.

5 Users / 3 Accounts
Custom domain support
Authentication options

Cloudinary Enterprise – Price Undisclosed

Adjustable users and accounts
Multi-CDN delivery
Designated Customer Success Manager
User management and API access
As shown in the lists above, any plan below Cloudinary Enterprise is irrelevant for most businesses. Unless you are an entrepreneur or a founding-stage start-up, you will need the Enterprise Cloudinary plan, which can end up costing a fortune.
DemoUp Cliplister Pricing
As DemoUp Cliplister is a B2B SaaS solution, we do not offer any free versions of our DAM platform. All pricing is completely custom and flexible based on your business needs.
We customize the price of our system based on three factors:
The number of users you have
The amount of storage you require in GB/TB
How many assets you need to store
To get a quote, see our pricing structure, or learn more about the DemoUp Cliplister DAM solution, get in touch with one of our consultants using the link below.
Other Top Cloudinary Alternatives
The DAM space is a crowded market. There are several other options worth knowing about. Each option has its pros and cons, so we'll break down five more competitors specialized in digital asset management.
Canto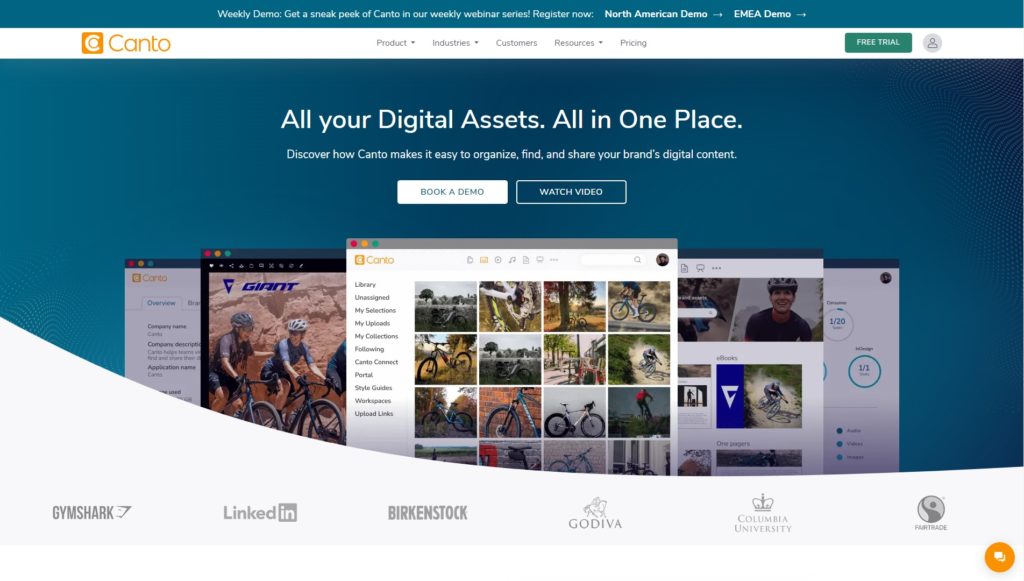 Canto is a cloud-based DAM provider that allows you to manage, organize, and share digital assets like images and videos. Canto provides features like customizable workflows, automatic image resizing, and advanced search capabilities.
However, Canto is more expensive than most of the other alternatives listed here. Some of our clients' end-users struggled with the software's user interface (UI)/user experience (UX), templates and loading times. Coupled with a steep learning curve, this DAM provider may not be a fit for businesses without dedicated teams.
Bynder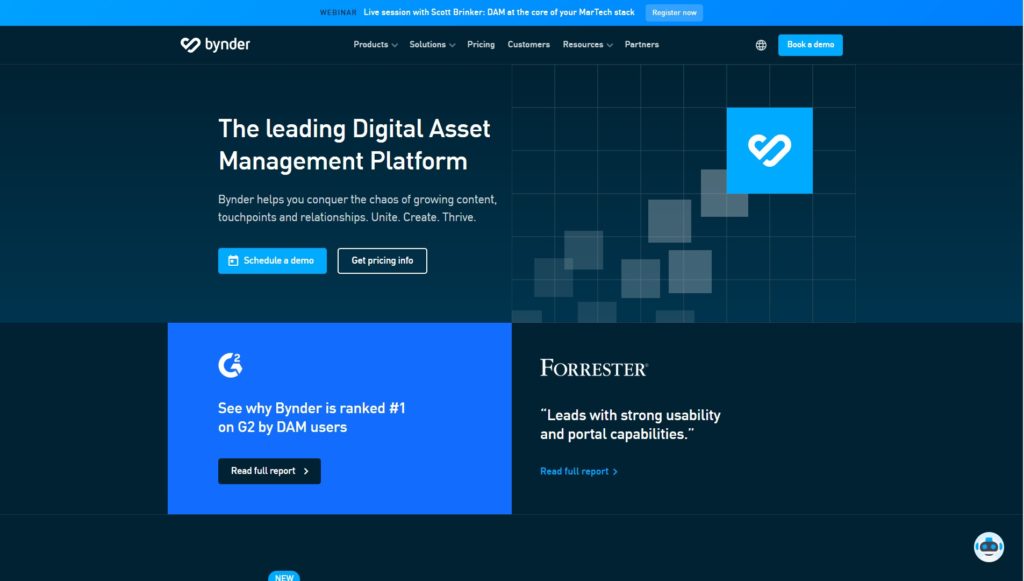 Bynder is a cloud-based DAM platform that acts as a central repository for storing, organizing, and sharing digital assets, including images and videos. Bynder offers features like version control, automatic image optimization, and customizable workflows, which make it great for digital asset distribution.
Bynder is also on the expensive side when it comes to digital asset management for what you get. It also lacks many integrations with third-party tools, and the interface can be difficult to learn. The platform is known to struggle with finding assets, and many users report difficulties with reporting on and tracking asset performance.
Aprimo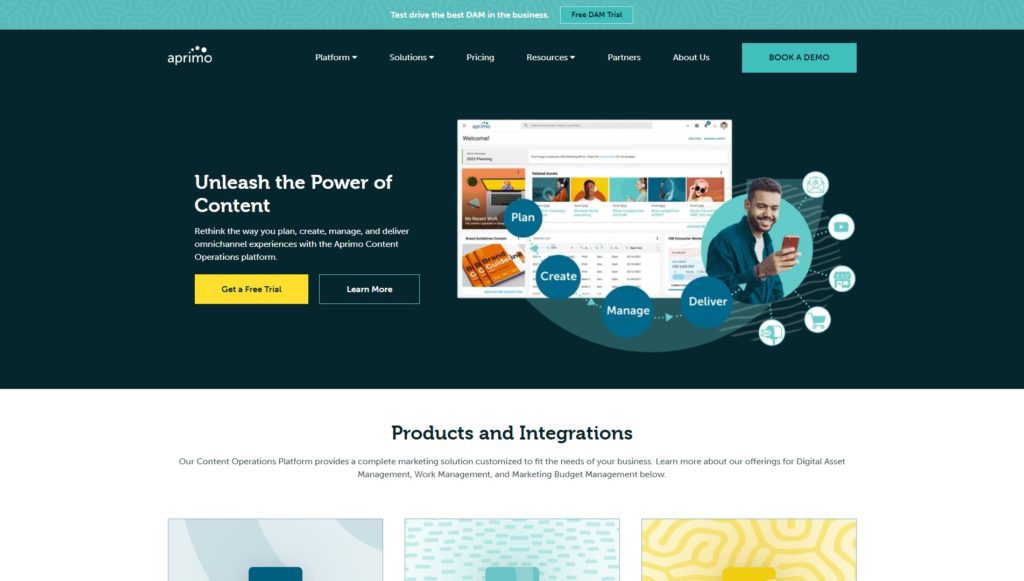 Aprimo is a cloud-based marketing operations solution that lets you manage, organize, and distribute digital assets. Aprimo offers features for brand management, campaign management, and automated workflows.
Because it's a full-on marketing ops platform, Aprimo is better suited for brand management and campaign management than image and video optimization and delivery. Plus, you'll need a team of people skilled in marketing operations to make it work properly.
Many users also complain that the user interface is "not intuitive". Plus, many former users say the advanced search could be greatly improved.
Scaleflex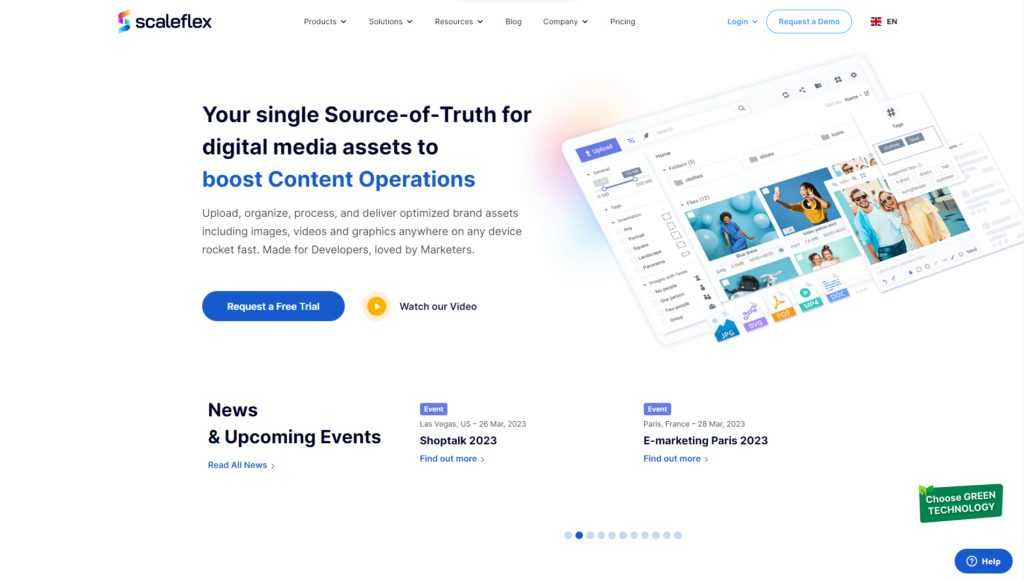 Scaleflex is a cloud-based image and video management platform. It's a scalable and flexible solution for managing and delivering images and videos. Scaleflex offers features like automatic image optimization, real-time image and video processing, and advanced analytics in its DAM platform, known as Filerobot.
While this sounds great on the surface, Scaleflex is notorious for having a steep learning curve. It's also not as comprehensive as other digital asset management solutions, as it focuses on videos and images.
Scaleflex also scores poorly in terms of file management. It can be hard to duplicate some files. The search function and batch modification (like metadata tags and descriptions) also need improvement.
Brandfolder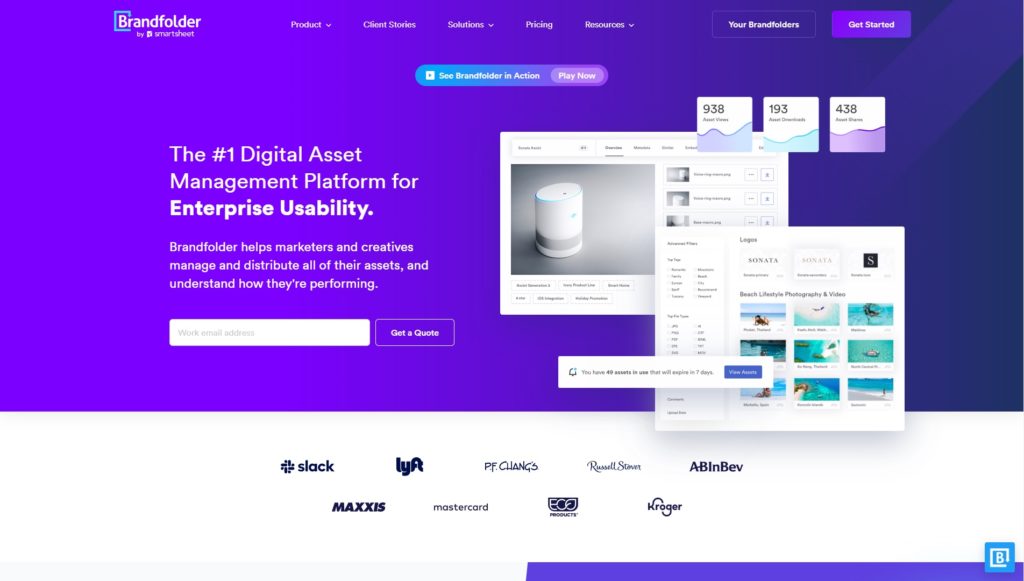 Brandfolder is a DAM software provider that offers a central repository for storing, organizing, and sharing digital assets. Brandfolder comes with customizable workflows, automatic image optimization, and advanced search capabilities.
However, the enterprise Brandfolder solution is quite expensive. Because it has a pre-defined front end, it's also hard to integrate into your existing workflows and lacks integrations with many popular tools.
Each of these Cloudinary competitors offers unique features and capabilities. The best solution for your needs, though, depends on your specific requirements. You should carefully evaluate each solution to determine which is best fit for your needs in terms of cost, scalability, storage, security, and other factors.
How the Best Cloudinary Alternatives Compare
Here is a breakdown of how the best Cloudinary alternatives stack up:
| Feature | Cloudinary | DemoUp Cliplister | Canto | Bynder | Aprimo | Scaleflex | Brandfolder |
| --- | --- | --- | --- | --- | --- | --- | --- |
| Cost | Usage-based | Custom | $1,000 / user | Not Listed | Not Listed | $249/mo | Not Listed |
| Scalability | Great | Great | Great | Average | Poor | Poor | Good |
| Storage | Usage-based | Custom | 5TB | Custom | Unknown | 200GB | 1TB |
| Security | Good | ISO-Certified | Good | Good | Great | Average | Good |
As you can see, DemoUp Cliplister outperforms the competition in several categories. Though we're not the cheapest solution around, we designed our DAM to fit in the price range of most medium-to-large-sized brands and retailers while remaining scalable enough for global enterprises. We are committed to your success, so we will tell you if we don't think we can help.
Conclusion
Cloudinary is a cloud-based solution that offers a range of digital asset management (DAM) and image and video manipulation capabilities. It has several features including image and video upload and storage, image and video optimization, image and video transformations and manipulations, and image and video delivery and integration.
On the other hand, there are several areas Cloudinary lacks compared to DemoUp Cliplister and other competitors. For instance, Cloudinary does not provide you with access to a network of brands and retailers, requires technical expertise, and is not easy to customize.
Therefore, it's worth exploring alternatives to Cloudinary, so you can get the best digital asset management software for your requirements. While it would be easy to declare ourselves the best, we invite you to see the power of the DemoUp Cliplister digital asset management platform for yourself.
Other Resources
If you're interested in learning more about digital asset management, product content syndication, or content creation, check out the rest of the blog.
Otherwise, visit the homepage for a full overview of our products and services.