Best Digital Asset Management Software for 2023
Digital asset management software has become the backbone of business in modern times. No longer are assets stored locally in massive server farms. Now, cloud-based digital asset management systems make access to content easier than ever. Along with the increasing volume of digital content, finding the right digital asset management (DAM) software is essential.
Whether you're a marketing team handling large multimedia files or an eCommerce business managing millions of product images, investing in a reliable DAM solution can streamline your asset management efforts and boost productivity.
In this article, we'll explore the best digital asset management software available to help you make an informed decision based on your organization's specific needs.
What is Digital Asset Management?
Digital asset management, or DAM, refers to the process of storing, organizing, and distributing digital assets in a centralized system. It involves managing various types of media files, including images, videos, audio files, documents, and more.
DAM software provides a platform for storing, cataloging, and retrieving these assets efficiently, enabling teams to collaborate, maintain version control, and ensure consistent branding and messaging across channels.
The Benefits of Digital Asset Management
Overall, digital asset management is beneficial for businesses that want to stay organized and facilitate collaboration. With DAM, your teams can quickly and efficiently find all the files they need, when they need them.
Besides the shift to remote-first and hybrid work, teams without some sort of DAM in place struggle to keep tabs on their files. Furthermore, increased digitization across enterprises of all sizes means companies are moving their DAM systems from old, on-premises legacy systems into the cloud.
Here are a few key benefits of implementing digital asset management software:
Enhanced Asset Organization and Accessibility: You'll have a structured repository for your digital assets, making it easier to find and retrieve files quickly. If your software offers robust search and tagging capabilities, assigning metadata to assets will enable efficient filtering and categorization.
Improved Collaboration and Workflow: You can facilitate seamless collaboration among team members, regardless of their location. DAM systems enable users to share, comment, and collaborate on assets, ensuring everyone has access to the latest versions and reducing duplication efforts.
Brand Consistency and Control: Achieve brand consistency with a centralized hub for approved assets. This ensures that teams are using the correct logos, images, and other brand elements, reducing the risk of inconsistent messaging.
Time and Cost Savings: With the right DAM, you can automate repetitive tasks, such as file conversions, resizing, and distribution. This automation saves time, improves efficiency, and reduces manual errors, ultimately leading to cost savings.
Enhanced Security and Copyright Management: Most DAM software offers robust security features, including access control and permissions management. You can define user roles and restrict access to sensitive assets, protecting your digital content from unauthorized use.
As more businesses move to hybrid or work-from-home environments, the need for digital asset management software will only continue to grow. As we move toward the future, there will be more advances, features, and tools that teams can use to facilitate the creation, management, and distribution of content.
The Best Digital Asset Management Software of 2023
There are countless digital asset management tools and file-sharing services to help you get your content where it needs to go. To help you make sense of it all, we collected the best digital asset management software providers to help you, your team, and other relevant stakeholders get a little more organized.
1. DemoUp Cliplister – Best for E-Commerce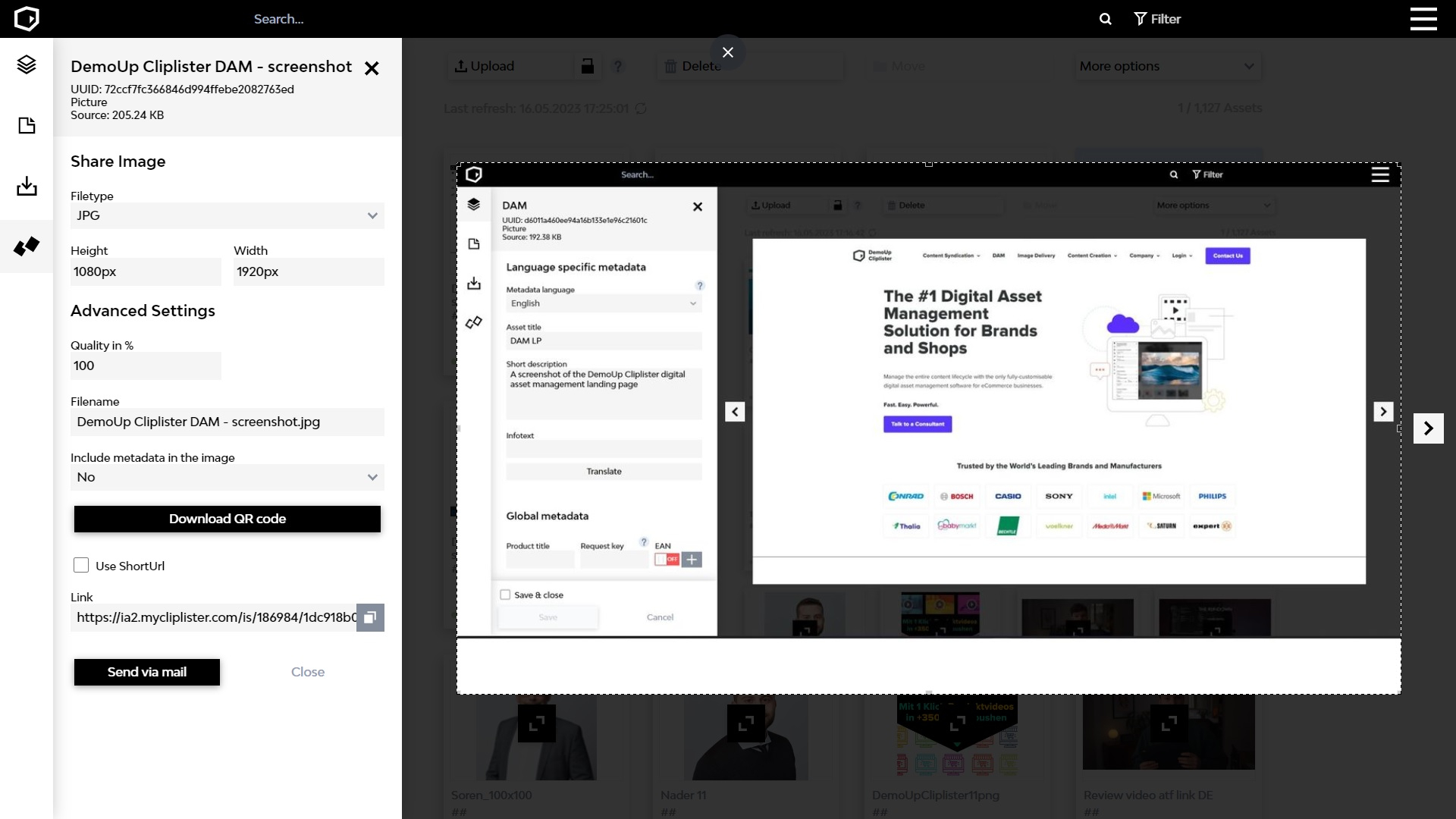 DemoUp Cliplister is a fully loaded, cloud-based digital asset management software provider focused on eCommerce content management and distribution. Designed around a content syndication network consisting of 3,000+ global brands and 350+ retailers worldwide, no other DAM solution in the world makes product content delivery this easy.
DemoUp Cliplister is unique because it syndicates eCommerce product videos, 3D models, and augmented reality experiences directly to the point of sale at over 350 retailers worldwide. Ever wonder how global powerhouses like Samsung and Sony get the same product video to all their retailers? Well, this is how.
DemoUp Cliplister isn't just for brands, though. E-Commerce retailers also benefit from over 300,000 product videos that can be instantly displayed on any product page in their store.
Plus, dynamic image delivery and unlimited version control mean that you only need to upload one image to create personalized customer experiences directly on your product pages.
Alongside the syndication network, DemoUp Cliplister makes its case as the best DAM software for eCommerce with:
Full content lifecycle management
Automatic metadata tagging & translations
Searchable asset libraries
Fully customizable workflows
Easy-to-use interface
A powerful API
User rights management
Content tracking and analytics
Cost: Get a custom quote based only on the resources you require.
2. Bynder – Best for Brand Management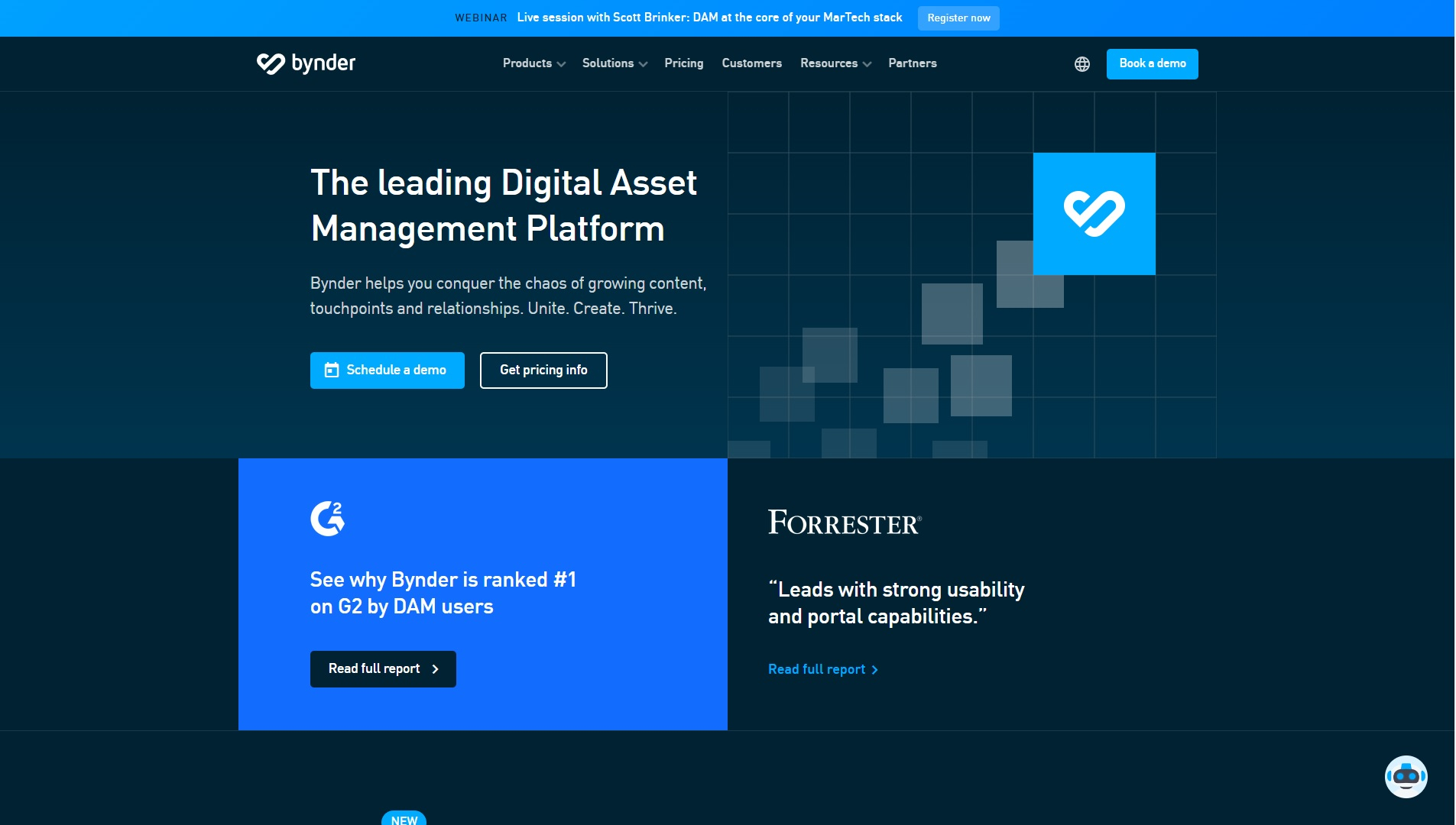 Bynder provides a powerful DAM solution with advanced features for brand management. With its intuitive search functionality and robust metadata management, Bynder allows organizations to efficiently organize and locate assets. The software also offers seamless integration with other systems and supports various file formats, making it a versatile choice for businesses of all kinds. Visit our Bynder alternatives article to learn more about its strengths and weaknesses.
3. Canto – Best for Collaboration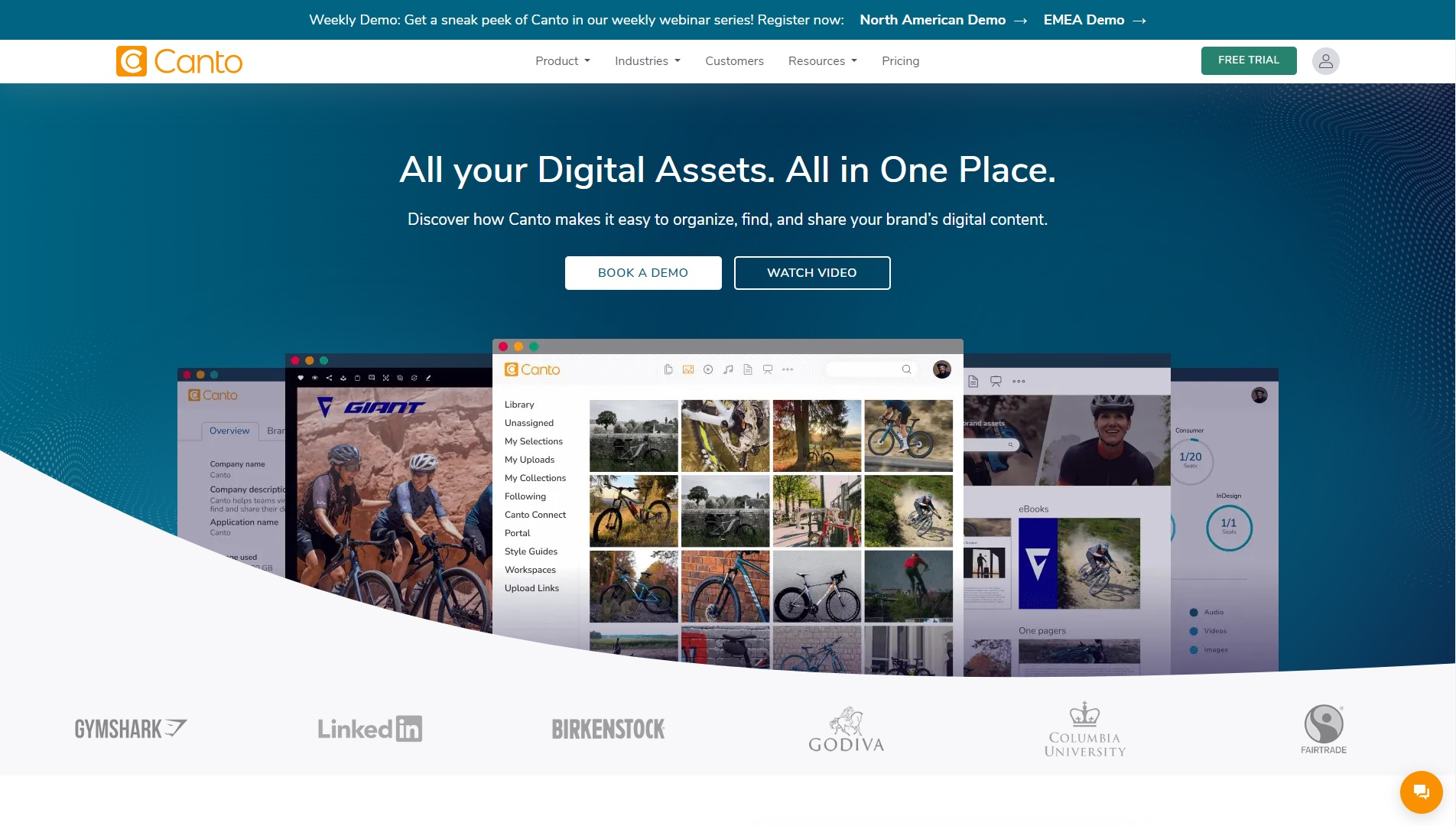 Canto is another top contender in the digital asset management space. Its feature-rich platform allows users to easily upload, categorize, and share assets. With its advanced version control, customizable metadata fields, and AI-powered tagging, Canto enables efficient asset management and retrieval. The software's robust content collaboration tools make it a popular choice among creative teams. Be sure to read through our article on Canto alternatives for more information.
4. Aprimo – Best for Marketing & Operations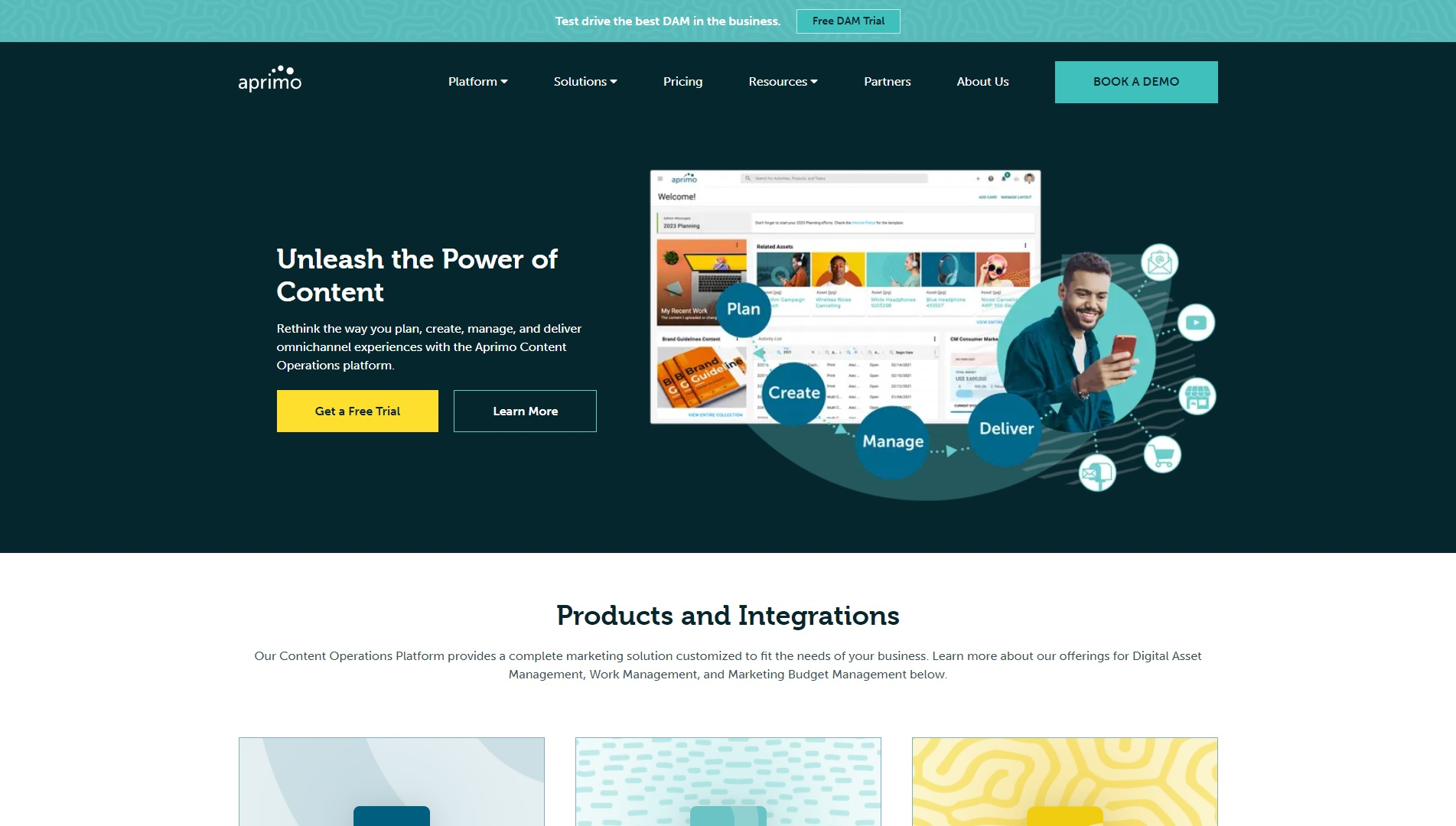 Aprimo is a marketing operations platform with a DAM solution as part of its product offering. Through advanced search capabilities, asset versioning, and permission-based access control, Aprimo ensures streamlined collaboration and efficient management of digital assets.
The software's suite of integrations with other tools makes it a reliable choice for businesses of all sizes. If you're unsure about the software, see our list of Aprimo alternatives.
5. Cloudinary – Best DAM with a Mobile App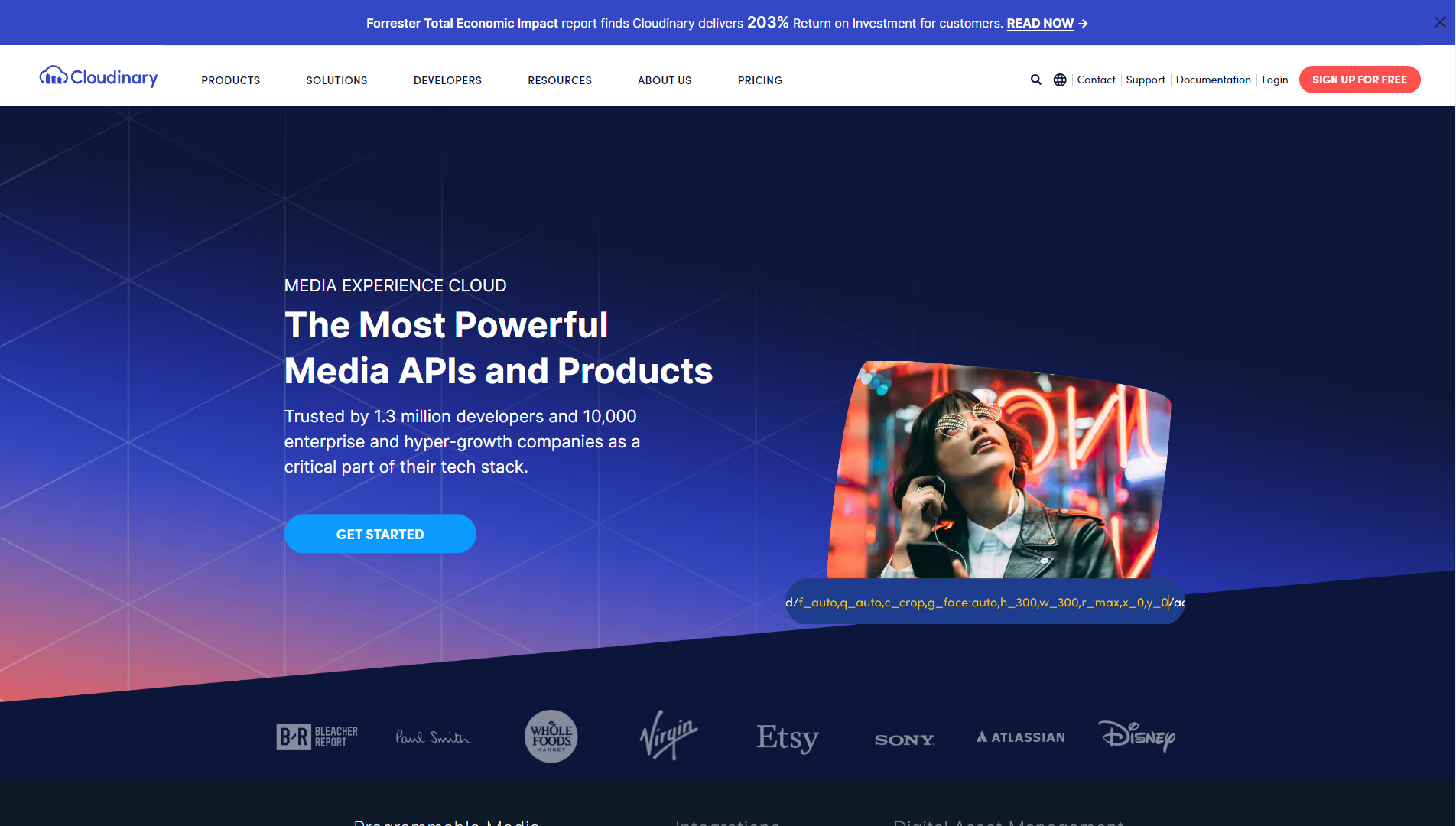 Cloudinary stands out as a leading DAM software provider, offering a robust set of features for efficient digital asset management. With its intuitive interface, customizable workflows, and comprehensive metadata capabilities, Cloudinary empowers organizations to streamline their asset management processes.
The software's automation features, integrations with popular tools, and flexible deployment options make it a versatile choice for businesses seeking an effective DAM solution. To learn more about Cloudinary, check out our list of Cloudinary competitors.
Wrapping Up
Selecting the right digital asset management software is essential for organizations seeking to optimize their asset management workflows. The featured DAM software options – DemoUp Cliplister, Bynder, Canto, Aprimo, and Cloudinary – offer powerful features and functionalities to suit various needs.
Evaluate each software based on your organization's requirements, request demos or trials, and make an informed decision that will streamline your digital asset management processes and enhance productivity across your teams. Before you invest, be sure to download our comprehensive guide to choosing a digital asset management system, which tells you everything you need to know to find the best digital asset management software for your requirements.
Want to know more about the full range of DemoUp Cliplister products and services? Visit our homepage.