Shopping is not just a transaction; it's an experience. At the heart of this experience lies the art of product communication, a dynamic force shaping how we perceive, choose, and cherish the items we buy.
In this journey through eCommerce marketing, let's unravel the importance and nuances of effective product communication, turning regular online shopping into unforgettable experiences.
What is Product Communication?
At its core, product communication is the language through which products speak to consumers. It's not just about features and specs; it's about conveying the story, the value, and the unique proposition of ownership.
Imagine a smartphone that doesn't just tout its megapixels but explains how it transforms everyday moments into vivid memories. Effective product communication is about creating a narrative that resonates with your target audience.
The Key Elements of Effective Product Communication
From compelling visuals to persuasive copy, the elements of product communication are diverse. Take Apple, for instance. Their product launches aren't just about the specifications and hardware; they're about unveiling a new chapter in technology history.
5 Key Elements Apple Uses for Effective Product Communication
Simplicity in Design and Messaging: Apple excels in simplicity, featuring minimalist product design and communications.
Compelling Storytelling: Apple goes beyond technical details; they tell stories. Each product launch is a narrative, focusing on how the device revolutionizes daily life.
Visual Appeal: Apple uses high-quality images, product videos, and appealing packaging to build an aesthetic that increases the perceived value of their products.
Focus on UX: Apple communicates the user experience rather than just features. It focuses on how its products integrate into daily life.
Brand Consistency: Apple maintains consistency across all communication channels.This consistency builds brand trust and recognition, reinforcing the Apple identity.
Adapt these key elements of product communication to your brand and tell stories around your products, and customers will love your content.
Crafting Engaging Product Communications for Online Shopping
On the digital high-street, crafting engaging product communication is an art. It's about more than just listing features; it's creating an online experience that captivates.
For brands, the biggest wins come from developing strategies featuring dynamic visuals, Disney-like narratives, and user-centric information that transforms online shopping into an immersive and unforgettable journey.
The Digital Frontier: Navigating eCommerce Product Communication
In eCommerce, effective product communication becomes even more crucial because your customers lack the in-store experience. Your website is your storefront, and the product descriptions are your salespeople.
Consider how Amazon uses concise yet informative product descriptions, ensuring customers have all the information they need at their fingertips. Make your online communication seamless and consistent, and you can build the ultimate digital shopping experience around your products.
Product Communication Strategies for Captivating Online Shoppers
Turning browsers into buyers requires more than just a list of features. Think about how Zappos revolutionized online shoe shopping.
Its product communication includes detailed descriptions, customer reviews, and even videos showcasing the product from every angle.
Sounds easy, right?
That is, until you learn you have to build a team, stay in constant contact with your retail partners, and consistently update your communications so they don't go stale.
It's a lot of work, and why we build end-to-end product content solutions to help 3,000 global brands distribute content to a global network of over 350 online retailers. From content production to PDP delivery, we have a solution for any eCommerce brand or retail application.
Build Unforgettable Product Experiences
Discover the power of effective product communication. Elevate your brand with DemoUp's innovative solutions.
Book a call
The Art of Marketing & Product Communications
Within eCommerce, product communications are more than simple promotional materials; they're about creating a lasting impact. Let's explore how product communication forms a cornerstone of effective eCommerce marketing campaigns.
The Role of Product Communication in Marketing
Marketing is the bridge that connects brands and products with consumers. Nike, for instance, doesn't just sell shoes; they sell a lifestyle.
Your marketing messages should resonate with your target audience on a personal level. Understand their aspirations, fears, and desires, and align your product communication to address those emotions.
Leveraging Marketing Channels for Improved Product Communication
The eCommerce marketing landscape is diverse, from social media to influencer partnerships. Take Glossier, for example; their marketing strategy involves user-generated content (UGC) and social media influencers to create a community around their brand.
Members of the community become brand advocates, so they tell their friends to buy Glossier products. When you leverage diverse marketing channels to strengthen your product communication, you stay top of mind and increase the chances people buy your goods.
Elevate Brand Presence With Product Communication
Have you ever heard of the concept of brand evolution?

It's where effective product communication goes beyond logos to become the cornerstone of your narrative. The following sections explain how it helps build an image that goes beyond just looks, creating a meaningful connection with your audience.
How Product Communication Affects Brand Image
Your brand is more than just a logo; it's the sum of every communication touchpoint. Let's take Coca-Cola. It doesn't just sell beverages; it sells happiness.
To sell a feeling, your communications must be consistent across every platform. From the packaging design to the tone of your social media posts, every element should build a cohesive brand identity.
How to Stay Consistent Across Channels
Consistency doesn't mean repetition; it means coherence. Let's use Starbucks as an example. It maintains a consistent brand image across its stores, mobile app, and social media.
To help brands maintain consistent communications, we built the only digital asset management system specifically for eCommerce.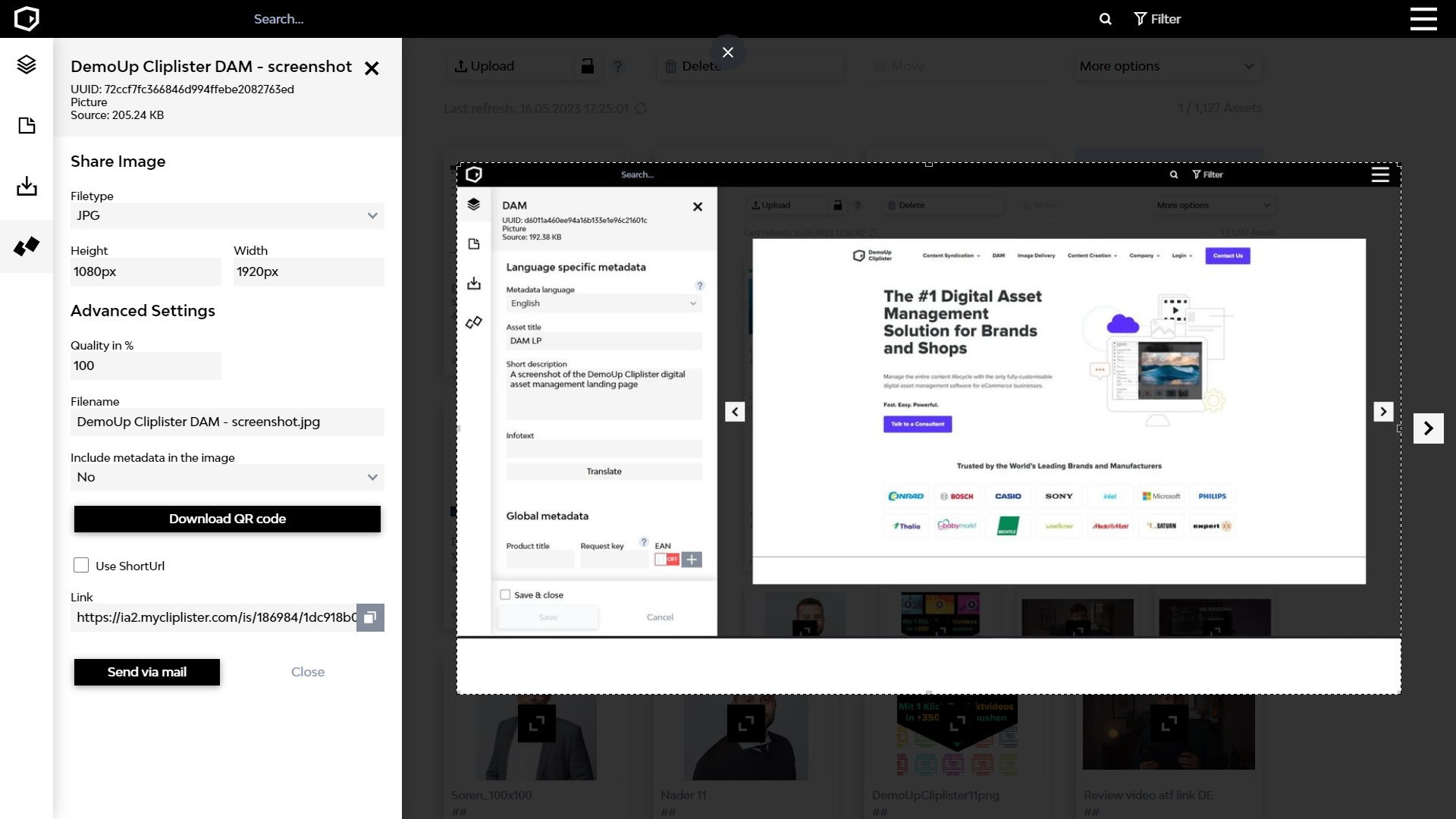 Digital asset managent provides brands a way to maintain a single source of truth. In other words, it allows your organization to easily access the latest approved versions of logos, images, videos, and other elements.
Plus, it's the only DAM solution in the world that integrates your brand's product content directly to the point of sale at more than 350 retailers around the globe.
Want to see it in action?
Book a call and a member of our team will be happy to show you how it works.
Product Communication for Online Retail
For products on the digital shelf, effective product communication at retailers is crucial for success. The following section explores product communication strategies for retailers that create a seamless and memorable customer journey.
The Role of Product Communication in Retail
In eCommerce, product communication transcends conventional labels.
Consider IKEA's virtual room displays—a testament to envisioning products in personal spaces.
It does this by creating immersive online experiences that present products in realistic settings, transforming the digital shopping journey into a tangible and unforgettable exploration.
We know what you're asking. How can you do this in your shop?
Luckily, our software helps retailers around the world display content from over 3,000 brands, including product videos, 3D models, and augmented reality experiences, directly in their image galleries.
With a simple five minute integration, you can deliver the highest-quality product content directly to your customers, boost your conversion rates, and sell more products.
Build Unforgettable Product Experiences
Discover the power of effective product communication. Elevate your brand with DemoUp's innovative solutions.
Book a call
Product Communication Strategies for Online Shops
Retail is evolving, and so should your strategies.
Consider how Samsung employs AR technology, allowing customers to place products in their rooms before making a purchase.
If your online shop fails to embrace technological advancements surrounding the shopping experience, your competitors won't. Don't be a Sears in a world of Amazons.
Prioritizing Customer-Centric Product Communication
So, how can you strengthen your customer-facing product communications? Here are some ideas actionable along with some actionable tips to get you started:
1. Prioritize Responsiveness
To prioritize customer-centric product communication for online shops, focus on responsiveness. You can do this through by leveraging customer feedback and reviews to understand common needs and concerns.
2. Personalize the Shopping Journey
Additionally, you can personalize in-store recommendations based on user preferences to create a tailored shopping experience. Utilize clear product descriptions, supplemented with visuals like videos, 3D models, and product images to convey your message.
3. Build a Community
You can also build a sense of community through user-generated content. This requires encouraging customers to share their experiences, which can be done via a message board, portal, or other application.
4. Optimize Consistently
Continuously analyze customer data to refine communication strategies, ensuring a seamless and personalized online shopping journey that prioritizes the individual needs and satisfaction of each customer.
How to Use DemoUp Cliplister for eCommerce Product Communication
There are several types of content you can create to make memorable shopping experiences. Some of the most common types of product communication content include:
Product videos
Product images
User-generated content
3D/AR content
Customer reviews
Test certificates & awards
The rest of this section explores how to use each type of content effectively.
Product Videos
Videos are the most efficient way to demonstrate a product and its benefits to online store visitors. Especially with complex products that require explanation, product videos help to reduce the purchase risk and accelerate the purchase decision process.
Even in short clips, product messaging can be communicated that would take up to a page in pure text format. And the trend of users preferring videos over text continues to grow.
"Consumers are 4 times more likely to watch a video about a product than read a product description text."

Animoto
Good product videos therefore help fill shopping carts. But how do you make effective product videos? The following tips will help you with the visual marketing of your products:
Tips for Effective Product Videos
Think about how you can emotionally bind your prospects to your products and define an appropriate storyboard. Photo Clips help well-known manufacturers such as BOSCH, Wagner or Philips use striking product videos to push eCommerce sales.
In addition to feature-based product videos, consider user-generated content. Content that is not directly generated by the manufacturer itself often appears more authentic and increases consumer trust. Brands like Philips, Samsung, and Tefal use our product review videos to boost conversion rates.
Also, don't forget about distribution. PDPs with video can convert up to 86% more often than those without.
If you need help getting product videos where they need to go, check out our Brand Channel syndication software, which automatically syndicates your content to more than 350 global shops.
Product Images
Product images are the most common type of eCommerce content. They are a mainstay of almost every product page at any major online store.
Therefore, it's crucial that your product images are crisp, clean, and up-to-date.
You can ensure that your team always uses the latest version of an image with our digital asset management software, with a built-in template and banner editor option.
This platform builds on the standard brand channel software by including version control, advanced metadata management, organizational hierarchies, and more – all connecting your content to the best retailers in the world.
Retailers, on the other hand, are faced with a different challenge. You need to get content from your CMS to the front-end quickly to reduce loading times; otherwise your chance of a conversion plummets.
Be sure to check out our intelligent dynamic image delivery, which helps you deliver images quickly to all devices without quality loss and optimizes your load times by up to 90%.
User-Generated Content (UGC)
When it comes to authenticity and trust, user-generated content (UGC) is a must. It's a dynamic way to showcase real customer experiences and build a sense of community around your brand.
UGC, often in the form of customer reviews, product videos, and social media posts, is a powerful tool for brands. Of course, this comes with a challenge; the UGC you display must be curated and aligned with your brand image.
Luckily, there's a solution for that as well.
Our product review video production service helps the world's biggest brands create helpful content their customers love, as shown by the 34% increase in add-to-cart conversions we see in cohort tests.
As part of our end-to-end solution, all videos get uploaded for syndication automatically, which cuts down on time-to-publish and takes the burden off your vendors.
3D/AR Content
3D/AR content, often presented through augmented reality (AR) experiences and 3D product renderings, enhances customer understanding and satisfaction.
However, the challenge lies in seamlessly integrating this content into your retailers' ecosystems.
Fortunately, our 3D/AR product model production service offers a streamlined solution.
You can collaborate with our team to seamlessly incorporate 3D/AR experiences into your product pages and marketing collateral. All the models we create come with custom QR codes, so customers can interact with your products in their real-time environments.
As with videos, all models are uploaded to the network for instant syndication.
Customer Reviews
For brands who rely on trust-based communciation, customer reviews become a focal point of their storytelling. Because they are a firsthand account of experiences, more and more shoppers turn to user-generated testimonials before making a decision.
Yet, the challenge lies in effectively leveraging and managing these reviews within the retail landscape.
With DemoUp Cliplister, online shops can seamlessly integrate customer reviews into their ecosystems, ensuring a transparent and impactful display.
Along with curating reviews from actual shoppers, the reviews display automatically on all your PDPs with a few lines of code.
Test Certificates & Awards
In a world of savvy shoppers, test certificates and awards are like gold stars—they speak volumes about quality. These badges of honor influence decisions, giving consumers confidence in their choices.
Yet, the challenge is getting these accolades to shine bright in the retail space.
With the Brand Channel, you can syndicate all test certificates, safety labels, and awards associated with an EAN simply by uploading them into the system. Our connected online shops can then proudly showcase these marks of excellence on your behalf.
Build Unforgettable Product Experiences
Discover the power of effective product communication. Elevate your brand with DemoUp's innovative solutions.
Book a call
Wrapping Up
In terms of online shopping, effective product communication is the secret sauce that transforms the mundane into the extraordinary.
Whether online or in-store brands that prioritize product communication that resonates with their target audience stand heads and shoulders above the competition.
Learn from the success stories, adapt innovative strategies, and remember: the language of shopping is universal, and your ability to communicate products well is the key to generating more sales.
Frequently Asked Questions
Still unsure how to effectively communicate your products? Here are the most common questions our teams hear from our clients.
Product communication is how a brand conveys information about its products to consumers. It's the art of connecting with customers through compelling stories, visuals, and messaging to create understanding and engagement.
A product communication strategy is a plan outlining how a brand will convey information about its products. It involves defining key messages, target audiences, and choosing the most effective channels to communicate value and build relationships.
Effective product communication involves storytelling, visual appeal, customer reviews, personalized recommendations, and interactive content. These strategies aim to engage and inform customers, fostering a connection between the product and the consumer.
To write effective product communication, focus on clear and concise messaging, compelling visuals, and storytelling. Understand your audience, highlight key features, and showcase real-world applications. Utilize customer reviews and personalized recommendations to enhance the communication's impact.
Product communications bridge the gap between a brand and its audience, articulating a product's value. It generates brand awareness, builds trust, and drives engagement, which influence consumers' purchasing decisions.