Top 4 Syndigo Alternatives: Best Options for Product Content Syndication
In the world of product content syndication solutions, Syndigo has gained popularity for its robust features and benefits. However, it also has a few limitations. Therefore, it's essential to explore Syndigo alternatives that can address these shortcomings effectively.
In this article, we'll delve into the limitations of Syndigo and present four compelling product content syndication alternatives — DemoUp Cliplister, Salsify, Akeneo, and Plytix — that can help overcome these limitations. By considering these competitors, you can make an informed decision about your business's content syndication needs.
Understanding Syndigo
Before diving into your other options, let's take a moment to understand Syndigo and its strengths.
Syndigo Features and Benefits
Syndigo offers a comprehensive range of features that simplify product content syndication. These features include:
Product Data Management: Syndigo allows businesses to centralize and manage product data efficiently, ensuring accuracy and consistency.

Data Enrichment: The platform enables the enhancement of product information by adding rich media, marketing content, and other relevant data, thereby improving product experiences.

Channel Syndication: Syndigo facilitates the seamless distribution of product data across various channels, such as e-commerce platforms, marketplaces, retailers, and distributors.

Product Video Syndication: Syndigo also offers the capability to syndicate product videos, allowing businesses to showcase their products through engaging and informative video content.
Limitations of Syndigo
While Syndigo has its merits, it's important to be aware of its limitations:
Cost: Syndigo can be relatively expensive, especially for small and medium-sized businesses with limited budgets, making it less accessible for companies with tighter financial constraints.

Complexity: The platform can be complex to set up and use, requiring a significant learning curve and technical expertise, which may pose challenges for users with limited technical knowledge.

Scalability: Syndigo may have limitations in terms of scalability, particularly for businesses with rapidly growing product catalogs or complex data management requirements. This can hinder long-term growth and expansion.

Lack of 3D/AR: While Syndigo offers product videos, we have yet to see any 3D or AR models syndicated using the software.
Exploring Syndigo Alternatives
To overcome the limitations of Syndigo, it's worth exploring the following alternatives:
1. DemoUp Cliplister: The Best Syndigo Alternative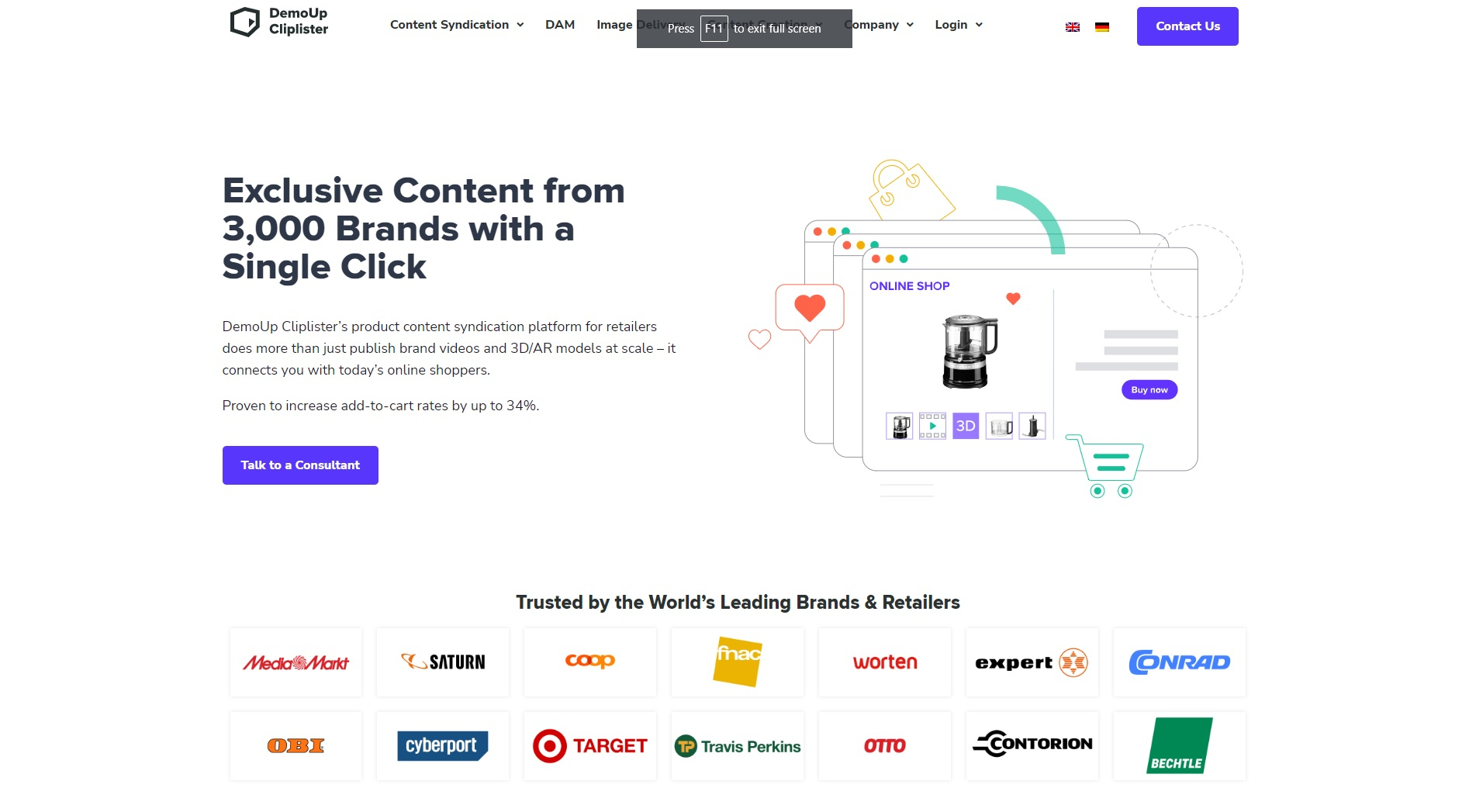 We know what you're thinking – of course you rate yourself as the best alternative to Syndigo! But that wouldn't be fair to you. Our priority is ensuring you get the optimal solution for your needs.
Our product content syndication software for retailers focuses on delivering the ultimate in eCommerce customer experiences by prominently placing 360-degree spin views, augmented reality assets, and product videos from 3,000+ global brands directly in your image gallery.
Brands, on the other hand, can display their content prominently in the image gallery of the product pages in any of the 350+ global shops in the network.
While Syndigo offers some product videos and assets, it doesn't have the same video coverage that our solution offers. That's why it may make sense to use DemoUp Cliplister and Syndigo together to increase content coverage while retaining Syndigo's PIM capabilities.
(Note: If you would like to see our product video coverage, get in touch and we'll be glad to start a conversation.)
2. Salsify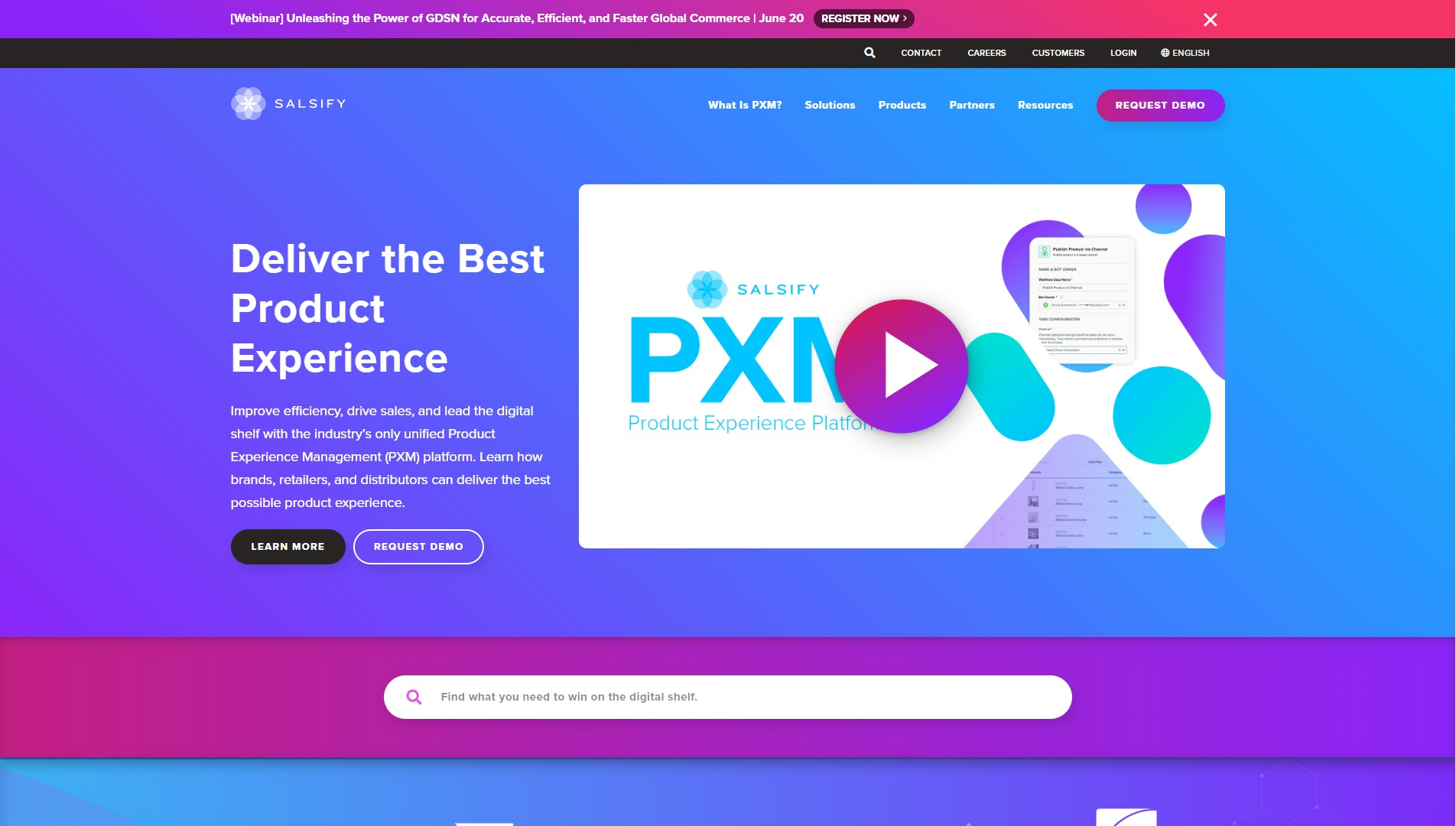 Salsify enables you to centrally manage your product information building blocks in one place (except above-the-fold product videos, 3D, and AR, but more on that later), including below-the-fold content, Global Data Synchronization Network (GDSN) data, order information, and more.
Salsify offers two key advantages over Syndigo:
Affordability: Salsify provides more cost-effective pricing options, making it a viable choice for businesses with budget constraints.
Ease of Use: Salsify boasts an intuitive interface and user-friendly features, ensuring a smoother learning curve and reducing the need for extensive technical expertise.
(Note: Salsify severely lacks in product video capabilities, and also doesn't syndicate 3D or AR assets. It only focuses on below-the-fold rich content, and doesn't offer the prominent placement of product videos in your image gallery.

Get in touch to see how you can use DemoUp Cliplister together with Salsify.
3. Akeneo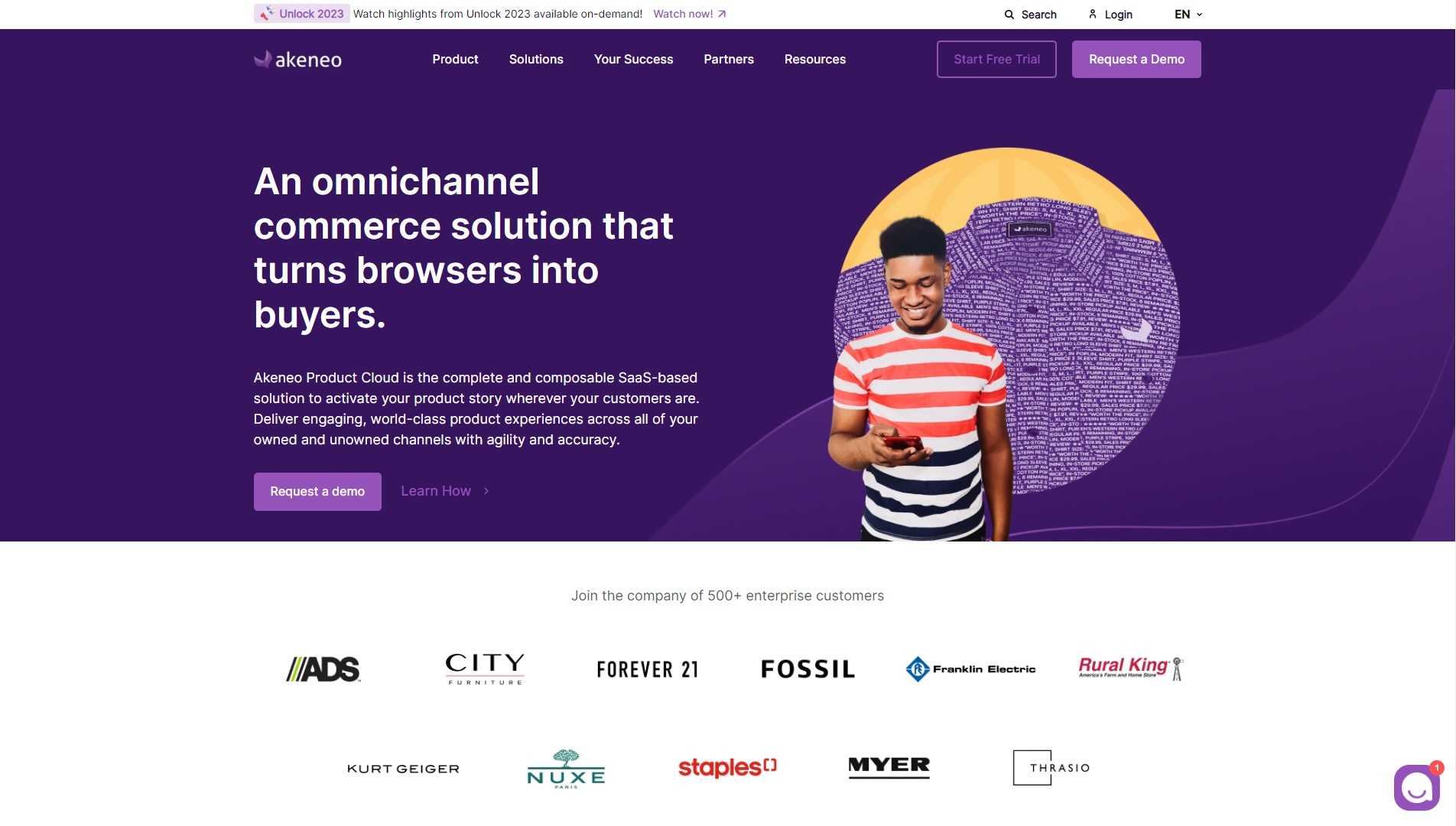 Akeneo was founded in Nantes, France, in 2013. Akeneo is an open-source PIM solution that addresses the limitations of Syndigo in the following ways:
Customization: Akeneo offers extensive customization options, allowing businesses to tailor the platform to their specific needs and workflows.
Scalability: With its scalability and flexibility, Akeneo can handle growing product catalogs and complex data management requirements, ensuring long-term scalability.
(Note: Like Salsify, Akeneo offers no above-the-fold product content like DemoUp Cliplister or Syndigo. Get in touch to learn how you can use Akeneo with DemoUp Cliplister to build the ultimate eCommerce experience.)
4. Plytix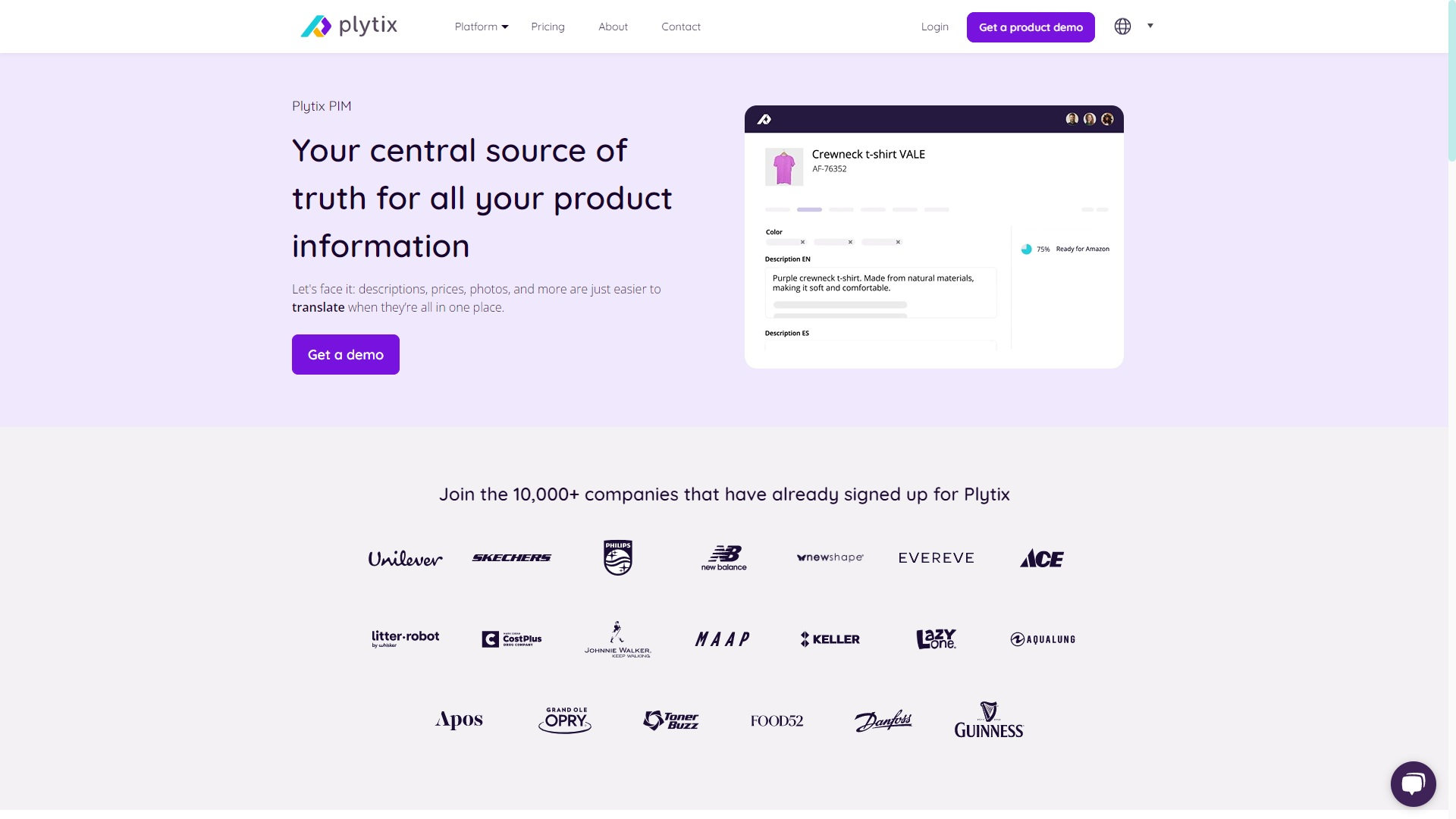 Plytix is a PIM software company focusing on collaboration. That means your teams can use one central system to manage, organize, and update all your product data in one place.

Plytix is one of the top options for small-to-medium sized businesses due to its user-friendly design. Here are a couple of areas where it outperforms Syndigo (provided your company isn't in the large-to-enterprise space):
Simplicity: Plytix provides an intuitive interface and streamlined features, making it accessible for users with varying levels of technical expertise.
Affordability: Plytix offers cost-effective pricing plans, making it an attractive option for small and medium-sized businesses with limited budgets.
(Note: Plytix capabilities are very limited compared to many of the enterprise PIM systems out there. Get in touch to see if it's worth using DemoUp Cliplister for above-the-fold content alongside the Plytix PIM.)
Why Consider Using Other Options?
Considering the limitations, it becomes evident why it's crucial to explore other options:
Cost-effectiveness: You can often find some alternatives to Syndigo with more affordable pricing plans, enabling you to allocate your budgets more efficiently.
Ease of Use: Many alternatives to Syndigo prioritize user-friendly interfaces and streamlined workflows, reducing the learning curve, and increasing operational efficiency.
Scalability: Many of Syndigo's competitors provide scalability options, accommodating businesses with expanding product catalogs and complex data management needs.
Conclusion
While Syndigo offers robust features and benefits, it's essential to understand its limitations and consider alternatives such as DemoUp Cliplister, Salsify, Akeneo, and Plytix. These competitors address the limitations of Syndigo, offering affordability, ease of use, customization, and scalability.
By exploring these options, you can select the PIM solution that aligns best with your business requirements and ensures seamless product information management.
To see our full product portfolio, visit the homepage, or, for more information about product content syndication, eCommerce, and digital asset management, read through our blog.
FAQs
1. How do these Syndigo alternatives compare in terms of customer support?
At DemoUp Cliplister, we view our customers as our most important assets. Since we can't speak on the customer support teams at other companies, it's recommended to read customer reviews at sites like G2 and testimonials to assess the quality of support provided by each solution.
2. Are any of these Syndigo competitors suitable for large enterprises?
Yes, as far as Syndigo competitors are concerned, we at DemoUp Cliplister are the most suitable for large enterprises. We also offer more complex enterprise solutions such as digital asset management software and dynamic image delivery to improve performance throughout the content lifecycle.
3. Can I integrate these Syndigo alternatives with DemoUp Cliplister?
Yes, many of the Syndigo alternatives listed here typically offer integration capabilities with popular e-commerce platforms, marketplaces, and other business systems, allowing seamless data exchange.

For instance, DemoUp Cliplister offers retailers a simple script-based integration that you can implement in your shop's template and gain access to exclusive content from over 3,000+ global brands, regardless of if you're using Syndigo or one of its competitors.
For brands, DemoUp Cliplister's network of 350+ shops worldwide means your product videos, 3D models, and AR experiences will always be seen at the point-of-sale of your most important retailers.
4. Do these Syndigo alternatives offer trial periods or demos?
Yes, most content syndication providers offer trial periods, demos, or free evaluations to help you assess the platform before making a purchase decision. Book a demo with us to see how you can get a free rundown of DemoUp Cliplister's product content syndication solution for retailers.