YouTube Alternatives for Retailers: How DemoUp Cliplister and Other Competitors Compare
YouTube is a piece of technology that needs no introduction. Millions of videos are added every day which makes it the largest database – of any kind – in the world.
YouTube is also a useful solution many eCommerce retailers use to embed videos into their product pages. However, there are several reasons for eCommerce retailers to look into a YouTube substitute.
Luckily, many of our clients have switched from makeshift in-house solutions with YouTube integrations to DemoUp Cliplister or have used other YouTube alternatives. So, we understand why YouTube works for some businesses but not for others.
This article discusses the pros and cons of using YouTube for product content, plus five more eCommerce video solutions similar to YouTube, including DemoUp Cliplister's product content syndication software.
YouTube's Core Features
YouTube is a free online video-sharing and social media platform. Users can search the database for content, comment on videos, connect with other users and upload videos to the service themselves.
It also provides a unique business opportunity for online retailers who want to include videos on their product pages. It's 100% free, comes with an iFrame and media player, and generates links for embedding videos on any other website.
Here is a list of features retailers love about YouTube:
Free content pool: Online retailers can simply find and embed content into their product pages directly from YouTube.
YouTube integrates with everything: Most backend and operational software applications integrate with YouTube via an API.
Retailers can advertise on YouTube: YouTube is an easy way for retailers to advertise to their target market using the exact product videos their embedding on their sites.
YouTube is global: For multinational retailers, YouTube is a way for them to acquire content in multiple languages.
YouTube integrates easily into any website, so it appeals to online shops regardless of the platform or CMS it uses.
Pros & Cons of YouTube
The reason YouTube is so popular among retailers is that it is free and easy to use. It's the largest content delivery network in the world and as such, is extremely reliable.
On the other hand, YouTube has many drawbacks. It's not flexible, not customizable and, if you're located in Europe, not GDPR compliant. This is because it must load external media cookies before the videos display on your product pages, which requires opt-in from shoppers.
Perhaps worst of all, though, is that you only have access to videos uploaded to the platform. Many brands create content that is not uploaded to YouTube and only share it via exclusive product content syndication networks.
This is because most of the content brands upload to the platform is language neutral or made to appeal to the widest audience possible. Therefore, your customers miss out on many of the specific details they're looking for when they want to make a purchase.
DemoUp Cliplister: The Best YouTube Alternative for eCommerce Videos
The best product content syndication software alternative to YouTube is DemoUp Cliplister. Known as the best YouTube alternative for retailers, the DemoUp Cliplister product content syndication software for online shops connects eCommerce stores to a network of over 3,000 brands and 200,000 product videos in over 35 languages.
Here are other key features that differentiate DemoUp Cliplister from YouTube:
Easy Site-Wide Integration: The only work you need to do with DemoUp Cliplister is copy a few lines of code into your online shop's template. When this is complete you have product videos on your PDPs in a matter of minutes.
3D and AR Models: With DemoUp Cliplister, you can also display 3D product models and AR experiences in your product galleries.
Better SEO: DemoUp Cliplister's content displays in a native video player that loads 300% faster than YouTube's. This results in better customer experience and more sales.
Customers Stay in Your Shop: The absolute biggest complaint we hear from clients who switch away from YouTube is that it distracts customers. YouTube is designed to keep people inside its ecosystem, and as such, displays videos it thinks users would like to keep them engaged.
GDPR Compliance: YouTube requires the use of cookies to load media in your shop. This requires you to acquire consent from your shoppers before you can display videos.
(Note: Customers bouncing from your pages to YouTube? Try using DemoUp Cliplister to syndicate product content through a native video player and keep customers in your store. Contact us to learn how.)
How YouTube & DemoUp Cliplister Compare
In comparison to YouTube, DemoUp Cliplister has:
Automatic content matching: You won't need to employ teams who simply scrape YouTube for new product videos all day.
Customizable video player: Customize the DemoUp Cliplister video player and keep it in your shop's UX and CI.
3D and Augmented Reality: YouTube is strictly video. While 3D is available on the platform, it requires the use of external hardware or VR headsets.
Better customer experience: YouTube interrupts the shopping experience. Keep your customers focused on your shop and your products.
Faster content availability: Online retailers using YouTube as their product content solution have a mammoth task on their hands. Shops must source, host, and match videos to each individual product page on their site. DemoUp Cliplister simply requires online retailers to paste one line of code into their shop template and all available videos deploy across the site automatically.
Self-contained ecosystem: Shops that use YouTube for product content also deal with ads, affiliate links, autoplay, and several other YouTube-specific features. DemoUp Cliplister removes these from your PDPs and keeps your corporate identity front and centre with a customizable video player.
Other Top YouTube Alternatives
On top of DemoUp Cliplister, many people looking for YouTube alternatives also check out Flixmedia, loadbee, Videoly, Wistia and Yago. It's important to note before we dive in, though, that these are not YouTube alternative sites – these are purpose-built eCommerce applications that offer much more for this situation than YouTube.
Flixmedia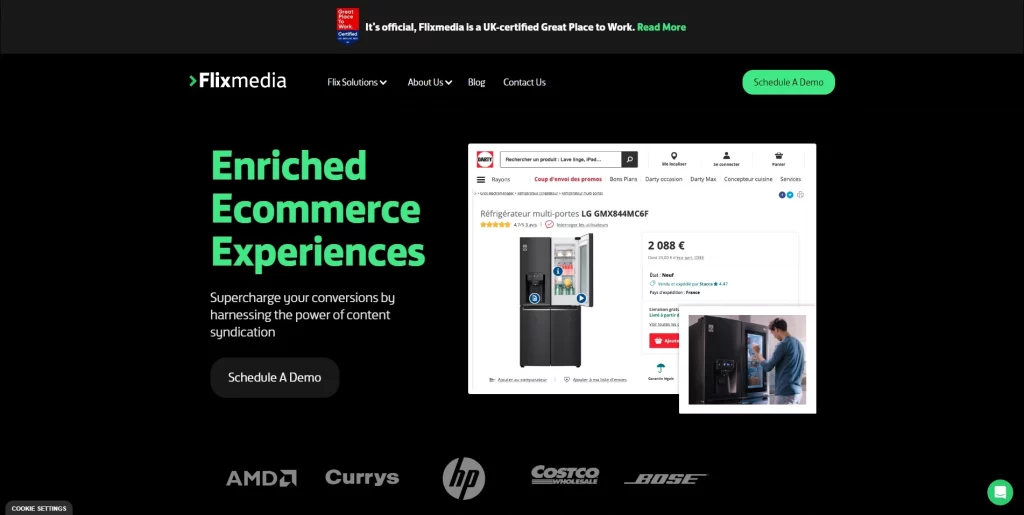 Flixmedia is an eCommerce video alternative to YouTube that delivers engaging digital content and assets to the product pages of brands and retailers. The software comes with several unique features like hotspots, pop-up 3D and augmented reality experiences (known as INpages) and MiniSites which display product videos in popups above the fold.
However, Flixmedia also has several limitations. Here are the disadvantages of Flixmedia's product content syndication software for retailers:
Pop-ups and INpages can disturb the user experience.
The software loads slowly.
Limited brands are on board.
Shops cannot add their own content.
Some brands hesitate to join because they pay extra to support retailers in the network.
(Note: Looking at Flixmedia alternatives? Check out our article for more information about the service. Otherwise, talk to a consultant and book a demo of the DemoUp Cliplister product content syndication software for retailers.)
loadbee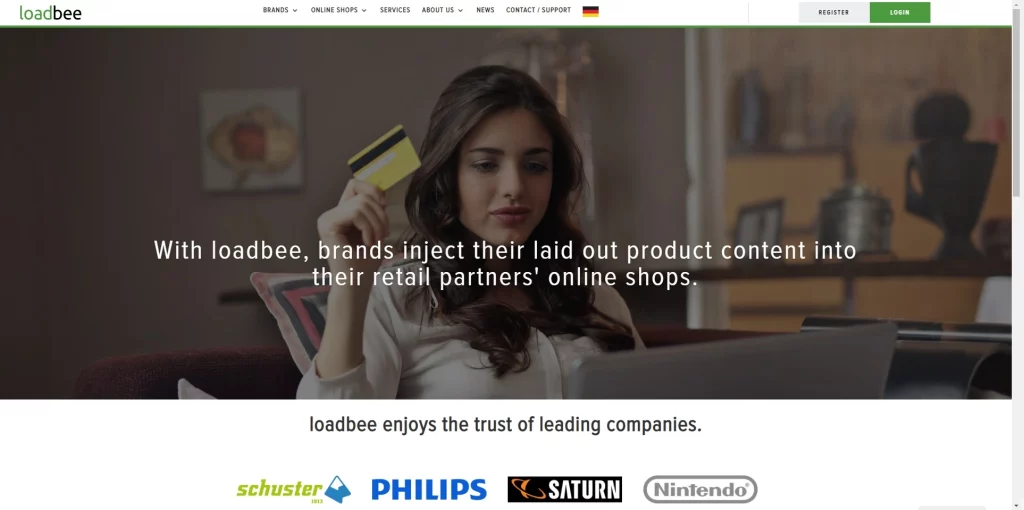 loadbee injects sales promoting product content, in the brands' layout and corporate identity, directly into the product pages at online shops. On top of regular, brand-created product videos, loadbee also offers user-generated content sourced from YouTube.
However, loadbee does not have many brands connected to the network, clocking in with just over 400 at the time of writing. To put this in perspective, DemoUp Cliplister offers over 200,000 product content assets from over 3,000 brands, and the database grows daily.
(Note: Searching for loadbee alternatives? Read our article for an in-depth look at loadbee and its top competitors or talk to a consultant to see how DemoUp Cliplister compares to loadbee.)
Videoly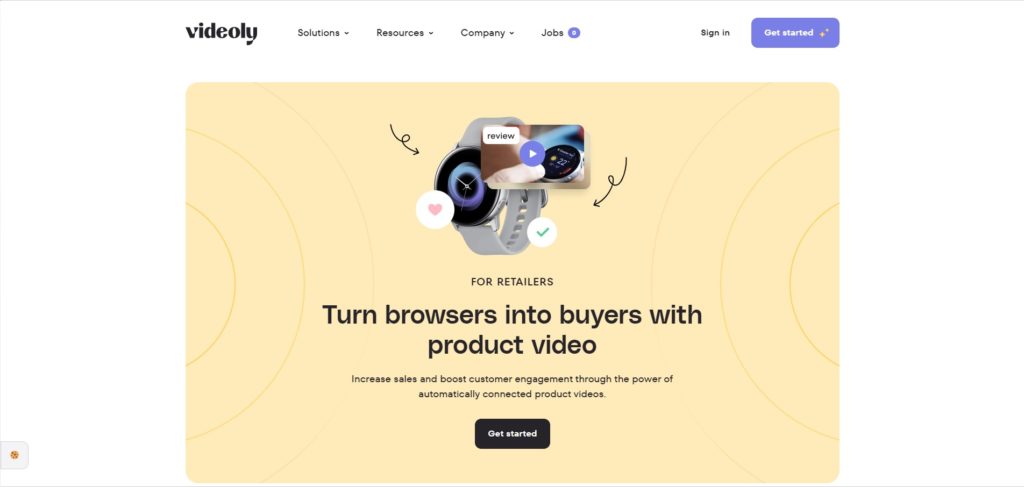 According to Videoly itself, Videoly connects existing videos of your products to your online store, fully automated and at scale. Videoly finds, curates, and automatically embeds product videos into your online store.
What it doesn't say, though, is that it sources all the videos from YouTube, which makes it more similar to YouTube than a YouTube alternative.
Another common complaint we hear is that Videoly is expensive given the fact that it simply crunches data in a different way than YouTube.
Videoly is great if you want a YouTube video application that still uses the same service you want to replace (or you probably wouldn't be reading this article or looking for solutions better than YouTube).
Videoly, like YouTube (since it's not really a YouTube alternative), diverts users out of your shop, has low content coverage and the videos are limited to the quality they are uploaded in.
Check out our list of Videoly alternatives if you want better solutions.
(Note: Tired of losing visitors to websites like YouTube? Talk to a consultant to see how you can improve SEO, reduce your bounce rate and keep visitors in your ecosystem with DemoUp Cliplister's native video player.)
Wistia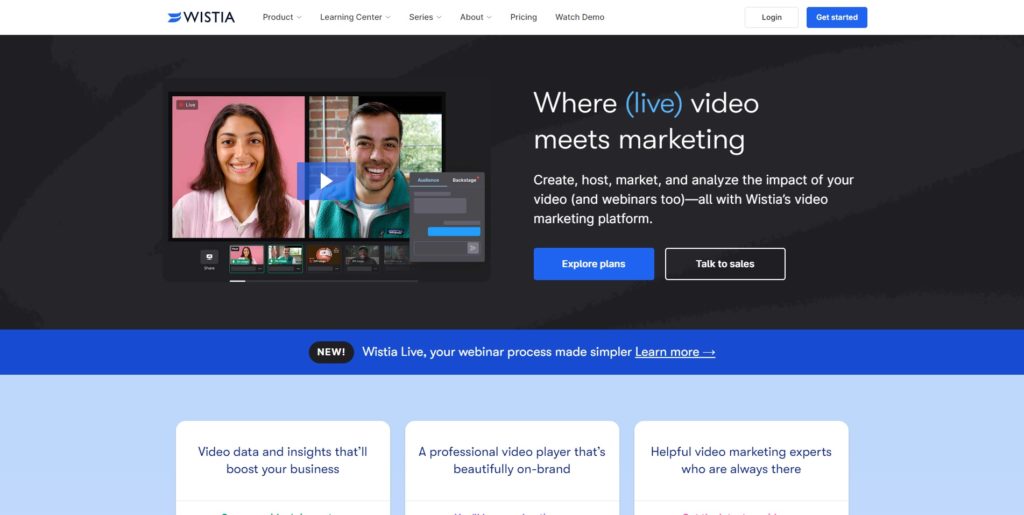 Wistia is a pureplay video hosting service that lets businesses create, host, market with, and analyze the impact of videos.
This means that you have full control over all videos and get a full suite of analytics – but you must manage the content yourself. There is no eCommerce video database, which means there is no AI-assisted content matching.
A huge pain point for many eCommerce shops is having to manually track down updated content from brands. If this is a struggle for you, Wistia probably won't be your ideal solution.
Wistia is also a big strain on IT resources, as your IT team is responsible for implementing and maintaining the application.
(Note: Limited IT resources? Book a free demo to see how DemoUp Cliplister puts thousands of videos on your product pages in minutes with just a few lines of code and zero burden on your team.)
Yago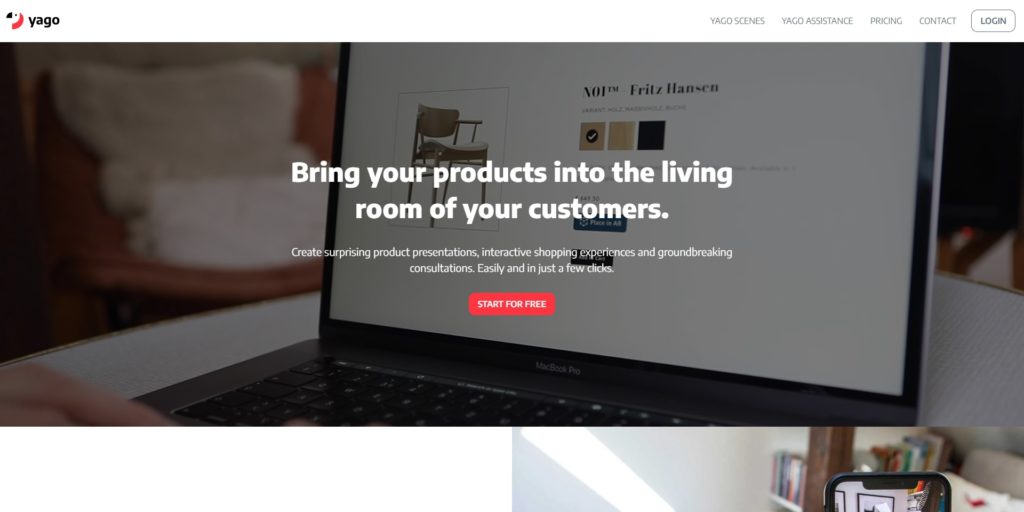 Yago is an application that delivers augmented reality scenes to your customers. The software is especially useful for helping your customers view your products in real-time – in their environments – and is especially noteworthy for retailers in verticals like furniture or DIY.
While its AR experiences are on par with industry leaders, it cannot distribute basic content like videos or images to customers.
(Note: DemoUp Cliplister both creates and syndicates 3D and AR product models, product review videos, and product videos.)
How to Use the Best Product Content Syndication Software
While features are important, online shops must consider their specific needs and the overall customer experience they want to portray to their visitors when shopping for the top product content syndication solution. Most systems have some of the following functionalities:
Syndication of brand-created content to product pages
A content creation service
A content-matching mechanism.
Mobile-optimized content
Content analytics
We designed DemoUp Cliplister to fit in the price range of most medium-sized online shops while remaining scalable enough for global retailers. We are committed to your success, so we will tell you if we don't think we can help.

To see how DemoUp Cliplister can accelerate your eCommerce growth, schedule a consultation.
Other Resources
For other great reads, head over to the blog.
Otherwise, check out the full range of DemoUp Cliplister software and services.